'Wish' Interview: Disney Animation's Jennifer Lee
Preview: 
Jennifer Lee talks about writing and crafting an original fairy tale versus adapting from an existing story and what it is like not to have to stay within the guidelines of a story
The future of Disney animation and what the next generation of artists can bring
Lee hints at more stories to be told with Elsa and Anna, " I'm proud of where they're gonna go next."
Walt Disney Studio's animated feature 'Wish' will arrive in theaters on November 22nd. Directed by Chris Buck ('Frozen II') and Fawn Veerasunthorn ('Raya and the Last Dragon'), the story pays homage to the classic Disney message of wishing upon a star. The art style of 'Wish' is also inspired by classics such as 'Sleeping Beauty,' 'Snow White and the Seven Dwarfs,' 'Pinocchio,' and 'Alice in Wonderland'.
Moviefone recently had the pleasure of speaking with Disney Animation's Chief Creative Officer, Jennifer Lee, about writing and crafting an original fairy tale, the many iterations of the character Star, the future of Disney animation, and the possibilities the new generation of artists can bring.
Moviefone: To begin with, you've worked on many Disney animated films including 'Frozen,' 'Frozen II,' and 'Zootopia,' just to name a few. Can you talk about writing an original story with 'Wish,' versus adapting an existing tale and being able to write without having to stay within the guidelines of an existing story?
Jennifer Lee: You know, I will say it's something I almost forgot in a moment because we've gotten so steeped in this story for a long time. As a fairy tale, but recognizing, we were creating one from scratch. At first, that was very scary. Because it is like you can do anything, but what is the thing to do? I think what was so wonderful about it was getting to make discoveries that I think we may not have been able to make. I believe in a limited palette at times for focus. But I think in this case, I look at the character of Star, and Star went through many iterations. At one point talked, at one point could turn into a human, at one point, you know, into other things and, to have the freedom to recognize what we said. But hope and possibility don't talk. They just are there for you. Why would Star speak? It's millions of years old, it's evolved beyond language, like we would just take these things that were so freeing, that led us to have really fun discoveries. There was nothing like, "Oh, but people are gonna expect us because in the story it's that" and I think that that is huge that we can do that. But in many ways, what's interesting is, and Peter Del Vecho has talked about this, is a moment where the story starts to tell you what it means, and it almost takes on a life of its own. So what's funny for me is the 'Wish' story now, it's like it's always been. It's like, that's not how we got there but eventually, it starts to just land in a way that you're bringing to life something that actually already exists. That's a weird thing that I think only in animation I have ever experienced.
MF: As Chief Creative Officer and as you celebrate Disney's 100th anniversary, where do you see the future of Disney animation going?
JL: Well, I think in a very fun way, what I'm seeing is the new generation, and in a really great way, especially with this last decade, I've been there watching a whole new team of artists, especially the way animation in the world is in a great place. People are really connecting with it. I feel very lucky to be a part of it. We always say when the animation is doing well, that's good for all the artists, and so it's creating new opportunities. I think the new voices of animation are exciting, and they're daring. I see now for a lot of us who have been doing this for a while or have had the chance to experience our films beyond the world. We have a responsibility now to that new generation because there's tons of talent. But we can experience it together. I think we'll find that "Where's the new voices going?" It'll be up to them. So right now, I'm loving being in this role because I get to work with them, get to have lunches with the story team – multiple teams, but with the story crew, and we just talked about story. We talk about comedy, and it's just all about creating that connection in our legacy that's always been, which is building that next generation. But I think when I came in, I felt like that I was not that young, but I was new. I felt like that receiver as a new generation. You know, almost 13 years later, I feel like that shift where I can see it more clearly. It's a really fun and ambitious time.
MF: Finally, speaking of the future of Disney animation, will there be more stories for Anna and Elsa from 'Frozen'?
JL: All I'd say, as Bob Iger himself mentioned we are in development on more 'Frozen'. That's all I can say. Because there is more story to tell. I love these women, and I think I'm proud of where they're gonna go next.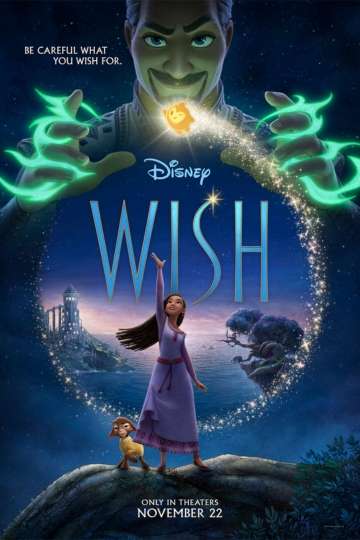 "Be careful what you wish for."
Asha, a sharp-witted idealist, makes a wish so powerful that it is answered by a cosmic force – a little ball of boundless energy called Star. Together, Asha and… Read the Plot
What Is The Plot Of 'Wish'?
Set in the magical kingdom of Rosas, the story introduces Asha (Ariana DeBose), an optimist with a sharp wit who deeply cares about her community. When Asha turns to the sky in a moment of need and makes a wish, her plea is answered by a cosmic force — a little ball of boundless energy called Star. Together, they face the most formidable of foes to save her community and prove that when the will of one courageous human connects with the magic of the stars, wondrous things can happen.
Who Is In the Cast of 'Wish'?
Other Movies Similar to 'Wish:'