Where To Watch Greta Gerwig's 'Barbie' Movie
Greta Gerwig's 'Barbie' took the box office by storm, and as the audience showed up at the movie theaters all dolled up in pink, 'Barbie' quickly became this summer's movie phenomenon.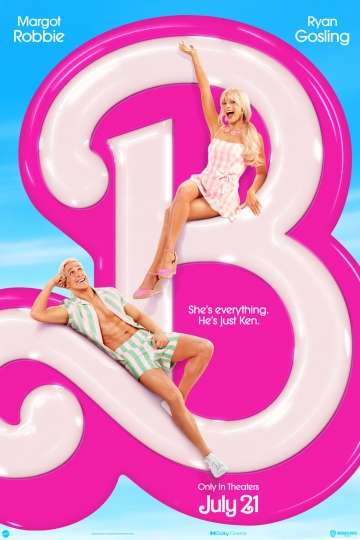 Based on the iconic doll, 'Barbie' takes us into Barbie Land, where we meet Margot Robbie's Sterotypical Barbie as she begins to experience things out of her normal routine – cold showers, sour milk, thoughts of mortality, and the worst of all, flat feet. With Ken (Ryan Gosling) tagging along, Barbie sets off to seek out the answers by traveling to the real world. She soon realizes things in the real world are quite the opposite of everything she knows.
Directed by Greta Gerwig and co-written by Greta Gerwig and Noah Baumbach, the clever story and incredible visuals made 'Barbie' the talk of the town. The movie is certified Fresh on Rotten Tomatoes, with an 88% critics score and 83% audience score. Due to it sharing an opening date with Christopher Nolan's 'Oppenheimer', movie fans took the opportunity and turned the dual release into a double-feature event, therefore kicking off the endless waves of "Barbenheimer" memes.
The official synopsis for ''Barbie" is below:
"To live in Barbie Land is to be a perfect being in a perfect place. Or you have a full-on existential crisis. Unless you're a Ken."
Who Is In The Cast of 'Barbie'?
Box Office For 'Barbie'
'Barbie' is officially the highest grossing film of 2023, having just crossed $1.3 billion globally. Opening to $162 million, the Margot Robbie-led film has earned $612 million domestically. Already an icon for many, 'Barbie' quickly became a social media sensation, with fans posting everything from their movie-going outfits to their Barbie collections. The film is filled with references to many Barbies and Ken dolls from various decades, sending audiences down nostalgia lane.
On the surface, 'Barbie' may seem like a fun adventure, much like 'The Lego Movie'. However, the film has a deeper message and touches on the pressure of expectations, insecurities, and most importantly, what it means to be human.
Where Can I Watch 'Barbie'?
'Barbie' premiere on July 9, 2023 at the Shrine Auditorium in Los Angeles. It was released domestically on July 21, 2023. Currently, it is still playing in some theaters, but as the movie has been in theaters for around 45 days, its theatrical window will soon come to an end. If you want to experience 'Barbie' on the big screen, be sure to do it soon.
The movie arrived on digital September 5 for purchase on platforms such as Prime Video, Google Play, Apple TV, Vudu, YouTube, and more for $29.99.
'Barbie' has a total runtime of 1 hour and 56 minutes.
Watch the official trailers for 'Barbie' below:
Although 'Barbie' is leaving the theaters, Warner Bros Pictures has teamed up with IMAX to give fans a limited one-week run of 'Barbie' starting September 22nd. As a special treat for the IMAX audience, a special greeting from director Greta Gerwig will play ahead of the film. There will also be exclusive post-credit footage playing after the film, specially selected by Gerwig herself.
In regards to the special IMAX release, Jeff Goldstein, President of Domestic Distribution, and Andrew Cripps, President of International Distribution, said:
"We really wanted to super-serve all the fans out there who made this the Summer of 'Barbie' in every way imaginable, and we couldn't think of a better way than to serve up the biggest film of 2023 and the biggest Warner Bros. film of all time on the biggest, most experiential screens around. Thanks to our terrific partners at IMAX and our incredible director, Greta Gerwig, we went a step further and are offering audiences an added incentive with this special post-credits footage. We encourage moviegoers everywhere, whether they've seen 'Barbie' or not, to see it in IMAX for a can't-miss moment in film history."
No word yet when 'Barbie' will make its way to streaming, but when it does, it is likely to end up on Max as the film is distributed by Warner Bros/Discovery.
Other Movies Similar to 'Barbie:'
Please click on the video player below to watch Moviefone's exclusive interview with 'Barbie' director Greta Gerwig.