Where To Watch DC Studios' 'Blue Beetle'
The latest movie from the DC cinematic universe showcases Jaime Reyes as he gains incredible superhero powers from an ancient alien tech known as The Scarab.
Blue Beetle was first introduced in comic books in 1939 and has since made appearances in animated shows such as 'Young Justice', and live-action TV series such as 'Smallville'. The film marks the Latino superhero's first entry into the DCU, where it focuses on the origin of his power and the introduction of Kord Industries.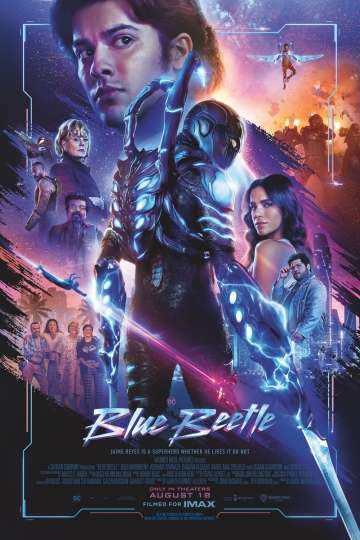 "Jaime Reyes is a superhero whether he likes it or not."
71
PG-132 hr 8 minAug 15th, 2023
Aside from great action sequences, the film also highlights Jaime's family. Their close-knit relationship shows that not all superheroes need to go it alone. The Reyes family was always a part of the character's story, and showcasing this in the movie adds an extra layer of emotion and heart.
The official synopsis for 'Blue Beetle' is below:
"Recent college grad Jaime Reyes returns home full of aspirations for his future, only to find that home is not quite as he left it. As he searches to find his purpose in the world, fate intervenes when Jaime unexpectedly finds himself in possession of an ancient relic of alien biotechnology: the Scarab. When the Scarab suddenly chooses Jaime to be its symbiotic host, he is bestowed with an incredible suit of armor capable of extraordinary and unpredictable powers, forever changing his destiny as he becomes the superhero Blue Beetle."
Who Is In The Cast of 'Blue Beetle'?
'Blue Beetle' Was Initially Set For Streaming
Originally, the movie was not intended for a theatrical release. 'Blue Beetle' was set to hit streaming service Max (formerly HBO Max), but during development, the studio decided to give the film a theatrical run. Filmed for IMAX, audiences are able to be immersed in the story and action scenes of Blue Beetle.
Will Blue Beetle Be In Future DCU Films?
As the newest superhero in the DCU line-up since James Gunn and Peter Safran took over as co-CEO, fans wonder if Blue Beetle will return in future projects. James Gunn took to his Instagram account with a photo from the screening to confirm that Jaime Reyes will remain in the DCU, "I can't wait for audiences to meet Jaime Reyes, who will be an amazing part of the DCU going forward!"
Currently, there's no word on whether a 'Blue Beetle' sequel is in development. However, this doesn't mean Maridueña won't show up in upcoming DC projects. Gunn has also confirmed that John Cena and Viola Davis will continue to have a presence in the DCU as their characters, Peacemaker and Amanda Waller.
Where Can I Watch 'Blue Beetle'?
'Blue Beetle' was released domestically on August 18, 2023. Currently, the movie is still playing in theaters, and if you want a chance to experience it on the big screen, AMC Theaters has the movie available for $5 as a part of its Fave Faves deal. 'Blue Beetle' has a total runtime of 2 hours and 8 minutes
Watch the official trailers for 'Blue Beetler' below:
The movie was released on digital on September 26 and is available for purchase for $24.99 or rent for $19.99 on platforms such as Prime Video, Apple TV, Vudu, YouTube, and Google Play. The movie has yet to arrive on streaming, but once it meets its 90 to 120-day window, it should arrive on Max.
Fans can look forward to 4K UHD, Blu-Ray, and DVD release on October 31, 2023. There will be a steelbook edition as a Best Buy exclusive. Bonus features for the physical release include:
Generations: Blue Beetle" – 4-part documentary
Told in distinct chapters, explore the journeys of actors and filmmakers bringing "Blue Beetle" to the big screen for the first time ever. Audiences will be immersed in the POV of filmmakers who showcase their experiences on set and in their creative studios making the story of this DC character a reality.
Nana Knows Best – featurette
Witness Nana's transformation from an adorable 'abuelita' into a machine gun-wielding revolutionary, and stop in for a few of her most fun moments on set throughout production.
Scarab Vision – 2-part featurette
Xolo Maridueña hosts this series of scene study walk throughs that showcases how the scarab works and the role it plays in some of Blue Beetle's most epic moments.
Other Movies Similar to 'Blue Beetle:'