Top 20 most-hyped draft prospects ever: Rankings across NFL, NBA, MLB, NHL, WNBA
Uncertainty and intrigue often surround the No. 1 overall pick heading into a draft. In some years, however, one prospect emerges from the field, and the only uncertainty is whether that player will live up to the massive hype. 
Enter Victor Wembanyama, the 7-foot-4, 19-year-old out of France, who is universally projected to go No. 1 overall to the Spurs in the 2023 NBA Draft after San Antonio won Tuesday's draft lottery. 
The hype for Wembanyama has skyrocketed in recent months, with NBA stars including Stephen Curry, Giannis Antetokounmpo and LeBron James — who knows a thing or two about extreme pre-draft expectations himself — heaping praise on the game-changing French prospect. Some have even called Wembenyama the best prospect in team sports history.
When Wembanyama hears his name called by NBA Commissioner Adam Silver on June 22, he will officially join the ranks of the most heavily anticipated first overall picks of all time across every sport. 
With that in mind, let's take a look at other No. 1 picks throughout history with massive expectations heaped on them and see how they fared.
1. LeBron James
Year: 2003
League: NBA
Team: Cleveland Cavaliers
What people were saying: James was already turning heads across the NBA by the middle of his junior season in high school, but the hype kicked into overdrive when a now-legendary Feb. 2002 Sports Illustrated cover heralded the then-17-year-old as "The Chosen One," comparing him to Michael Jordan. By the time James was a senior, his games were being shown on national television. Minutes after the Cavaliers won the NBA Draft lottery in 2003, then-owner Gordon Gund posed with a custom-made No. 23 James jersey.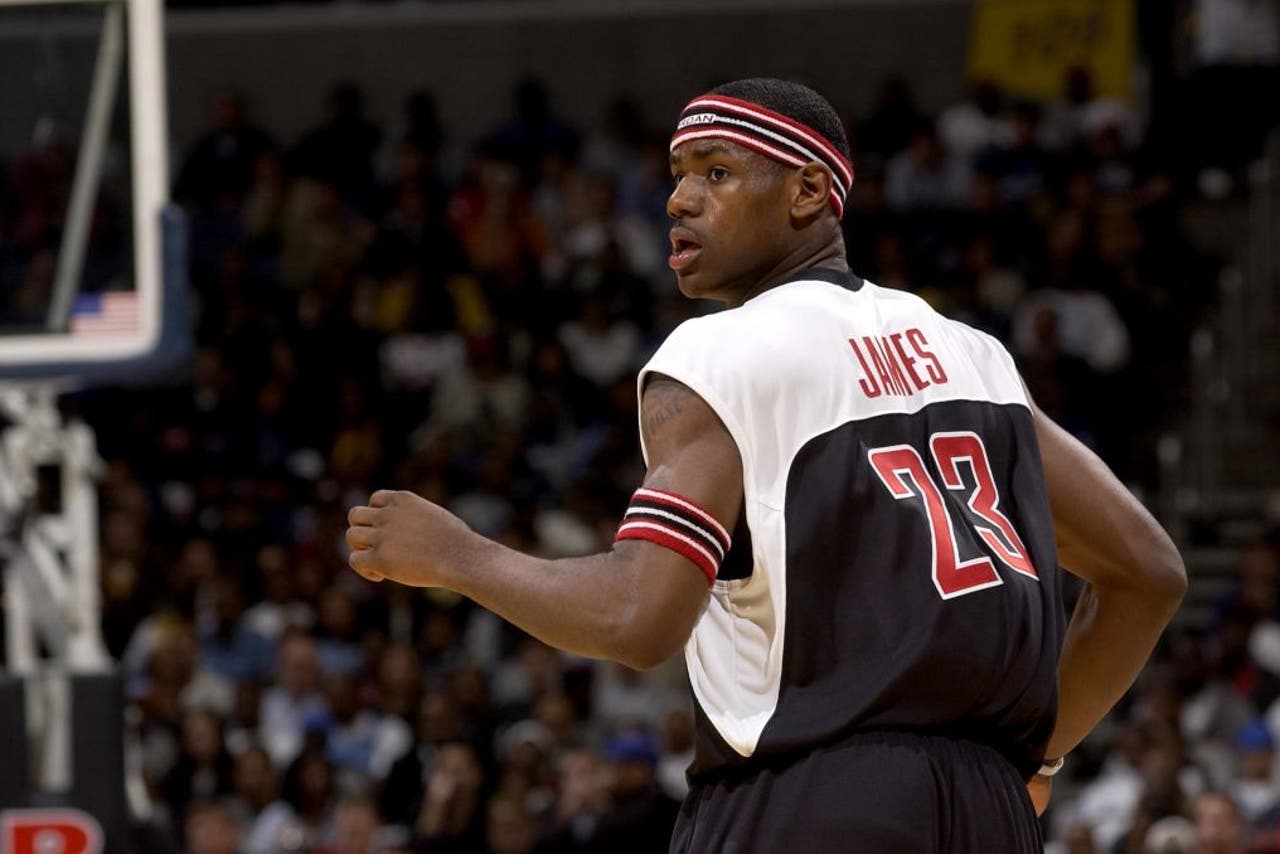 LeBron James, left, became a national name when he was still in high school in Akron, Ohio. (Photo by G Fiume/Getty Images)
Did he live up to the hype? In the nearly 20 years since James was drafted, he has either met or surpassed just about every lofty expectation bestowed on him back then. Cavaliers franchise savior? James led the team to five NBA Finals appearances and a dramatic, climactic championship over the Golden State Warriors in 2016 during his second tenure in Cleveland. Face of the NBA? James has won four league championships, four MVPs and Finals MVPs each, is a 19-time All-Star and 13-time First Team All-NBA honoree, and became the league's all-time leading scorer in early 2023 after already holding the playoff scoring title for several years. The next Michael Jordan? James' staggering on-court success has sparked a long-running debate about which player had the better career, and his pursuit of various off-court ventures in business, media, activism and philanthropy has few peers in modern athlete history.
2.  John Elway
Year: 1983
League: NFL
Team: Baltimore Colts/Denver Broncos*
Prior team: Stanford
What people were saying: Elway's entry into the NFL as one of the most well-regarded quarterback prospects of all time is also notable for how he leveraged his clout as a well-regarded baseball prospect in the New York Yankees organization to force a trade away from the Baltimore Colts, who selected him first overall, to the Denver Broncos. A Washington Post dispatch from some of Elway's first practices as a Bronco that summer describes a circus of media and fans in attendance expecting to see something like Willie Mays catching fly balls in his first spring training.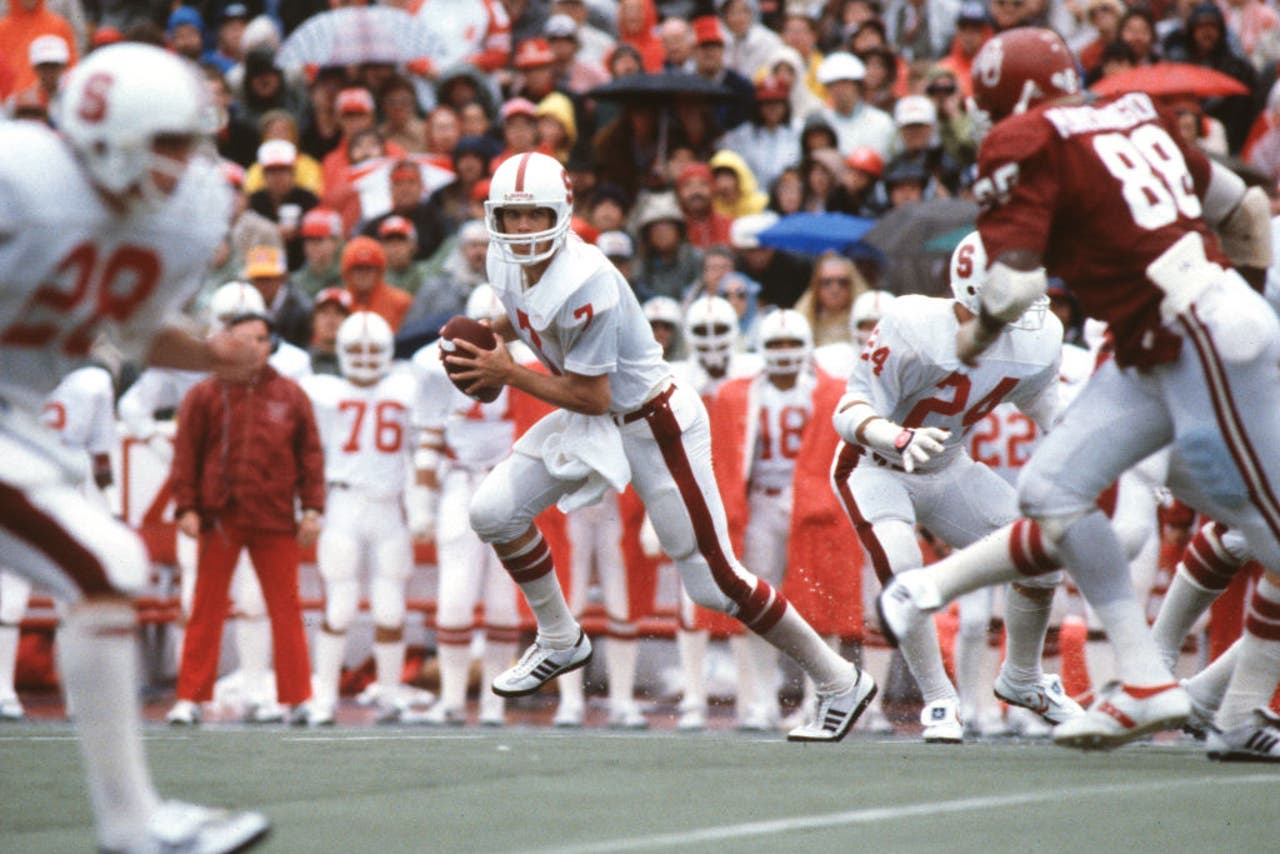 John Elway's rocket arm made him a top draft pick in both the NFL and MLB. (Photo by Rich Clarkson/NCAA Photos via Getty Images)
Did he live up to the hype? Elway earned his place at the front of a historically great NFL Draft class that included fellow Hall of Fame quarterbacks Dan Marino and Jim Kelly. Elway was the face of the Broncos throughout his 16-year career, winning an MVP in 1987, making the Pro Bowl nine times and leading Denver to five Super Bowls, finally winning back-to-back titles in 1998 and 1999 to cap off his illustrious career. Elway would later return to the Broncos as general manager and assemble the team that would win Denver's third Super Bowl in 2016.
3.  Bryce Harper
Year: 2010
League: MLB
Team: Washington Nationals
What people were saying: Harper got the baseball version of the LeBron James treatment as a high school star in Las Vegas — a Sports Illustrated cover featuring the 16-year-old Harper literally labeled him "Baseball's Chosen One" and "The most exciting prodigy since LeBron." He earned his GED at 17 to leave high school early and spent a year starring in a junior-college division that, unlike the NCAA, used wooden bats, earning the Golden Spikes Award as the No. 1 amateur baseball player in the country.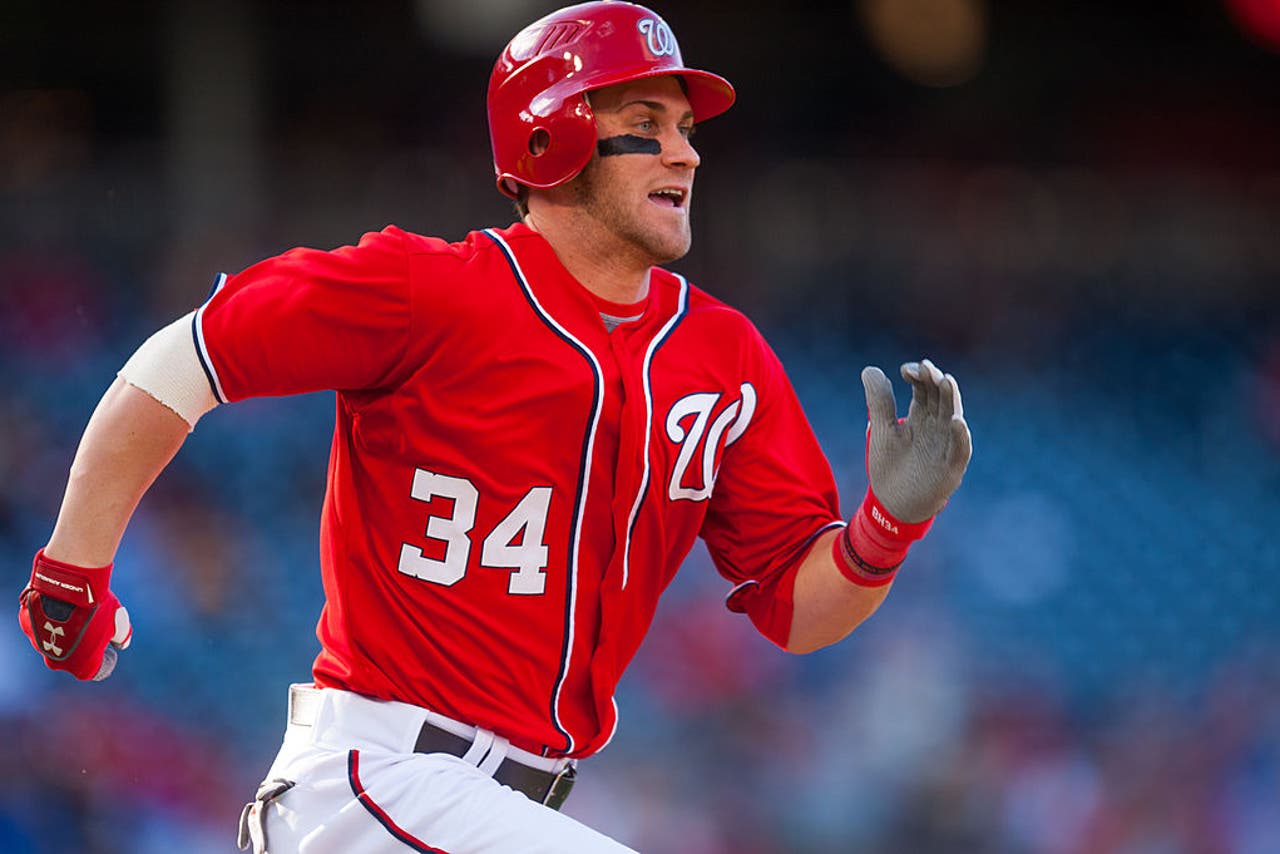 Expectations were sky-high for Bryce Harper in 2012, when he debuted in the majors. (Photo by Rob Tringali/SportsChrome/Getty Images)
Did he live up to the hype? Harper stormed through the minor leagues, made his MLB debut early in the 2012 season, was named National League Rookie of the Year and helped the Nationals to their first playoff berth since the franchise's 2005 relocation and rebrand from Montreal. The story of his career since then has been mixed — Harper has dealt with several injuries, but when healthy, he has been the prolifically gifted hitter that he was billed as. Harper has made seven All-Star teams and was named National League MVP in 2015 and 2021, the latter award coming after he signed a 13-year, $330 million contract with the Nationals' division rival Philadelphia Phillies in early 2019, at the time the richest contract in the history of North American sports. Arguably Harper's most memorable highlight came last October, when his go-ahead home run in Game 5 of the NL Championship Series helped power the Phillies to an improbable World Series berth. But Harper is still lacking the ultimate prize, as Philadelphia lost the series to the Houston Astros in six games.
4. Lew Alcindor (Kareem Abdul-Jabbar)
Year: 1969
League: NBA
Team: Milwaukee Bucks
What people were saying: Before the days of the social media, the internet or even cable television, Lew Alcindor (later Kareem Abdul-Jabbar) stormed onto the basketball scene by leading his high school team on a 71-game winning streak that spanned multiple seasons, led UCLA to three NCAA titles and won National College Player of the Year each of those years and even forced college basketball to temporarily ban the dunk in an effort to curb his dominance. Abdul-Jabbar rejected a $1 million offer from the Harlem Globetrotters and was selected first overall by both the NBA's Milwaukee Bucks and the then-American Basketball Association's New York Nets in 1969, choosing the Bucks' $1.4 million contract offer after the Nets' counter-offer, reportedly worth more than $3 million, came too late.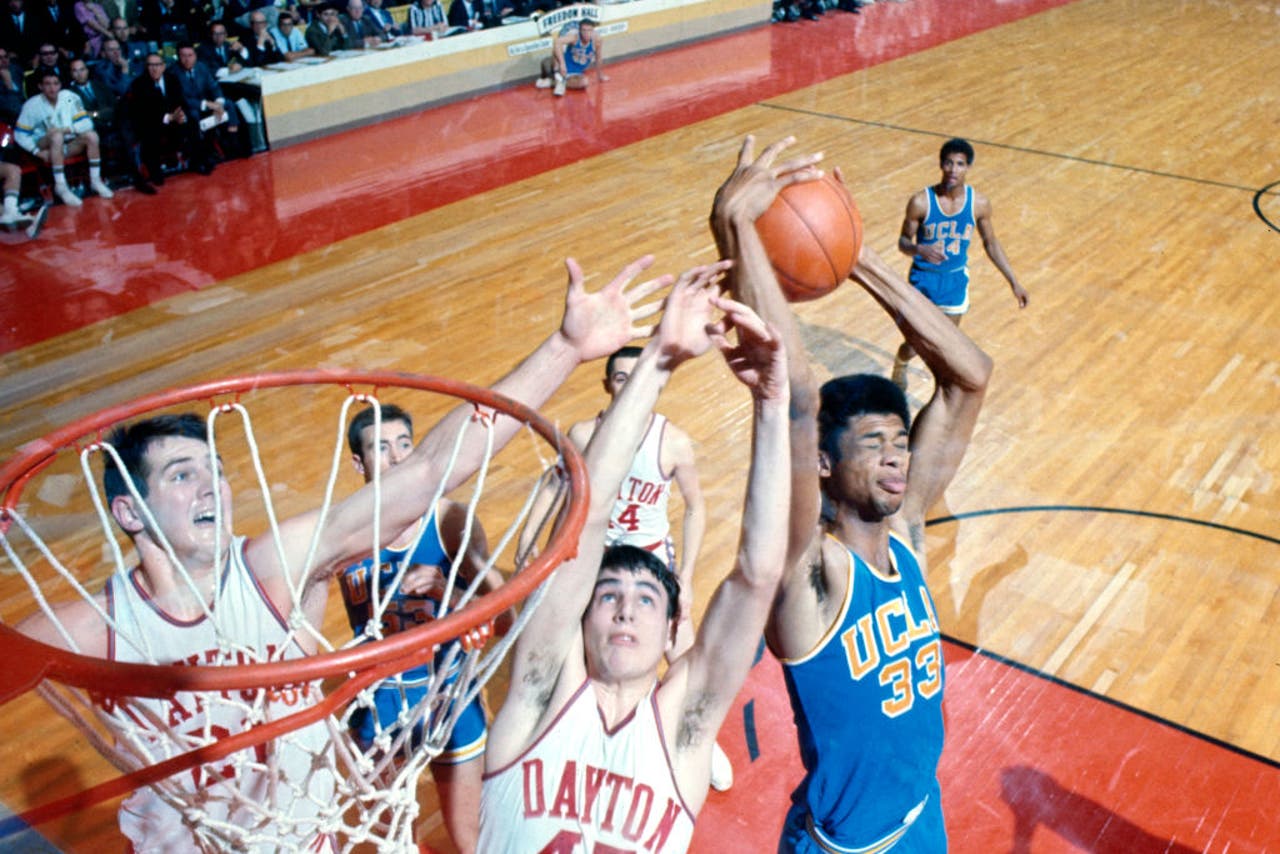 Lew Alcindor, who later changed his name to Kareem Abdul-Jabbar, won three NCAA titles at UCLA in one of most college basketball's most dominant careers. (Photo by Rich Clarkson/NCAA Photos via Getty Images)
Did he live up to the hype? The Bucks improved by 29 wins in Abdul-Jabbar's rookie year and won their first NBA title in his second season, with Abdul-Jabbar also winning NBA MVP and Finals MVP. He won MVP again each of the next two seasons, and was dealt to the Los Angeles Lakers in 1975 after one of the first major trade demands in modern professional sports history. He won three more league MVP awards and five more NBA championships as a foundational member of the Lakers' 1980s "Showtime" dynasty alongside Magic Johnson. He also earned another Finals MVP award in 1985, 14 years after his first one. Abdul-Jabbar finished his career with 19 All-Star appearances, 10 First Team All-NBA nods, and remained the league's all-time leading scorer until James broke his record in early 2023. He also remained a prominent social-justice activist during and after his college and NBA careers, receiving the Presidential Medal of Freedom in 2016 for his efforts.
5. Andrew Luck
Year: 2012
League: NFL
Team: Indianapolis Colts
What people were saying: Few have ever entered the NFL Draft with as much hype as Luck did. Draft analysts going back to the middle of his sophomore year in fall 2010 were labeling him one of the most NFL-ready quarterback prospects they had ever seen, and by the end of the 2011 season, they were deeming the Stanford product as good or better than the two other quarterbacks on this list. Luck was considered just about as perfect an NFL Draft prospect as had ever existed in the modern era, so much so that several NFL fan bases adopted the pro-tanking "Suck for Luck" motto in 2011. Ironically, it was the Colts' implosion with Peyton Manning (more on him in a moment), who was sidelined due to injury, that gave them an NFL-worst 2-14 record and the chance to draft Luck.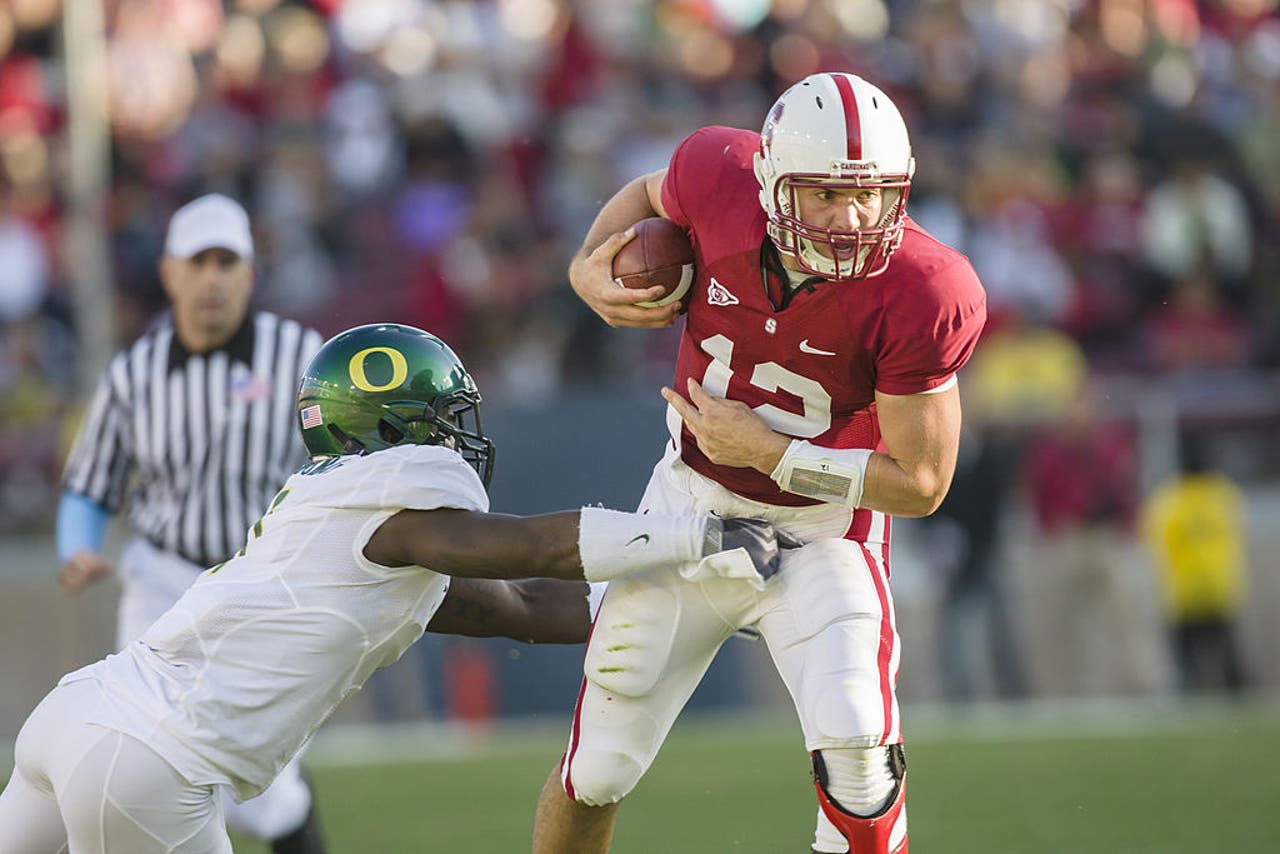 Andrew Luck was such a generational QB prospect at Stanford that NFL fans encouraged their teams to "Suck for Luck" before the 2012 NFL Draft. (Photo by David Madison/Getty Images)
Did he live up to the hype? At first, yes. Luck led the Colts to 11 wins in 2012, the biggest one-season turnaround for a rookie quarterback in NFL history. After leading the Colts on playoff runs again each of the next two years, it seemed like Luck was destined to one day break through and win a Super Bowl in Indianapolis just as Manning eventually did. Instead, Luck started dealing with lingering shoulder injuries and the Colts regressed until returning to the playoffs behind a finally healthy Luck in 2018 — only for Luck to stunningly retire just before the 2019 season at age 29, citing his injuries as a major factor. Luck finished with four Pro Bowl selections and set the NFL single-season rookie passing yards record.
6. Peyton Manning
Year: 1998
League: NFL
Team: Indianapolis Colts
What people were saying: Manning entered the draft after a sterling college football career at Tennessee, leading the Volunteers to an AP top-10 finish each season he was their starting quarterback. He set 33 school records, including in passing yards and touchdowns, and left as the NCAA all-time wins leader. The son of longtime New Orleans Saints quarterback Archie Manning was also predicted to go first overall in the 1997 NFL Draft, but instead chose to stay at Tennessee for another season. When he did enter the draft in 1998, Peyton faced surprisingly fierce competition to go No. 1 overall from Washington State quarterback Ryan Leaf, but won out because he was considered more NFL-ready.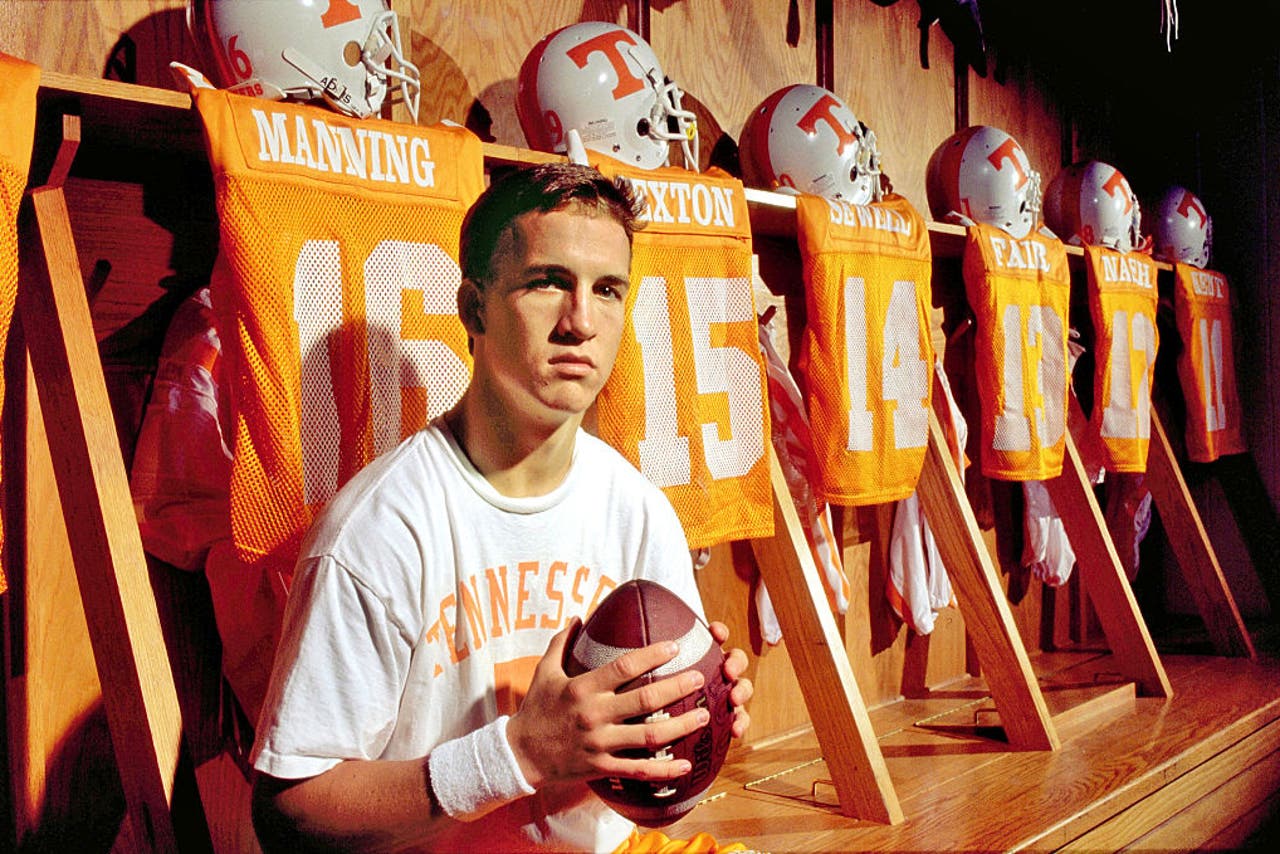 As the son of a Pro Bowl quarterback, Peyton Manning was in the spotlight from a young age. (Photo by Doug Devoe/Sporting News via Getty Images)
Did he live up to the hype? Manning is considered one of the greatest quarterbacks in NFL history, renowned for his mental acumen at quarterback just as much as his talented throwing arm. He won four NFL MVPs, two AFC championships and a Super Bowl title in Indianapolis, then after the Colts jettisoned him following a major neck surgery that caused him to miss the 2011 season, Manning won another MVP, two more AFC championships and another Super Bowl title with the Denver Broncos. Manning retired as a seven-time first-team All-Pro and 14-time Pro Bowler and still holds the NFL record for most pass yards and most pass touchdowns in a single season.
7. Patrick Ewing
Year: 1985
League: NBA
Team: New York Knicks
What people were saying: After he became a three-time All-American, NCAA Player of the Year and national champion at Georgetown, Ewing was considered the next great NBA big man, set to define a team's era just as Bill Russell and Kareem Abdul-Jabbar had done before him. Ewing was already the overwhelming favorite to be the No. 1 overall pick when the first ever NBA draft lottery took place and awarded the New York Knicks with the pick, prompting widespread but unproven accusations that the lottery was rigged to revitalize the floundering Knicks.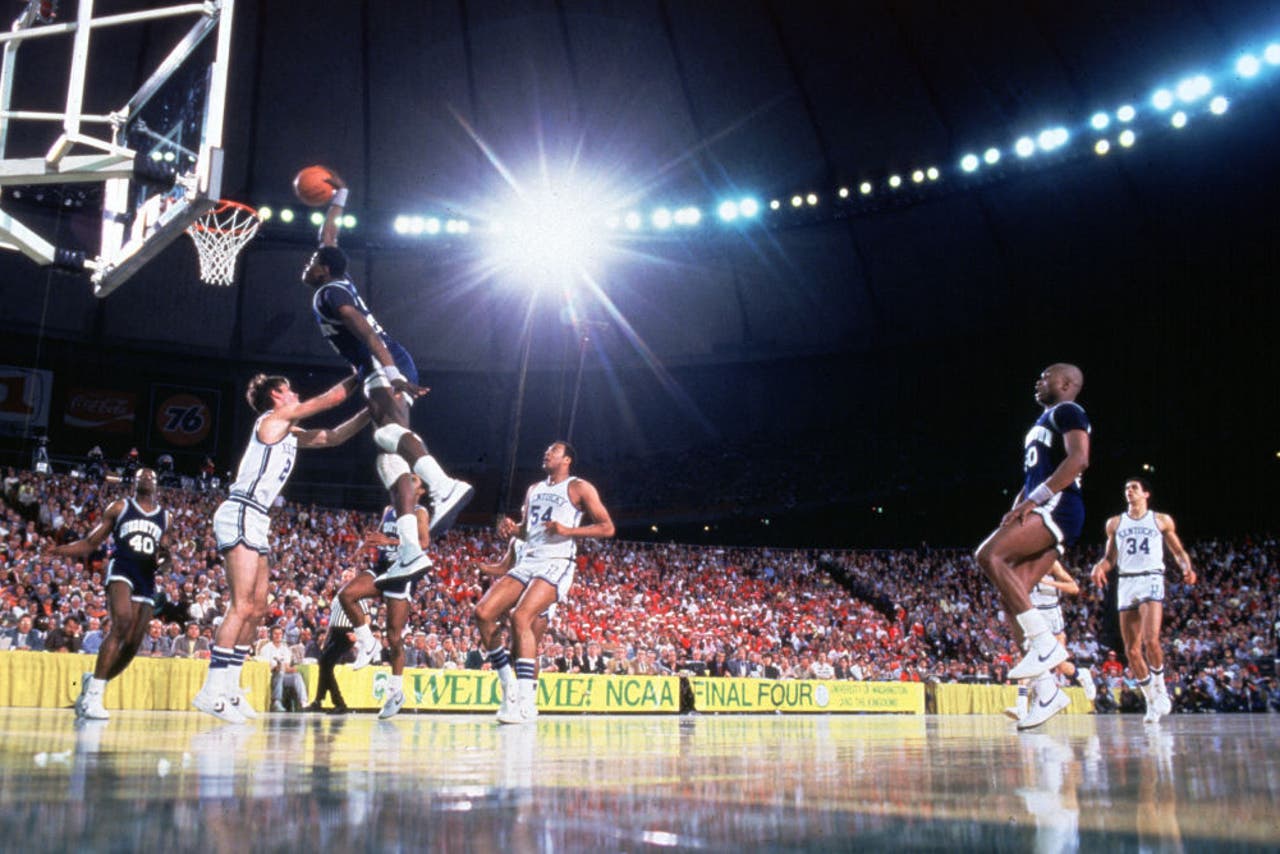 Dominant Georgetown center Patrick Ewing was the top pick in 1985, the first year of the NBA's Draft Lottery. (Rich Clarkson/NCAA Photos via Getty Images)
Did he live up to the hype? The Knicks' lone period of consistent success in the 50 years since their last NBA title lines up perfectly with Ewing's 15 years in New York from 1985-2000, and that's far from a coincidence. Ewing was as dominant as advertised when healthy, winning Rookie of the Year and being named to 11 All-Star teams. He helped the Knicks to two NBA Finals appearances — but failed to win a championship, often running into Michael Jordan's Chicago Bulls in the playoffs.
8. Ken Griffey Jr.
Year: 1987
League: MLB
Team: Seattle Mariners
What people were saying: The son and namesake of one of the stars on the 1970s Cincinnati Reds "Big Red Machine" dynasty, Griffey won high school baseball player of the year in 1987 after a career at Cincinnati's Moeller High School that drew scouts from across MLB and would make fans and opponents alike reportedly hold their breath in anticipation of what he could do next. It was usually something special — despite only playing baseball in his final two seasons of high school, Griffey finished with a .478 batting average.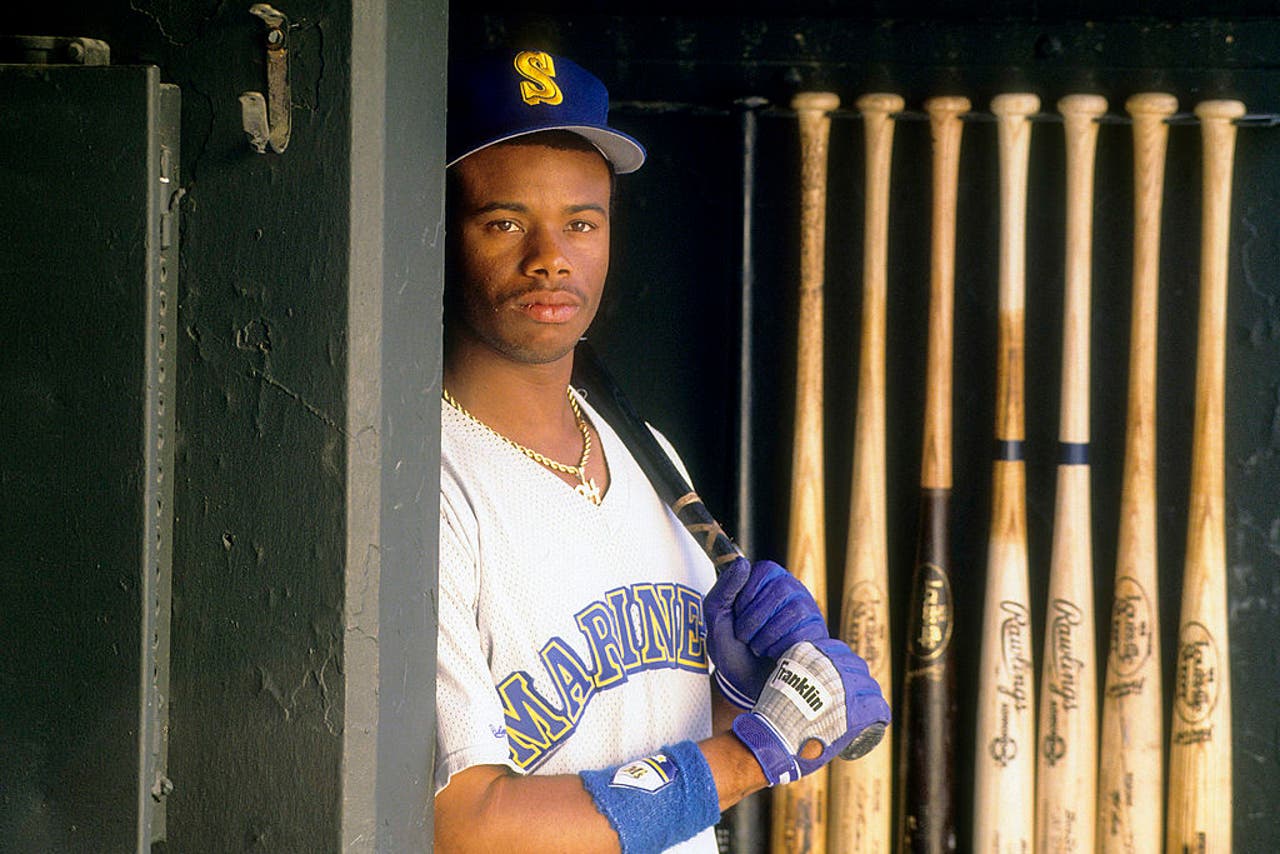 The son of an All-Star outfielder, Ken Griffey Jr. was the No. 1 pick in 1987. (Photo by Focus on Sport/Getty Images)
Did he live up to the hype? Almost immediately after his MLB debut in 1989, Griffey became one of the most electrifying players across the sport over the next decade. He made 13 All-Star teams, won 10 Gold Gloves and seven Silver Sluggers, was named 1997 American League MVP, hit 630 home runs (currently seventh all-time) and became one of the most iconic figures in Seattle sports history. Injuries marred the back half of his 21-year career following a trade to his hometown Reds in 2000, but by then, Griffey's legacy was already secure. In 2016, Griffey became the first former No. 1 overall MLB Draft pick to be elected to the Baseball Hall of Fame and the first player to ever be elected with more than 99 percent of the vote.
9. Sidney Crosby
Year: 2005
League: NHL
Team: Pittsburgh Penguins
What people were saying: Crosby had a spotlight on him from an early age as a prolific youth ice hockey star in Canada, and the spotlight only grew when he dominated a major Canadian junior hockey league as a teenager. The draft lottery won by the Penguins to draft him first overall in 2005 was dubbed the "Sidney Crosby lottery."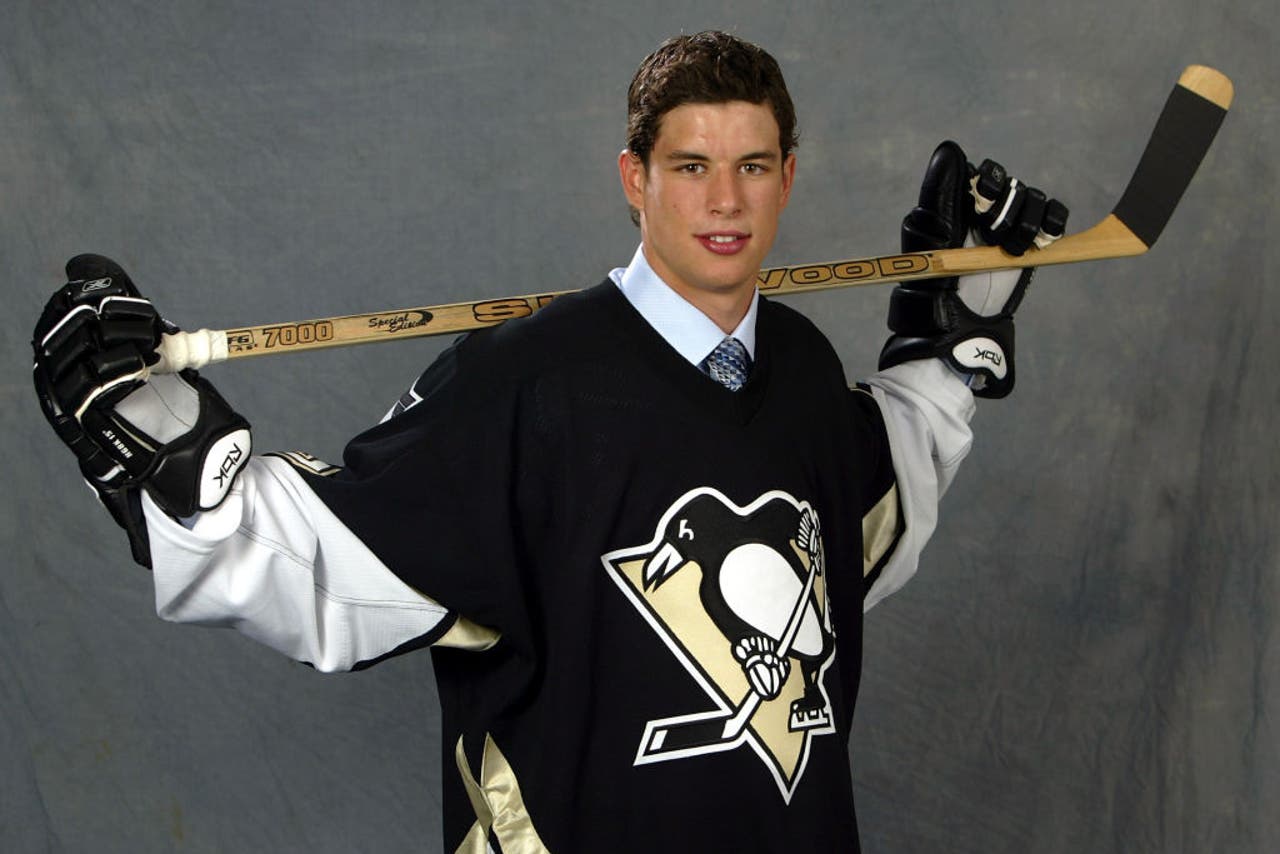 Sidney Crosby has lived up to the hype since becoming the No. 1 overall pick by the Pittsburgh Penguins in 2005. (Photo by Dave Sandford/Getty Images for NHL)
Did he live up to the hype? In the nearly two decades since, all of which Crosby has spent in Pittsburgh, he has led the Penguins to three Stanley Cup championships, won the Art Ross Trophy as NHL individual points leader twice, won two Hart Trophies as the NHL's MVP, two Richard Trophies as the league's leading goalscorer, made eight All-Star teams and won two Smythe Trophies for his postseason heroics. He is widely regarded as one of the best NHL players ever.
10. Alex Rodriguez
Year: 1993
League: MLB
Team: Seattle Mariners
What people were saying: A-Rod was not only a star high-school baseball player in south Florida, batting .477 for the No. 1 team in the country his junior year before increasing his average to .505 his senior year, but also a football star with college offers to play quarterback. He is still considered one of the top high school baseball prospects in the modern era, winning USA Baseball junior player of the year and Gatorade baseball player of the year in 1993.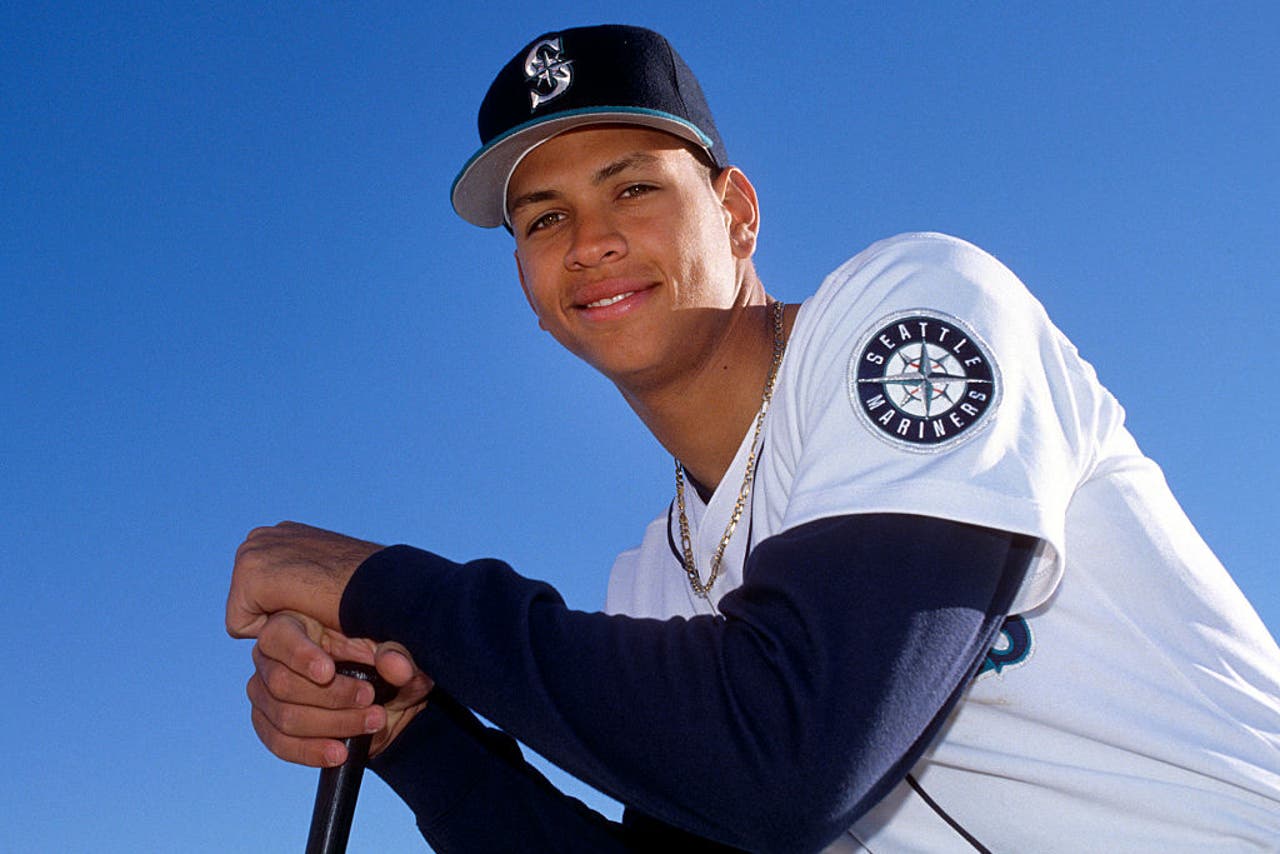 Alex Rodriguez debuted for the Mariners as an 18-year-old in 1994. (Photo By John Cordes/Icon Sportswire via Getty Images)
Did he live up to the hype? Rodriguez debuted for the Mariners as an 18-year-old in 1994, but it took him a while to entrench himself in the major leagues. Once he did, Rodriguez became one of the best hitters of his generation. He won the batting title in 1996, his first full MLB season, made 14 All-Star teams, won 10 silver sluggers, led the American League in home runs five different times, won three MVPs and finally captured a World Series championship as a member of the 2009 New York Yankees. Now, Rodriguez shares his insights and analysis on the current generation of baseball stars as an MLB analyst for FOX Sports.
11. Shaquille O'Neal
Year: 1992
League: NBA
Team: Orlando Magic
12. Stephen Strasburg
Year: 2009
League: MLB
Team: Washington Nationals
13. Connor McDavid
Year: 2015
League: NHL
Team: Edmonton Oilers
14. Brittney Griner
Year: 2013
League: WNBA
Team: Phoenix Mercury
14. Brien Taylor
Year: 1991
League: MLB
Team: New York Yankees
15. Darryl Strawberry
Year: 1980
League: MLB
Team: New York Mets
16. Zion Williamson
Year: 2019
League: NBA
Team: New Orleans Pelicans
17. Trevor Lawrence
Year: 2021
League: NFL
Team: Jacksonville Jaguars
18. Greg Oden
Year: 2007
League: NBA
Team: Portland Trail Blazers
19. Cam Newton
Year: 2011
League: NFL
Team: Carolina Panthers
20. Breanna Stewart
Year: 2016
League: WNBA
Team: Seattle Storm
---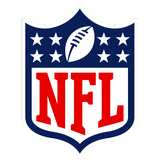 Get more from National Football League Follow your favorites to get information about games, news and more
---