'The Stones and Brian Jones' Interview: Director Nick Broomfield
Opening in theaters on November 17th is the new documentary from filmmaker Nick Broomfield ('Kurt & Courtney,' 'Biggie & Tupac,' 'Whitney: Can I Be Me') entitled 'The Stones and Brian Jones,' which examines the life and death of Rolling Stones founder Brian Jones.
Moviefone recently had the pleasure of speaking with filmmaker Nick Broomfield about his work on 'The Stones and Brian Jones.' The director spoke of his personal connection to Jones, how his experience directing documentaries about rock stars uniquely qualified him to tell Brian's story, why Brian drifted away from Mick Jagger and Keith Richards and left The Rolling Stones, his surprising love for The Beatles, Brian's possible future in music had he lived, and the importance of Bill Wyman's involvement in the documentary.
Moviefone: To begin with, can you talk about your personal connection to Brian Jones and why you wanted to make this documentary?
Nick Broomfield: Well, I met Brian when I was just 14. I was traveling back to school, and I guess like a lot of school kids, the Stones were our heroes, because they were very anti-authority. We were all wearing school uniforms, and they were regarded as being bohemians because they had this long hair. But I think they really meant a lot to us in terms of just a break with the past, ushering in a whole new future, and it was like a kind of dream. So, seeing Brian on the train was like meeting one's idol in a way. I sort of timidly asked him for his autograph, and he ushered me to sit opposite him on the train. We chatted for about 14 minutes, which for a young 14-year-old was unbelievably wonderful. I couldn't quite believe it. He was very gracious and elegant, and spoke with a very smart middle-class accent, which I wasn't expecting either. This was a guy who seemed to have absolutely everything going for him. Yet seven years later, he was dead. He was the first of the so-called "27 Club," and I always wondered what on earth had happened between this seemingly very happy person who I'd met on the train to somebody who died at 27 just so soon afterwards. In a way, the film was looking back at that time and looking at him.
MF: How did your experience directing other documentaries about rock stars help inform your work on this movie and uniquely qualify you to tell Brian's story?
NB: I felt a lot of his demise was going back to the age-old thing of wanting his parents to approve of him and not getting it. His parents were very middle class. His father designed jet engines, so he was a super engineer and mathematician. He did not want Brian in a rock band. He wanted him to be a barrister or a doctor or something like that in the professions. They never went to any of his concerts. Although he was the leader of the Stones and formed the Stones, it meant very little to them. They were very religious people: Welsh Baptists. Nothing that Brian did was good enough for them. I had previously made a film about my own father ('My Father and Me'), and it was interesting to go into his family background, finding letters from him to his parents and from his parents to him. There was also an incredible recording that the BBC did from back in the day with his father, who was an incredibly articulate man, and spoke with incredible precision about Brian and the whole thing, which also gave amazing insight into his character, which was very complex. I think he was incredibly gifted and talented. He was an A-student at this ancient grammar school, which is very famous in England. He brought all this expertise to the Stones. He was the most accomplished of the musicians. He knew how to play slide guitar. He had worked out the keys that Muddy Waters and all the rest of the guys were playing in. He was a musicologist, but he lacked the confidence to write songs himself. He lacked the confidence that Mick and Keith had, and the discipline to a certain extent. So, when they stopped doing covers and started making their own songs, Brian fell kind of by the wayside. His leadership of the Stones was challenged obviously by Mick, who was not only the most brilliant front man ever but was also now writing songs like "Satisfaction" with Keith, and Brian was unable to accept that. I guess he wasn't secure enough to celebrate their unbelievable success and enjoy that this was something that he had created. Instead of which he became more and more, I guess, unreliable and fell out with the other band members. The sixties were a time without rehabilitation clinics and the hordes of psychiatrists and psychologists we seem to have now, and there weren't really any guide rails. I think Brian just didn't look after himself and wasn't looked after by anybody else, and from being such a great talent, he pretty much did himself in.
MF: In your opinion, had Brian lived, do you think he would have eventually reunited with The Rolling Stones, or would he have continued working in music but with other projects?
NB: Well, there was obviously a lot of speculation. I mean, it was very hard to tell. I mean, he was very popular. He was best friends with Jimi Hendrix, and they often played together. He played on one of The Beatles albums. "You Know My Name," he played the sax on that of all things. In fact, he was an enormous fan of The Beatles music. His girlfriends would say he never ever played the Stones' music at home. He'd play The Beatles all the time. So, he loved being close to Paul McCartney, I think. Who knows?
MF: Do you think his love for The Beatles was a result of his resentment towards Mick, Keith and The Rolling Stones?
NB: Probably. I mean, he apparently hated "Satisfaction." He said, according to one of his girlfriends, it was vulgar and cheap, and it was just not the kind of music that he wanted to do. But I'm sure a lot of that was a despair that they had managed to come up with the most brilliant song ever, and that people like Otis Redding were copying their music, who was a hero of Brian's. So, I think it must've just destroyed him, really. I mean, he was a big talent. On "Ruby Tuesday," he played the little recorder, and he played that incredible guitar piece on "Paint It Black." I think with a sitar or something. So, he had a genius. What he wasn't good at really was working with a team, which I guess you have to do with a band. You must go with the developments that inevitably happen.
MF: Finally, can you talk about the importance of former Rolling Stones bassist Bill Wyman's involvement in the documentary?
NB: Well, Bill, we've credited him as a historical consultant because he is the guy with all the archive, and he kept a diary for every single day that he was with the Stones. They line his library, these incredible books. So, every single day is accounted for, every gig is written about. It was amazing having him as a resource. We were lucky enough that one day, we were going to do a voice interview, and we asked him if we could film it. Then I just pulled my phone out and said, "Look, just record it now." He said, "What, here now?" I said, "Yeah." And we got this wonderful two-hour interview from Bill. He's so knowledgeable, obviously, about everything, and he prides himself as being an archivist, and he's logged all the photographs. I think he had a real insight into that time. He was detached. I think archiving was his passion, so he was wonderful to work with. We were very lucky to get him.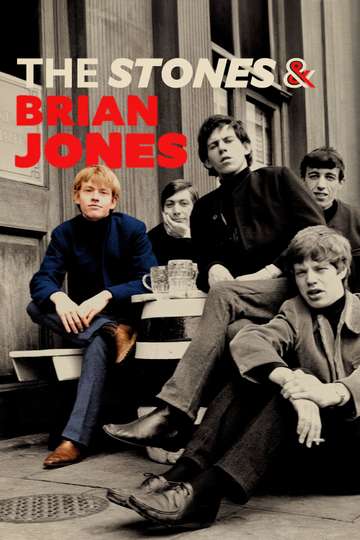 1 hr 33 min
May 15th, 2023
A look at the relationships and rivalries within The Rolling Stones in their formative years, as well as the creative musical genius of Brian Jones, key to the success… Read the Plot
What is the Story of 'The Stones and Brian Jones'?
Featuring revealing interviews with all the main players and unseen archive released for the first time, 'The Stones and Brian Jones' explores the creative musical genius of Jones, key to the success of the band, and uncovers how the founder of what became the greatest rock'n'roll band in the world was left behind in the shadows of history.
Who is Featured in 'The Stones and Brian Jones'?
Other Movies Similar to 'The Stones and Brian Jones:'