'The Marvels' Interview: Nia DaCosta and Mary Livonas
Opening in theaters on November 10th is 'The Marvels,' which is the 33rd film in the Marvel Cinematic Universe, a sequel to 2019's 'Captain Marvel' and a continuation of the Disney+ series 'Ms. Marvel' and 'WandaVision.'
The movie stars Brie Larson, Iman Vellani, and Teyonah Parris reprising their MCU roles as Carol Danvers, Kamala Khan, and Monica Rambeau, respectively, and was directed by Nia DaCosta ('Candyman').
Moviefone recently had the pleasure of sitting down in-person with director Nia DaCosta and executive producer Mary Livonas ('WandaVision') to talk about their work on 'The Marvels.'
They discussed the new movie, the challenges of crafting a 'Captain Marvel' sequel that also includes elements from 'Ms. Marvel' and 'WandaVision,' introducing Kamala Khan and Monica Rambeau to the big screen, working with Brie Larson, navigating the "Marvel System," the most difficult scene to shoot, and what fans can expect from breakout character Goose.
Moviefone: To begin with, Nia, can you talk about the challenges as a filmmaker of coming into direct a sequel that is also drawing on storylines from the TV series 'Ms. Marvel' and 'WandaVision,' as well as the 32 previous MCU movies? Was it difficult to find the right tone?
Nia DaCosta: Weirdly, the tone was one of the easiest things. It came naturally. I really wanted this to have a very specific tone because it's a very different kind of film, we have these three heroes together, and it was important to me that it was funny. I wanted a lot of the humor to not necessarily come from jokes, but to come from just the warmth and the reality of the characters. So, the Khan family are just so funny, because their youngest member is a superhero and they're like, "We're from Jersey City. What are you talking about?" Then Carol being jaded, and Monica having her experience and her way of dealing with the craziness of everything that's going on. So, tone was important to me and the thing that came most naturally.
MF: Mary, as a producer, was it difficult working with Marvel to keep track of all the continuity?
Mary Livonas: Well, what's been so great is that this is a team-up that's been in the works for a very long time. I was fortunate to work on the first 'Captain Marvel' movie, and it was a definite decision to make Monica Rambeau the age that she was in that installment because it took place in the past. Because we knew that we wanted Carol and Monica to one day share the big screen together. Then of course when 'Ms. Marvel' came up as a possibility for a Disney+ show and that show was developed and came out, it was an awesome experience to work in lockstep with that team to understand what foundation they were laying. But what's wonderful is that the notion of a team-up is so ingrained in the DNA of Marvel Comics that to put it on screen felt natural for us. Again, I was lucky enough to work on 'WandaVision,' so continuing that story thread was also wish fulfillment and a blast to do. Really this is a team up movie unlike anything that we've seen before in Marvel. We've had the adventures, but this is a team-up movie that stands on its own two feet.
MF: For both of you, what was it like to have the opportunity to introduce Kamala Khan and Monica Rambeau to the big screen?
ND: It was so fun. It was so great. Especially because I love 'Ms. Marvel.' Ms. Marvel is one of my favorite characters in the comics, and I really loved meeting Monica Rambeau in 'WandaVision.' So, being able to bring them onto the big screen and do more with them and throw them into a much bigger scenario than they'd been in in the TV shows was really cool.
ML: What's great is just the ability to celebrate the incredible performances and the characters that Teyonah and Iman have helped develop and introduce them to a larger audience. What's wonderful about this film and this installment is the notion that together we're more than the sum of our parts and we certainly find that in the case of 'The Marvels.'
MF: Mary, what was it like for you to collaborate with director Nia DaCosta on this project?
ML: It's been awesome helping bring Nia's vision to life and creating this story together. She's not just wickedly cool, but she's a total nerd. When we first met, we just gushed about all the characters that we love for hours. So, to make the movie alongside someone who's as passionate, with a fellow fan was a joy. I can say the same about our crew members, but Nia is just such a talent and a force. Of course, she helped write on this as well and we're lucky to have her talent.
MF: Nia, I understand that you're a big of fan Marvel Comics. How did your knowledge of these characters and the Marvel universe uniquely qualify you to direct this movie?
ND: I think it was less the knowledge, and more my passion for it. I was really excited by it, and I think because I was a fan, it helped me to put trust into the Marvel system, even when I was like, "Oh my God, I would never do this usually." It helped in that way. Also, just from day to day, being able to have people on wires, flying around and introduce characters that I really love from the comics, that was so fun. So that's helpful, just in terms of keeping the passion alive.
MF: Can you expand on your experience working with the "Marvel System?" What was that like for you as a filmmaker?
ND: Yeah, it's interesting because this is one movie in a huge line of films that have come before and will come after, and television shows, and they're making so much more now, so it was interesting having to navigate and communicate between projects. For the most part, we got to do what we wanted to do, but you always are in a constant conversation with everyone, with Kevin Feige, with the 'Ms. Marvel" show. Asking about the things coming after, trying to figure out information like, "Have you figured out what you're doing with that yet? Because that will influence whether or not I have this in this scene." So, it's so different, but it was also a fun challenge.
MF: What's it like having actress Brie Larson as number one on your call sheet? What kind of tone does she set on the set?
ND: Well, she'd done 'Captain Marvel', she'd done 'Avengers: Endgame,' which is obviously one of the biggest movies of all time, not even just because of how successful it was, but just the making of it. So, she was an old hand. She really came in with so much information and a desire to help everyone else and have a good experience. When we initially talked, we both agreed this should be a joyful experience and fun, and she wanted everyone to have a good time. It's really demanding on actors physically and emotionally doing this kind of movie. You're on wires, you're working a lot, so she was a great leader in that sense.
ML: Brie's an incredibly giddy, fun-loving person who brings such earnestness and compassion to the role as well as on set. She really helped lead the charge and make sure that the environment was a chill, fun one.
MF: Nia, was there one scene or sequence in particular that was especially difficult or challenging to shoot?
ND: Not extremely, but that first big set piece that we have with the switching and the fighting. So that was a big challenge of figuring out the switching, and who's where when, where are they going, where are they coming from, and what side do we show. Once we got through that big challenge, it really helped us to have an easier time with the rest of the film. So that, I think, would be probably the most challenging. But also, the most informative.
MF: Finally, Goose was the breakout star of 'Captain Marvel,' what can fans expect from the character in 'The Marvels?'
ND: Goose just has the best time in this film, and I think she is the fourth Marvel. She's the star of the film. So, I think there's a lot of exciting stuff with Goose in this movie.
ML: Goose continues to be as chaotic as Goose has ever been and as audiences have seen quick glimpses of, there are more Flerkens afoot. Rizzo is the US-based Goose, but we had Nemo and Tango with us in the UK. They are very exclusive celebrities who have very regimented training schedules. They're awesome to work with. Incredibly talented, beautiful souls.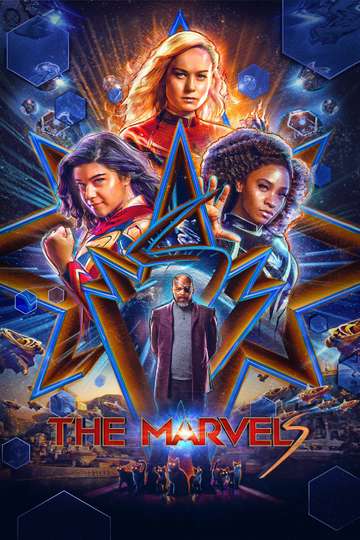 "Higher. Further. Faster. Together."
1 hr 45 min
Nov 10th, 2023
Carol Danvers, aka Captain Marvel, has reclaimed her identity from the tyrannical Kree and taken revenge on the Supreme Intelligence. But unintended consequences… Read the Plot
What is the plot of 'The Marvels'?
While investigating a wormhole linked to the Kree, Monica Rambeau's (Teyonah Parris) powers become entangled with those of Kamala Khan (Iman Vellani) and Carol Danvers (Brie Larson). The trio team up to determine why they are swapping places with each other every time they use their powers.
Who is in the cast of 'The Marvels'?
Other Movies Similar to 'The Marvels:'