'The Little Mermaid' Blu-ray Interview: Colleen Atwood
Available on Disney+ and Digital now and premiering on 4K, Bu-ray and DVD beginning September 19th is the live-action adaption of 'The Little Mermaid,' which was directed by Rob Marshall ('Mary Poppins Returns').
What is the plot of 'The Little Mermaid?'
Ariel (Halle Bailey), the youngest daughter of the kingdom Atlantica's ruler King Triton (Javier Bardem), is fascinated with the human world but mermaids are forbidden to explore it. After saving Prince Eric (Jonah Hauer-King) from a shipwreck and falling in love with him, she becomes determined to be with him in the world above water. These actions lead to a confrontation with her father and an encounter with the conniving sea witch Ursula (Melissa McCarthy), making a deal with her to trade her beautiful voice for human legs so she can discover the world above water and impress Eric. However, this ultimately places her life (and her father's crown) in jeopardy.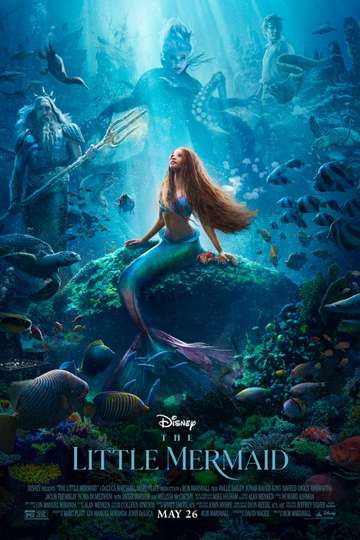 Who is in the cast of 'The Little Mermaid?'
Moviefone recently had the pleasure of speaking with four-time Oscar-winning costume designer Colleen Atwood ('Chicago,' 'Alice in Wonderland') about her work on 'The Little Mermaid,' her process, her longstanding working relationship with director Rob Marshall, designing the look of the mermaids, working closely with the VFX department, taking cultural inspirations for the costumes, and revisiting the animated classic, as well as a tease of the costumes she created for Tim Burton's upcoming sequel, 'Beetlejuice 2.'
Moviefone: To begin with, can you take us behind the scenes and explain your process as a costume designer? When you come on to a project and read the script for the first time, where do you go from there?
Colleen Atwood: Well, I read the script and I talk to the director, in this case, Rob, and we talk about what he's seeing for the movie. In this case, because the people that were building the environment, the art department had started quite a bit before me because of the time it takes to do all that. So I met with him in LA, and we met where the art department was beginning to build the world. So we met there, and he walked me through that. Then we talked about colors and ideas, and I told him I liked the ideas of Seven Sisters from the Seventh Seas, each one having a different fish for their character. As well as all my ideas of what I was thinking with King Triton, and we just kind of walk through it. But not the entire cast at that point in history is always in place at the beginning. But we knew it was Halle Bailey, and Rob knew who he wanted for the other parts, but they weren't in place yet. So I started with her. I started figuring out the different worlds along with the costumes, not just for the main characters, but how the costumes at the castle looked, what the reflection of the costumes in the village is, so I had an overview of the whole movie. Then as I got characters, I could dial them into it, which is a good way to work, because you know where you're going with it, in a less kind of random matter. Rob comes from theater, so that process of preparation is something he really understands, which is so advantageous to costume.
MF: You've worked with director Rob Marshall before, did that make the process of working on 'The Little Mermaid' a little easier because you have a shorthand with him and understand his tastes and what he might want?
CA: Yeah, there's a lot of trust there between us. It's fun always when you work with somebody to self-challenge, because you kind of know what they're going to be like, and then you try to find something that you haven't kind of plugged into before that could work too. So it's kind of a parallel blessing, but it really is a good way to push yourself to another level as a designer, because you can get comfortable, but you want to be better. So that was kind of my challenge with him.
MF: Can you talk about the look of the mermaids and designing their costumes?
CA: Well, the actual costumes themselves, as far as the undersea costumes, were virtual. So I sat with a computer artist and designed them. I did tails that were the right scale so they had reference, and I made fabrics that looked like fish scales to get the colors and the textures right. But I really sat with one guy, and he and I did it together because I don't have the skills to do digital design. But it was a whole other world for me. Then as we got real people into the facsimiles of the costumes, because we did bits, we realized things that were challenges, like we didn't really want to do seashell bras on real people, because it always looks kind of hanky. So we ended up figuring it out, but making the transition between skin and scale was a big deal because it can look not beautiful, so you didn't want them to be that, you want them to be beautiful. So we came up with the little fin things that kind of transition in between to separate it, and then kind of a glow on the skin that might be a scale, but you don't really see scales all over the body. When you do digital design with a lot of dudes, they go in the creature direction real quick. So we got some really interesting first passes on stuff, but we really dialed all that down. I really wanted to keep also the idea of sisters in mind, but they were all within a younger, more youthful point of view in how they looked and what their body shapes were and all that.
MF: You've been a costume designer for almost 40 years and the industry has changed a lot over that time, particularly with technology and the way movies are made. Can you talk about how your approach to costuming has changed due to technology? Have you ever worked this closely with the VFX department on a project before?
CA: Well, I worked with VFX fairly closely on the 'Alice in Wonderland' movies because they were really early days, and we had a lot of challenges. In that case, I ended up making the real costumes because they were above ground, and then making them do different things to make the head look bigger and the body smaller and things like that. So that technology has evolved in a really different way. I did the 'Fantastic Beast' movies, which had a lot of that in it. So I've been paralleling the visual effects evolution since 'Mars Attacks!' It's been a long time. So I've been parallel learning that as I go along, and learning the tricks to make it better for costume. That's been a really fun challenge, and it's pretty amazing, the stuff they've done to make fabrics look better, because it used to be really flat, and now it has more dimension. But I made actual fish scale fabric for them to reference so I could control how that would manifest itself digitally. There's certain shadings and surface treatments and things like that that can make it look better. I think because I have done it before and seen it, that I've learned a lot, and it's a learning curve. It really is.
CA: Can you talk about the cultural inspirations you used to create the costumes for the human world?
CA: Well, it was interesting in a very tricky area. I really took the reference of the time period of the castle. The time period of the castle was set in a sort of early 1800s vaguely, but no nail down date, so I sort of plugged in to 1830-1840 when people started coming to the Caribbean that weren't from there, to settle and build so-called castles. But the big influence for me was the shapes that came from that period, but the materials came more from the land in which we were inhabiting, which wasn't necessarily the case in real history at all. So I departed history very quickly, because I wanted the colors to be reflective of the ocean and the environment. So the castle, for me, was like dried coral and different corals with the faded colors and the textures of corals. So I kind of used the materials of the ocean to influence the costumes in their design. The men's costumes there, I made all out of pale textured linen. In that period, they didn't make clothes out of that stuff. So it was really fun to make the shapes of a period but in different materials, and create your own magical world in that way that people could kind of connect with. Then the village had a really festive, under the sea kind of coral flowing colors, and that kind of life in contrast to the elitist coral castle. So that kind of was how I pulled it together.
MF: Were you a fan of the original 'The Little Mermaid,' and did you use the animated movie as a reference for the costumes and look of the film?
CA: I was a fan, but not like my kids were fans. I was a little bit of an older person. I wouldn't have a 'Little Mermaid' wedding. But Rob's take on things, it's always like a different journey with him. He totally changes everything up so well. But we did want to pay homage to the known entity of a character as beloved as 'The Little Mermaid.' So you don't think, "Oh, I'm going to not do 'The Little Mermaid.' Why do that? It's done." Instead, we just embraced the colors, the energy of her, the red hair, the colors of the tail the lilac bought us and all that, but reinvented it in a way that was more human, more today and kind of youthful. In doing that with the reference of all the different fishes from the seas, I was kind of playing with the culture within the fish costumes, which was limited, you could only do a certain amount because of what they were, but you could definitely give a spontaneity in the placement of where the fins were, which could kind of relate to a samba skirt, or a kimono, or whatever that was. The Indian mermaid had a one shouldered one, and the Thai mermaid had a little bit of an Asian design to her costume. So it all was sort of related, but not in a big obvious way.
MF: Finally, I understand that you were working on 'Beetlejuice 2' with Tim Burton before the strikes shutdown production. Can you give us a little tease of the costumes fans can expect to see when that movie is eventually released?
CA: Well, as always, you can't get away from the homage to the original. So there's that, but there's a whole next level and layer of fun costumes that are totally not tech costumes, but real, and all the things that go with that. Low tech as opposed to high-tech. So I think It's going to be really fun for people to see. The art's in the movie. Tim's an artist first and foremost, and that art is really present in this 'Beetlejuice.' I think people are going to love it.
Other Movies Similar to 'The Little Mermaid:'
'The Little Mermaid' is produced by Walt Disney Pictures, Lucamar Productions, and Marc Platt Productions. It is set to release in theaters on May 26th, 2023.