The Bears haven't set up Justin Fields for success — but here's how they can

Carmen Vitali
NFC North Reporter
The Green Bay Packers have set Jordan Love up for success.
The Chicago Bears haven't done the same for Justin Fields.
It really is that simple.
Granted, the Packers have quite a bit more practice. They've developed a succession system that has worked for the last three decades: draft your guy well before the current quarterback is done, let that young player sit and learn, then let him start three seasons later.
But it's so much more than that. Love was able to internalize and understand the offense he would be operating for three years. He was also able to see one of the greatest quarterbacks in history execute that system. But then, when it came time for him to take the reins, Green Bay was set up to help him. 
They had a great offensive line to protect Love. They had an established backfield for Love to lean on. And they have a defense loaded with talent that should be able to take some pressure off Love.
Sure, injuries have gotten in the way of some of that. Left tackle David Bakhtiari has already missed a game. Left guard Elgton Jenkins is hurt. But those are circumstances you can't exactly control. The good news is, they have depth there — and the Packers still weren't done.
They've armed Love with a self-aware and flexible play caller in head coach Matt LaFleur. We are finally getting to see the full breadth of his offense, his way. That was limited when Aaron Rodgers was the quarterback. Rodgers was set in his ways and those ways worked for the most part — who could argue with a future Hall of Famer?
Now, LaFleur is actively opening up the playbook and tailoring it to his young quarterback. That means motion (on 72% of plays, which ranks fourth in the league) to confuse defenses and help Love see what he's looking at as far as the defense goes. There has been a balance to the offense, as well. It's a three-pronged approach: let the quarterback learn, set him up with a good run game, offensive line and defense, then get him an experienced playcaller who actively helps him adjust and grow within an offense that is tailored to his skill set.
As a result, Love has the highest EPA per play of any quarterback through the first two weeks of the season at 0.478. He also has the highest quarterback rating among qualified passers at 118.1. His 11.5 touchdown percentage ranks first in the league and it's not close to Russell Wilson's second-ranked 7.6%. He's doing it all, almost inexplicably, without a great completion rate, either. If he starts completing more of his passes, which should come as his receivers get more used to him, his stats should go up even further.
By contrast, the Bears have given Fields none of those aforementioned three things. Fields did get to sit for the first part of his rookie season but was thrust into a starting role by *checks notes* Week 3. That offensive system was then ripped out from underneath him when Chicago fired Matt Nagy and hired Matt Eberflus. Not only did they give Fields a defensive head coach, but then Eberflus brought in Luke Getsy as offensive coordinator. Getsy was previously the quarterbacks coach in Green Bay, working with that know-it-all future Hall of Famer, who in all honesty, probably didn't need that much coaching. Last season was Getsy's first time developing an offense of his own. It was his first time calling plays. 
Getsy was also working with a limited roster last season. Sure, the Bears had the No. 1 rushing offense in 2022, but their leading rusher was Fields himself. Chicago doesn't have a good pass-blocking line. They can run block but they aren't built to be bull-rushed by NFL defensive ends. Fields had a rookie left tackle who was taken in the fifth round out of Southern Utah. 
Furthermore, the system Getsy developed didn't actually take his quarterback into account. Fields was the Bears' offense last season. This year, he was supposed to settle in, finally having continuity in the scheme. Only, the scheme doesn't play to Fields' strengths. Through two games, Fields has dropped back 66 times. By contrast, he's only run the ball on a designed run a reported four times. The Bears are trying to evaluate Fields as a passer; I get it. But making him one-dimensional by just sitting in the pocket without the benefit of a run threat isn't going to work. That doesn't work for anyone, period. It certainly doesn't work for a quarterback who is one of the most explosive runners the league has ever seen. 
'Everybody knew what was coming' — Buccaneers' Lavonte David on Shaq Barrett's game-clinching pick-six against the Bears
Chicago armed Fields with D.J. Moore this offseason. Moore adds to a wide receiver room that includes Darnell Mooney and Chase Claypool as its top three. The Bears have utilized an 11-personnel grouping on 78.5% of their plays this season, which ranks fourth in the entire league. But Fields either can't or won't even see them. The Bears' quarterbacks coach, Andrew Janocko, told me before the season that Fields needed to improve on his anticipation and rhythm. That's still the case.
We haven't seen Fields throw to a spot. He needs to physically see his receivers get to their designated mark before he throws the ball. That doesn't work in the NFL. You have to trust your receivers to be on time and at their mark ahead of time and get the ball out faster. You also need better footwork — and urgency with your dropback.
He cannot seem to get through his progressions, as a result. So much so, that the Bears offense seems to have multiple plays installed that are only half-field reads — meaning Fields only has to go through a progression on half the field. It's meant to help him make a quicker decision and speed up his game. But even that's not working when Fields has no faith in the offensive line. Yes, they need to give him more time but in reality, Fields doesn't even crack the top 10 in pressure percentage. He's pressured on 24.1% of dropbacks. That ranks 14th in the league. 
On top of that, Fields has the most time in the pocket from catching the snap to throwing the ball or getting pressured of any quarterback in the league at 2.8 seconds. 
The Bears are asking Fields to be something he's not: a rhythm passer. Give him an offense like Lamar Jackson had under Greg Roman in Baltimore: a wing-T-type run game with a vertical passing attack. That would open up play action, too, which would mitigate any pressure on Fields, while also giving his receivers time to get to their marks so that by the time Fields threw it, they would be there. Get Fields a big outside receiver, a Mike Evans type, who can catch those 50/50 balls down the field. Better yet, get creative with some RPOs that give Fields an option of whether to run or throw. He can throw more when he gets comfortable.
[Do you want more great stories delivered right to you? Here's how you can create or log in to your FOX Sports account, follow your favorite leagues, teams and players and receive a personalized newsletter in your inbox daily.]
Most importantly: let Fields run. Utilize more multi-back sets where the defense has to contend with three potential runners. Defenses aren't built to defend that, especially not anymore. The NFL is a passing league. Defenses are smaller and faster than ever. Give them a power run game that includes a 6-foot-3, 230-pound quarterback who can bulldoze right through them. He's already taking hits as it is.
"He is not that different than [Jalen] Hurts, who also is not a rhythm thrower," one NFC scout told me. "Look how the Eagles changed the offense to fit him: heavy run with big vertical target in AJ [Brown] [and] deep over/vertical speed in Devonta Smith."
There could still be hope for Fields, in the end. But I don't see how that comes in Chicago with this offense. He needs to go to a place that will support him and his skill set, like the Packers support Love and his.
What's Greg Roman doing these days, anyway?
Carmen Vitali covers the NFC North for FOX Sports. Carmen had previous stops with The Draft Network and the Tampa Bay Buccaneers. She spent six seasons with the Bucs, including 2020, which added the title of Super Bowl Champion (and boat-parade participant) to her résumé. You can follow Carmen on Twitter at @CarmieV.
---
CHICAGO BEARS trending



2024 Super Bowl odds: Updated Week 3 lines; Ravens, Broncos on the move


2023 NFL Week 3 Power Rankings: 49ers, Cowboys vie for top spot; 3 other NFC teams jump


2023 NFL Week 3 odds, predictions: Picks, lines, spreads for every game





Julius Peppers, Antonio Gates headline new 2024 Pro Football Hall of Fame nominees


2023 NFL Week 3 odds: Fade the Chiefs, other Week 3 best bets, picks


What we learned in NFL Week 2: Young QBs on the rise; how much trouble are Jets, Chargers in?





NFL Week 2 highlights: Dolphins, Cowboys, 49ers, Bills win


2023 NFL odds: Can NFC continue unbeaten streak against AFC?


2023 NFL Week 2 odds, predictions: Picks, lines, spreads, results for every game

---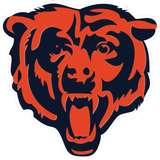 Get more from Chicago Bears Follow your favorites to get information about games, news and more
---