Reigning Super Bowl champion Chiefs not No. 1 in first 'Herd Hierarchy' of 2023
The 2023 NFL season is upon us.
Colin Cowherd dropped his first Herd Hierarchy of the year, ranking the top 10 teams in the league before the season opens up on Thursday. All of the teams in Cowherd's top 10 are coming off a playoff appearance in 2022, so Aaron Rodgers and his Jets squad aren't included. There's also a bit of a surprise at No. 1, with Cowherd not placing the reigning Super Bowl champs nor the runners-up in the top spot. 
Here's this week's Herd Hierarchy. 
Herd Hierarchy: 49ers, Chiefs, Bengals battle for No. 1 in Colin's Top 10 entering Week 1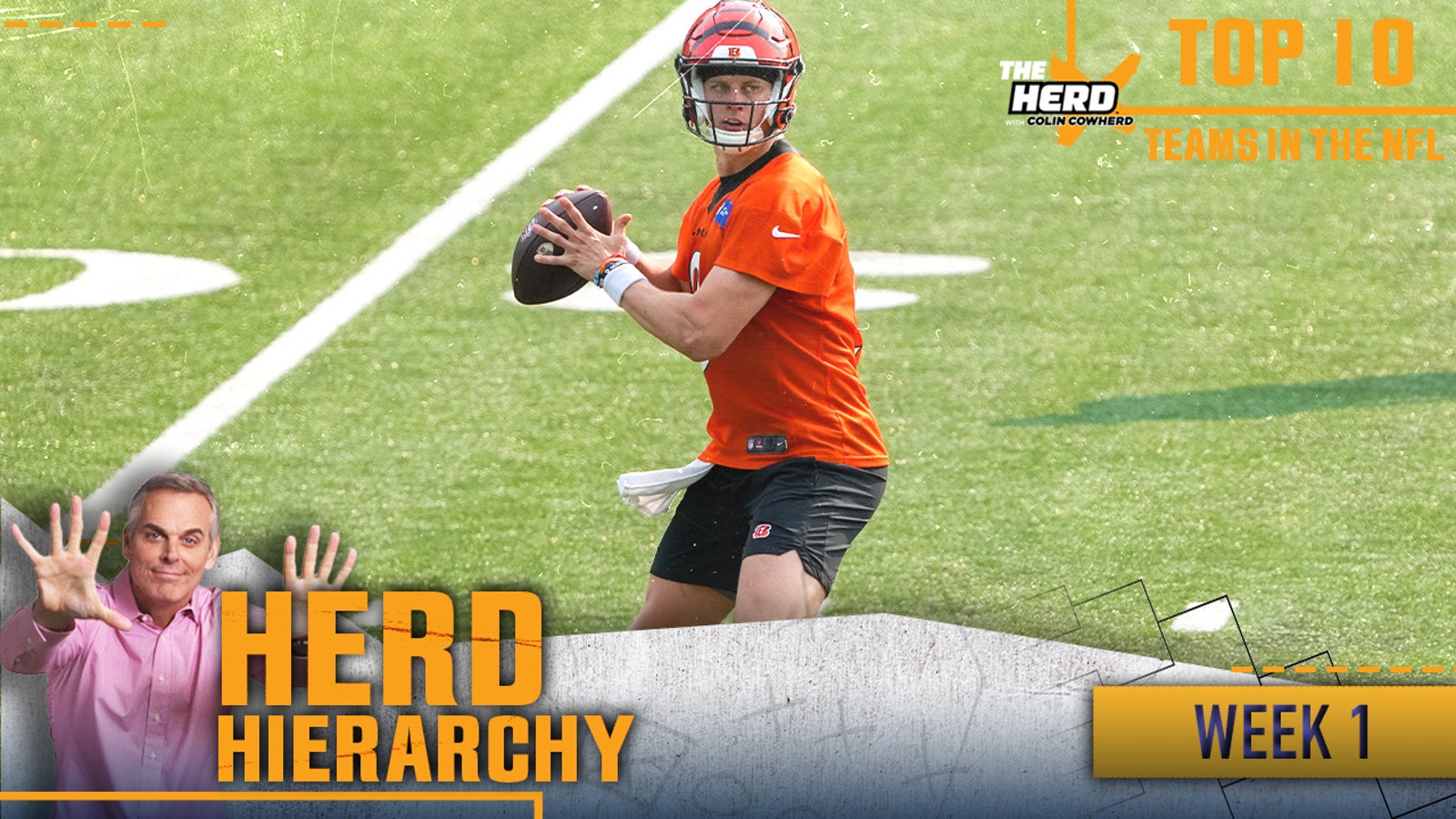 10. Baltimore Ravens
2022 record, result: 10-7, lost in Wild Card Round
Colin's thoughts: "I have the Steelers at No. 11, so the Ravens are No. 10, but it really comes down to health. The Ravens average 28 points per game when Lamar Jackson plays and he's got the best weapons of his career — Zay Flowers, Odell Beckham Jr., J.K. Dobbins, Rashod Bateman — so I'm going to take Baltimore by an inch over Pittsburgh because of Lamar Jackson and his weapons."
9. Los Angeles Chargers
2022 record, result: 10-7, lost in Wild Card Round
Colin's thoughts: "They have two new coordinators. Frankly, one's an upgrade with Kellen Moore on the offensive side. Now, I think you have to be honest though, Keenan Allen and Mike Williams missed 11 games combined last year. That's why they drafted a receiver and they're getting older, not younger. That's what I worry about: Can they keep their talent healthy on the offensive side?"
8. Dallas Cowboys
2022 record, result: 12-5, lost in Divisional Round
Colin's thoughts: "I think the loss of offensive coordinator Kellen Moore is substantial. The market seems to think the Cowboys are finally going to hoist a trophy. I don't know. Have we seen the best of Dak Prescott? Last year, 15 picks in 12 games. Greg Cosell said the film indicates that he's now just a pocket passer. Well, he's not a great pocket passer." 
Cowboys hold third-best odds to win NFC
7. Miami Dolphins
2022 record, result: 9-8, lost in Wild Card Round
Colin's thoughts: "They were 8-3 last year when Tua Tagovailoa was upright. They did not address the offensive line with a small quarterback that can't get hit. That's why I only have them at No. 7. Vic Fangio was one of the great acquisitions of the postseason. If you told me that Tua is upright for 15 starts, I think they can win the division. But they did not address the O-Line. And they need an O-Line with Tua."
6. Jacksonville Jaguars
2022 record, result: 9-8, lost in Divisional Round
Colin's thoughts: "They were 7-2 down the stretch. Don't look at last year, they were two different teams — choppy early, excellent late. They added Calvin Ridley and they also returned 20 of 22 starters from last year. That's tied for the most in the NFL. This team is just now getting comfortable. You know I'm a huge fan of Trevor Lawrence. This division is weak. A couple of potentially awful teams are at the bottom of it."
5. Buffalo Bills
2022 record, result: 13-3, lost in Divisional Round
Colin's thoughts: "Listen, Josh Allen played the final eight games of last year and we found out he had an issue with his throwing elbow. So, he had a lot of giveaways. He was very productive, but too many giveaways for my taste. Leslie Frasier, their defensive coordinator from last year, is gone. They lost some linebackers. I love their roster. I really do. I wish they had someone else they could depend on besides Stefon Diggs. Von Miller won't play early. That concerns me."
Bills-Jets, Dolphins-Chargers highlight J-Mac's Top 5 Week 1 NFL games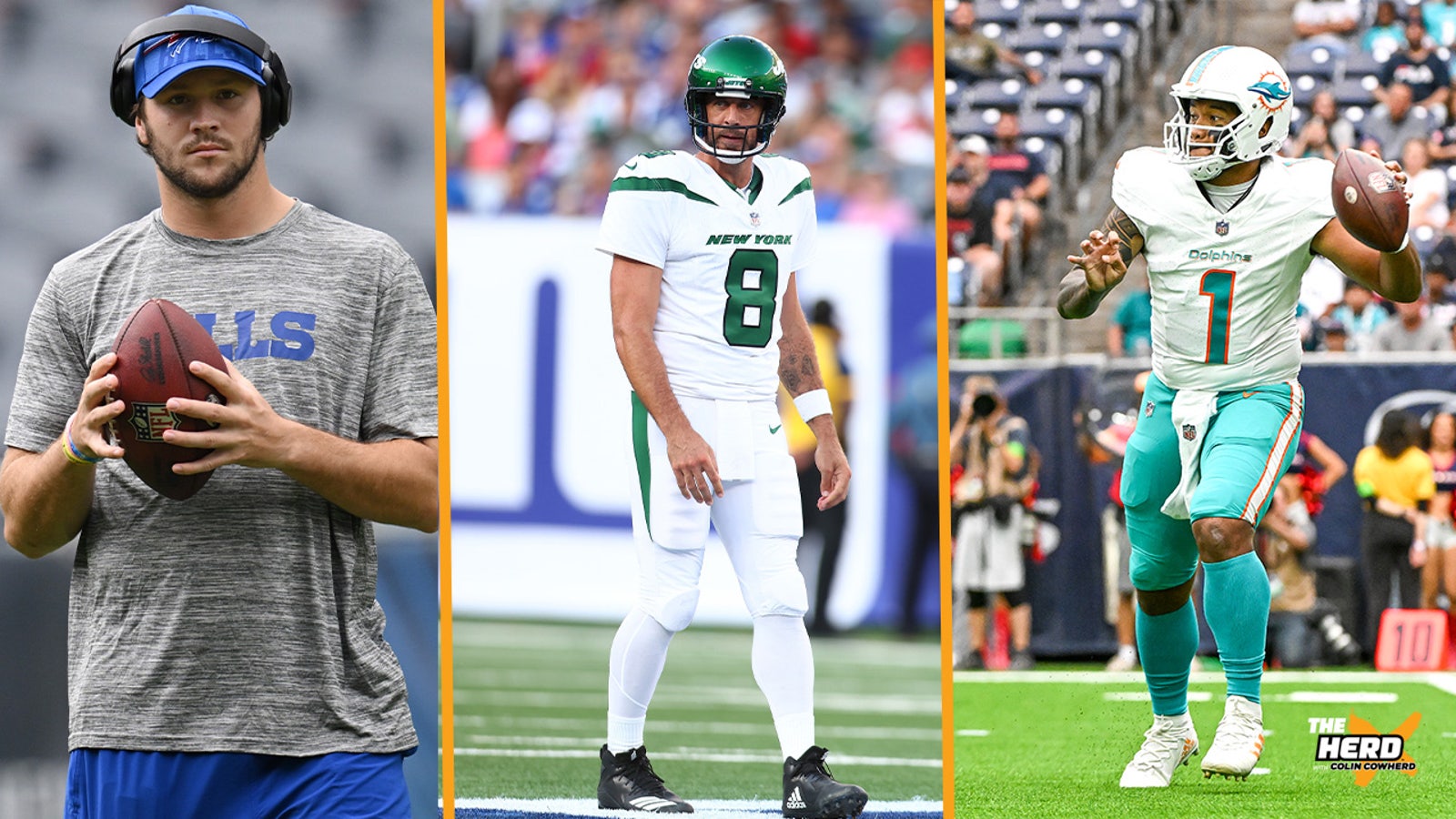 4. San Francisco 49ers
2022 record, result: 13-4, lost in NFC Championship Game
Colin's thoughts: "I don't know what they are at quarterback, way too much noise. I think they're really good and they're 12-1 when Christian McCaffrey starts. So, they're going to be really productive. But the Nick Bosa holdout is a concern. Now, they've got a bunch of other great defensive players besides Bosa. They spend a lot of money on defense. So, I think they'll be fine. But I think it was a noisy offseason at quarterback. The Bosa holdout, I think, is troubling against the Steelers in Week 1."
3. Philadelphia Eagles
2022 record, result: 14-3, lost in Super Bowl
Colin's thoughts: "A brilliant offensive coordinator leaves and they face much better quarterbacks this year. But they did lead the NFL in what they call 'big plays' and Jalen Hurts is the reason why. O-Line? Excellent. Quarterback? Excellent. D-Line? Excellent. They brought in a couple of backs, like a Rashaad Penny, who struggles to stay healthy, but he should be somewhat healthy. I like what I see here. A little more dependent on head coach Nick Sirianni with Shane Steichen leaving. That concerns me a little, but I have them at No. 3."
2. Kansas City Chiefs
2022 record, result: 14-3, won Super Bowl 
Colin's thoughts: "No Chris Jones concerns me. Now, they've got some talent on the defensive side. But it's incredibly young, unlike the Niners, who can lose a Bosa but still have a Fred Warner and Pro Bowlers around. This is a team that spends their money on offense and Chris Jones. I think they're going to be really good. They're favored to win the Super Bowl. They should be. Andy Reid is hard to beat in January. But I can't wait to watch the Lions' offensive line, which is excellent, against a Chiefs defensive line that's without their star. Will it be a ball-control nightmare for the Chiefs? I don't know, they'll probably figure out a way to win. But it concerns me."
Worst case scenario for KC Chiefs? No Chris Jones
1. Cincinnati Bengals
2022 record, result: 12-4, lost in AFC Championship Game
Colin's thoughts: "Their opener is tough. I think the Browns have had their number and it's a tough opener. But I just like everything about them. They've tried to upgrade at tackle and they've been able to be this good with a bad offensive line. They keep adding pieces there. Joe Burrow's calf injury [isn't concerning]. The guy's never played in the preseason, has he? Like, I don't worry about that. He's been the most sacked quarterback over the last two years, but I think they're smarter now in the front office. They moved off safeties. You should move off expensive safeties. I think they play the kind of football that can possibly, not saying probably, give the Chiefs concerns. They can ball-control it a little. Burrow, like Patrick Mahomes, is brilliant in situational passing football. 
"It's inches, not feet. If Chris Jones was [with the Chiefs], I'd have Kansas City No. 1."
FOLLOW
Follow your favorites to personalize your FOX Sports experience
---
NFL trending



2023 NFL Over/Under win total odds, predictions, picks for all 32 teams


2023 NFL Week 1 odds, predictions: Picks, lines, spreads for every game


Twelve teams have never won a Super Bowl, which will win first? Odds, predictions





Deion Sanders shouts out Michael Irvin, clarifies 'receipts' comment after Colorado beat TCU


NFL young talent rankings: No. 2 Cowboys have emerging superstars. Can they pay them all?


2023 NFL WR rankings: Justin Jefferson leads loaded list of top 10 receivers





Can Justin Fields make the 'Jalen Hurts jump?' Context for Bears' young QB is important


2023 Top 10 QB Rankings: Who are the best NFL quarterbacks after Patrick Mahomes?


2023 NFL preseason schedule: Dates, times, channels, how to watch

---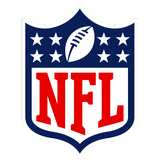 Get more from National Football League Follow your favorites to get information about games, news and more
---