'Pain Hustlers' Interview: Director David Yates
Opening in select theaters on October 20th before premiering on Netflix October 27th is the new crime drama 'Pain Hustlers' from director David Yates ('Harry Potter and the Half-Blood Prince,' 'Fantastic Beasts: The Secrets of Dumbledore').
Moviefone recently had the pleasure of speaking with director David Yates about his work on 'Pain Hustlers,' what interested him about the subject matter, humanizing the characters with humor, and working with Emily Blunt.
Moviefone: To begin with, what interested you about this subject, and was it difficult humanizing characters whose actions are hurting other people?
David Yates: First of all, I come from a country that has a public health system that's universally accessible and free at point of use, and is geared towards helping people stay healthy. So it's fascinating to me that a system exists that operates in a slightly different way. We knew nothing about the opioid crisis in the UK. I read Evan Hughes' article, it was my introduction to something that had been going on for years and years in America. So it was shocking to me, and it felt immediately compelling to craft and build a story around Evan's article. Secondly, I think it was really important, as we created our characters inspired by the story, to introduce the audience to characters that we could still empathize with and understand. A case in point is Dr. Lydell, who's the dodgy doctor who writes all those prescriptions, and effectively kills a large number of people in doing so. But we didn't want to fashion a monster, someone who just seemed like a villain. So Brian d'Arcy James plays him in such an interesting way. He's a lonely guy, he's going through a difficult divorce, and he doesn't have many friends. So, we kind of have this portrait of a lost, middle-aged man who's desperate for connection. But really, he's doing tremendous harm. But there's something poignant, quite broken and quite sad about him. That was what we wanted to do with most of our principal characters, to not turn them into villains or monsters. And Emily (Blunt), who plays Liza Drake, we love that character because she is ultimately aspirational, ambitious, a little bit greedy, but she has dreams. She wants to do the right thing, and she wants to do the right thing for her daughter. She wants to follow the path of the American dream, which we're all presented with, to get us through the gates of the castle, to get us safe, secure, and successful. But in doing it, when the rules are broken, things can go wrong. So, we like the fact that Liza Drake is flawed. We like the fact that she is a little bit shady. That appealed to all of us, especially Emily, in creating that character.
MF: Finally, what was it like collaborating with Emily Blunt on set and what does she bring to a project like this?
DY: She came to set every day absolutely prepped for the role. She knew exactly the corners of the scene that she really wanted to get underneath and find. She'd already sort of triangulated each moment before we even got to set. So she's super prepped, which, for me as a director, is amazing because you're ready to go on take one, to see a really fully composed performance. Then after a few takes, you might calibrate slightly and change slightly, but she's super prepped and a great ambassador for the film. She's a great supporter of the film, outside of the fact that she was carrying it in terms of an acting role. She was also championing what we were doing with our financiers, with Netflix, and with everybody else. She was a real asset to the movie in every sense. Not just carrying the film as an actor, but in just being by our side when we navigated the film through the inevitable hurdles that you have when you make a film.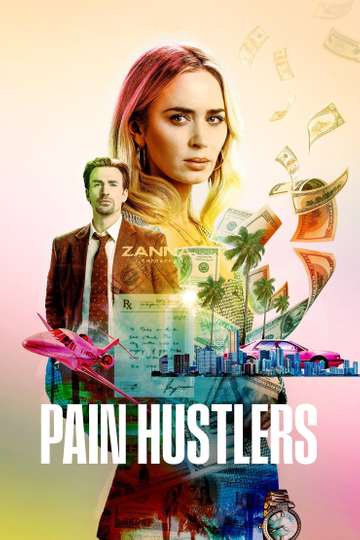 "An American excess story."
Liza Drake (Emily Blunt) is a blue-collar single mom who has just lost her job and is at the end of her rope. A chance meeting with pharmaceutical sales rep Pete… Read the Plot
What is the plot of 'Pain Hustlers'?
High school dropout Liza Drake (Emily Blunt) lands a job with a failing pharmaceutical start-up in a yellowing strip mall in Central Florida, where she soon finds herself at the center of a criminal conspiracy with deadly consequences
Who is in the cast of 'Pain Hustlers'?
Movies Similar to 'Pain Hustlers:'