'On Fire' Interview: Co-Director Peter Facinelli
Opening in theaters on September 29th is the new survival thriller 'On Fire,' which was co- directed by Nick Lyon ('Titanic 666') and Peter Facinelli ('The Vanished').
What is the plot of 'On Fire'?
Inspired by true and harrowing events, 'On Fire' tells the story of an ordinary man (Peter Facinelli) that finds his world suddenly torn apart as devastating wildfires rip through the surrounding countryside. With precious moments ticking by, he must flee with his son (Asher Angel) and pregnant wife (Fiona Dourif) if they have any hope of surviving the rapid forces of mother nature.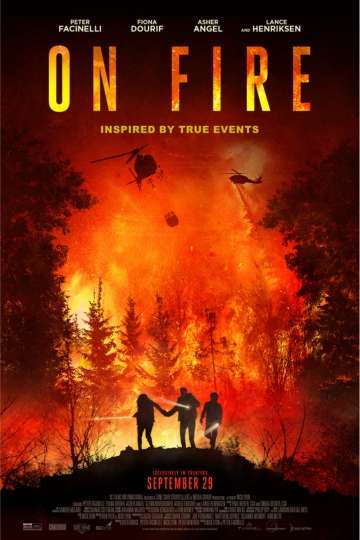 "Sometimes survival is the only thing that matters."
1 hr 20 min
Sep 29th, 2023
Inspired by true and harrowing events, On Fire tells the story of an ordinary man (Peter Facinelli) that finds his world suddenly torn apart as devastating wildfires… Read the Plot
Who is in the cast of 'On Fire'?
Moviefone recently had the pleasure of speaking with co-director Peter Facinelli about 'On Fire,' his first reaction to the screenplay, the themes of the movie, how he came to co-direct with Nick Lyon, and the practical and visual effects that were utilized for the movie.
Moviefone: To begin with, what was your first reaction to the screenplay and what were some of the themes that you were excited to explore?
Peter Facinelli: Well, when I read the script, it was very poignant to me because there were so many fires that had been in the news. Every other weekend, it seemed like there were fires happening and I thought, well this film is interesting because it's kind of a throwback to the old family survival films. It's about something that's actually happening right now, and it gives you more of this introspective of this one family. You look at that family and think, 'Well, that could be me. That could be my family." A lot of times, in the news, you can see this devastation. You see these fires and it's heartbreaking. Your heart goes out to them, but you're not connected with them in the same way as if it were somebody you knew or your family. Then, people go back the next day and they get their chai lattes. They go back to work and they're still thinking about it, but there's no face to it. So, I thought, this movie, it has this broader family survival film on the outside, but when you get into it, there's a lot of takeaways. To me, that's what I was drawn to, those takeaways. The fact that at the end of the film, we could celebrate firemen and 911 operators, and give you a taste of what it's like to be a 911 operator because they don't really get explored much in film. Then, to watch the firemen, they're universal heroes to me. I have family in the fire department. Then, you have the family in and of itself and there's a lot of takeaways within that, not just it being a family that's trying to outrun a fire or trying to survive. When they start this movie they have mountainous issues already. The dad's going paycheck to paycheck. He's got a company that could be failing. He's got a baby on the way. His dad is sick. He's paying his dad's medical bills. These are all things that are weighing on their family and causing stress on their family unit. Then, this fire happens and it's this harrowing experience, but when they start to face this fire and get through it, all of those other things become anthills. They're just trying to survive. Then they become a family that's actually leaning on each other and growing through this experience. I think they come out of the other end. I hate to say better for it because it was such a horrible experience, but they come out of it with a different appreciation for it, and I think that's a great message to not sweat the small stuff. When you have your family, when you have health, when you have each other, you can get through anything. That's a great takeaway. In this film, the dad is doing his best, but he doesn't have all the answers. I love that each family member has a heroic moment. Each one of them rises to the occasion and they wouldn't have gotten through it on their own. They really needed to push each other, to support each other, and when push comes to shove, they carried through and they pushed each other. That's what a family is, and that to me, I connected with that.
MF: Can you talk about the unusual way you ended up co-directing the movie with Nick Lyon?
PF: Well, I didn't sign on to direct the film nor did I have any intention to. I just signed on as the lead. When I came on to the film, Nick was very collaborative and we found a wonderful collaborative nature. I felt like he had this script that we were continually working on to like, "Let's get the dialogue even better and let's work together with the other actors to make the dialogue richer. Let's work to have more setups and payoffs in the film." We continued to elevate and we really enjoyed this collaborative spirit, and then Nick got COVID, and the captain of the ship was down. I think Nick to his credit was like, "We couldn't go back to port. We're a small independent movie. We had to carry on." With his blessing, he was like, "Look, I know you understand what I'm trying to capture. I know you've directed." I think we really had a respect for each other. As director and as writers, we were working together, so when he passed the torch and said, "Okay, carry on and finish this," I was left with that task. I really didn't have time to sit there and be overwhelmed. It was just like, "Okay, let's go." I jumped in and did what I could to collect all the material we needed for the edit. Then, that collaborative spirit kind of spilled into the editing room because I had directed some of the nights and then it became like, "Okay, well, let's shape this, and what about this part?" Then, the music and collaboration on that. Then, at the end of the day, I still wasn't expecting a co-directing credit at all, nor was I asking for one. But he looked at it and said, "I feel like this is really our film and I want to celebrate that." So, we ended up taking a co-directing credit, but it was the experience all around. It actually in a lot of ways made me a better actor. You want to service the director differently. I could do this or that but I want to make sure you get the pieces you need because this is your vision, and you come with ideas, but it's always like, "I'm in service to this director." But on this, it became about me as an actor giving as much as I could to the other actors to make them as good as they could be because I needed them to be good, and the better they were, then the better they made me. I hope to take that into all of my films because it was such a more freeing experience when I wasn't trying to please somebody, but when I was just trying to give everything I could to make the other people good.
MF: Finally, can you talk about the practical and visual effects utilized for this film and the challenges of shooting the fire sequences?
PF: Well, Nick does a lot of smaller action films, so he brought a lot of those techniques to the table. He had a lot of lighting techniques, and a lot of smoke techniques. As an actor, when I showed up the first couple of days, I was like, "There's no fire?" We weren't allowed to put a fire in the woods because we were in the real woods, and rightfully so. So, a lot of it was about using our imagination to react off of things that weren't there. It was a lot of feeling like green screen acting, looking up into the sky and looking at ember's floating. It's like, I know that I'm looking at a tree going on fire. I know that this house behind me is on fire. But I have to imagine that. I have to imagine this heat. When you're near a fire and you can feel the heat on you, you have to use your imagination for all of that. We had flame bars, but they were off in the distance or in the foreground, and we relied heavily on the CGI. That's risky because CGI fire could look really bad, but we worked really hand in hand with the CGI supervisor. He did such a great job, and we'd be like, "No, give it more texture. Let's make it more this color. Give it a little less orange and more black in there because you want to feel the smoke." That in itself was a process, a very dutiful process to get to. Now, I look at it, and we do have some stock fire footage mixed in with a lot of CGI footage. A lot of times, I don't remember which one is which and that's good. That's when you know it worked. So, we relied a lot on the actors to bring their imagination.
SAG-AFTRA has approved an interim agreement for 'On Fire' since the film is being released by Cineverse, an independent, non-AMPTP affiliated distributor. Under the terms, members "may work on these productions without being in violation of the strike order," per the guild. The entire team of 'On Fire' expresses their gratitude to SAG-AFTRA for allowing the cast to promote 'On Fire' during this challenging time for the industry.
Other Movies Similar to 'On Fire':
Buy Peter Facinelli Movies On Amazon