Movie Review: 'The Killer' | Moviefone
On Netflix beginning November 10th, 'The Killer' marks David Fincher's latest collaboration with the streaming service, a methodical revenge thriller that sees Michael Fassbender as the title figure, a man on a mission after his latest job goes awry.
As per usual with Fincher, this is as carefully constructed as its central character, though it might leave some wishing for a little more excitement in places.
Does 'The Killer' Hit its Target?
The last time David Fincher shot something for big (and ultimately small, given Netflix's cinema-then-server policy with its big movie scores), we got 'Mank,' which felt like something different for the director.
That one was bursting with huge personalities, a romantic storyline and a compelling if cynical love for old Hollywood. For 'The Killer' however, Fincher has dialed the needle back to his more usual stock-in trade, cold-blooded, full-power cynicism.
This is a man, after all, who made the likes of 'Se7en', 'Fight Club' and 'The Social Network', which all blended his rigorous approach to filmmaking with compelling characters at their heart. Michael Fassbender's unnamed central figure here just about fits into that category with his various quirks and occupational theorizing –– you might find yourself, however wishing for something more to connect to.
'The Killer': Script and Direction
'The Killer' reunites Fincher with one of his best collaborators, Andrew Kevin Walker, who wrote the screenplay for 'Seven'. The pair relishes the chances to take another shot at poking around the darker, grubbier corners of life. Though their previous team-up focused on the law enforcement side of things, this new outing is firmly on the side of someone breaking the rules, albeit with his own strict code.
Walker's script is precise and darkly funny in its way, primarily comprised of internal monologues from Fassbender's fastidious assassin, who has several repeating mantras, including about anticipating not improvising, and how empathy is weakness.
While we spend most of our time with the character, there are the bursts of activity once his latest job goes bad and the repercussions hit close to home for him (though you do find yourself wondering why someone who seems to against connections in the world because of the baggage they bring was able to make some).
And as usual with David Fincher, the direction is beyond reproach, starkly color washed and full of interest in every frame. As Fassbender's killer goes globe-trotting on his vengeful quest, we're treated to some fantastic sights, including fancy restaurants and a billionaire's very private (though not quite enough) penthouse.
He finds a way to bring the character's world to life with his usual dark vibrancy, all metallic sheen and well-composed frames. Not a shot is wasted, and the craft at work is clear. The idea that the killer uses music from The Smiths to blot out the distractions of the world is an interesting one (perhaps, given his pessimistic worldview these days, Morrissey might even appreciate it) and adds another subtle layer of humor.
The director's regular musical team Trent Reznor and Atticus Ross meanwhile, provide a subtle score that complements the visuals.
'The Killer': Performances
Michael Fassbender is at the core of this film, his dry (by choice and need) delivery of the killer's monologues given just the right amount of snark. And when called upon to show his particular set of skills, the actor (who was lured out if a long break from acting for this juicy role) is more than up to the task, watchable when in silent preparation for an assassination or throwing down with a hulking henchman.
There's also the chance for him to face off against some great actors, his encounter with Charles Parnell's lawyer/boss/mentor figure one for the ages and, without giving too much away, involving creative use of a nail gun.
Tilda Swinton, meanwhile, is able to prove she's still among the best, interacting with our man in more cerebral fashion, telling a solid joke about a hunter and a bear and ultimately coming across perfectly as someone who has found that putting their morals and ethics aside was surprisingly easy when the pay is right.
Elsewhere, the smaller roles are effectively filled, even as you mostly just view them in relation to Fassbender. As he tends to, the director has a good eye for interesting people in supporting roles, filling out the world in such a way as you believe it.
'The Killer' Final Thoughts
This new David Fincher movie will certainly please his regular fans, even if it doesn't always quite live up to the standards of previous work. There's a cold aloofness here that might also turn off more casual viewers (though if you're sitting down to watch a movie called 'The Killer', you likely know what you're in for).
The opening segment (the movie is split into neatly organized chapters, which would surely appeal to the persnickety pistol packer) at its heart is entertaining but does require a patience level as high as our antihero, since it truly takes its time to get to the point.
Still, if we can't have more 'Mindhunter' on Netflix, at least it's reassuring to know that David Fincher is keeping busy, and this also represents a welcome return for Michael Fassbender. Completely on target? Not always, but certainly well aimed for the most part.
'The Killer' receives 7.5 out of 10 stars.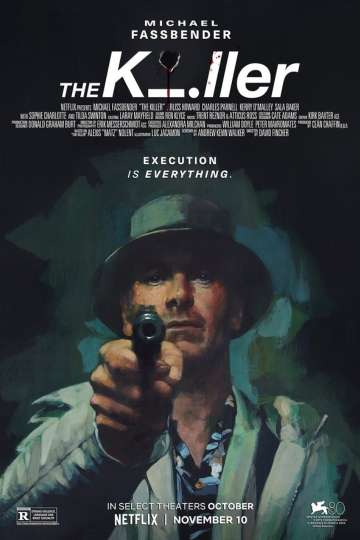 "Execution is everything."
1 hr 58 min
Nov 10th, 2023
After a fateful near-miss, an assassin battles his employers, and himself, on an international manhunt he insists isn't personal. Read the Plot
What's the story of 'The Killer'?
An unnamed man in unremarkable clothes, The Killer (Michael Fassbender) watches from the floor of an empty office, across from the plush apartment of his target, rifle at hand. Measured, controlled, he takes every step to ensure the job goes flawlessly…
It doesn't.
The Killer flees, following his strict personal mantra of dispassionate action. But his employers want him erased. By attacking his home, they disturb his sanctuary and, with it, his sense of self. This – he will not abide, traveling through the Dominican Republic and the United States, eliminating anyone who might disrupt his hard-won peace again.
Who else is in 'The Killer'?
'The Killer' also stars Charles Parnell, Arliss Howard, Sophie Charlotte, Kerry O'Malley, Emiliano Pernía, Sala Baker and Tilda Swinton.
Other Movies Similar to 'The Killer:'