Movie Review: 'Thanksgiving' | Moviefone
Opening in theaters on November 17th, 'Thanksgiving' sees director Eli Roth returning to his full-on horror roots after making the family-friendlier 'The House With a Clock in its Walls'.
This new holiday-themed thriller is actually the realization of dream he's held for around 16 years, ever since he shot a real trailer for a fake movie that formed part of Quentin Tarantino and Robert Rodriguez' 'Grindhouse'.
Though the finished product only nods to the concept from the trailer (and includes one of the kills it features), 'Thanksgiving' certainly offers some crafty gore and moments played for laughs.
Does 'Thanksgiving' Serve Up the Goods?
Eli Roth has long promised that he'll finally make good –– or should that be "make bad", given that the movie features people being stalked and butchered in all manner of creative ways –– on the promise of the 'Thanksgiving' trailer he cooked up for old filmmaker friends Quentin Tarantino and Robert Rodriguez' cult movie celebration 'Grindhouse' back in 2007.
That conglomeration of weird ideas and crazed action didn't hit home with cinemagoers, but Roth (also responsible for movies such as the 'Hostel' films and 'Cabin Fever') hasn't been able to let go of the idea. And purely from a slasher movie fan front, that's a good thing.
'Thanksgiving', which looks to start balancing out the vast gap in the number of horror movies set during the titular holiday compared to, Christmas and especially Halloween (Arbor Day may still want a word on that front), has him stalking around slasher territory.
As you might expect from an Eli Roth movie, gore hounds will be happy enough with what he's got on offer here. The best moments feature items such as a dumpster being used to off someone in ingenious fashion and corn cob holders employed the way they were never intended.
'Thanksgiving' certainly offers enough to keep you satisfied, even if it's mostly junk food.
'Thanksgiving': Script and Direction
Writing with longtime collaborator Jeff Rendell (who actually worked on the 'Grindhouse' trailer and even appears as the killer in that short), Roth has come up with a screenplay that goes all in on the horror tropes while letting you know he knows you know.
There are elements borrowed from other, better movies (specifically the likes of 'Halloween' and 'Scream') but they're all whisked together in such a way that they still have some flavor.
The characters won't exactly linger in the mind –– they're mostly a stock collection of mean girls, meat heads and greedy grownups –– but that's not really the point. They're in place so Roth and Rendell can start taking them out in bloody fashion. You'll probably figure out what's going on a fair bit before the characters do (though there is a fake-out that seems to stretch credibility in terms of the villain being somewhere they probably shouldn't be without relying on accomplices) and it all comes down to the usual dumb decisions and a chase through an abandoned building, but by that point, you'll feel appropriately satisfied.
Roth certainly knows how to make a set piece work and keep tension simmering without constantly resorting to easy jump scares (though when they are served up, they're effective). He's got a keen eye for keeping his characters (and therefore the audience) off guard and knows how to orchestrate a killer sequence.
And while there is always a danger that the comedy aspects of a movie such as this –– and 'Thanksgiving' is definitely intended to balance the laughs with the screams –– can overwhelm the horror side of things. Fortunately, the blend here works, the two sides of the story complementing each other.
'Thanksgiving': Performances
The brunt of the character work here is handed to Jessica Wright (played by Nell Verlaque) who would seem at first glance to be the sort of spoiled highschooler that is offed in a hundred different variants of a movie like this. In Roth's hands, she's a little more nuanced than that, and Verlaque breathes enough life into her to make you actually root for her at times.
She's the daughter of Thomas Wright (Rick Hoffman), the wealthy owner of the local megamart whose store is the location for the Black Friday riot that leads to multiple deaths and injuries and sparks the vengeful crusade a year later that gives the movie its hook (and knife, and fork and…). Jessica is haunted by the death of her mother, and unhappy with her stepmother, but at least is sympathetic enough to be worth following.
While Patrick Dempsey is the most recognizable face here (though 'Suits' fans might prioritize Hoffman), he's mostly reduced to being the likeable lawman charged with trying to protect the citizens when the rampage kicks off. He's perfectly fine in the role, though it's a character without too much spice. And pity poor Gina Gershon, who shows up for all of two minutes only to perish at the hands of a shopping cart early during the Black Friday event.
'Thanksgiving': Final Thoughts
Eli Roth fans will be happy to see him back digging into gore, blood and guts after his most recent effort (he also has sci-fi 'Borderlands' on the way), and this time leavening the horror with more humor.
Is it nailed-on, all-time classic? Not really –– for all the invention in terms of the killer's methods, the whole thing creatively feels more like eating reheated leftovers. But as anyone who has feasted on turkey and trimmings sandwiches the next day, that's sometimes exactly what you're looking for.
'Thanksgiving' receives 6.5 out of 10 stars.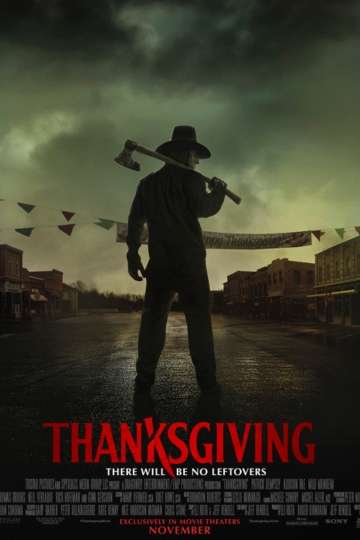 "There will be no leftovers."
62
R1 hr 46 minOct 17th, 2023
After a Black Friday riot ends in tragedy, a mysterious Thanksgiving-inspired killer terrorizes Plymouth, Massachusetts – the birthplace of the holiday. Picking… Read the Plot
What's the story of 'Thanksgiving'?
After a Black Friday riot ends in tragedy, a mysterious Thanksgiving-inspired killer terrorizes Plymouth, Massachusetts –– the birthplace of the holiday.
Picking off residents one by one, what begins as random revenge killings are soon revealed to be part of a larger, sinister holiday plan.
Will the town uncover the killer and survive the holidays… Or become guests at his twisted holiday dinner table?
Who else is in 'Thanksgiving'?
The cast for Roth's new horror also includes Addison Rae, Milo Manheim, and Jalen Thomas Brooks.
Other Movies Similar to 'Thanksgiving':
[sc name="jwplayer" media_id="0e7xCvTz" ]