Movie Review: 'Spider-Man: Across the Spider-Verse'
Opening in theaters on June 2nd is 'Spider-Man: Across the Spider-Verse,' which is the sequel to 2018's Academy Award winning 'Spider-Man: Into the Spider-Verse,' and was directed by Joaquim Dos Santos, Kemp Powers and Justin K. Thompson, and written and produced by Phil Lord ('Cloudy with a Chance of Meatballs') and Christopher Miller ('The Lego Movie').
What is the plot of 'Spider-Man: Across the Spider-Verse'?
'Spider-Man: Across the Spider-Verse' takes place one year after the events of 'Spider-Man: Into the Spider-Verse,' as Miles Morales (Shameik Moore) is unexpectedly approached by his love interest Gwen Stacy (Hailee Steinfeld) to complete a mission to save every universe of Spider-People from the Spot (Jason Schwartzman), who could cause a catastrophic disaster. Miles is up for the challenge, where he and Gwen journey through the Multiverse together and meet its protectors, a group of Spider-People known as the Spider-Society, led by Miguel O'Hara (Oscar Isaac). However, Miles finds himself at odds with Miguel and the Spider-Society on how to handle the threat.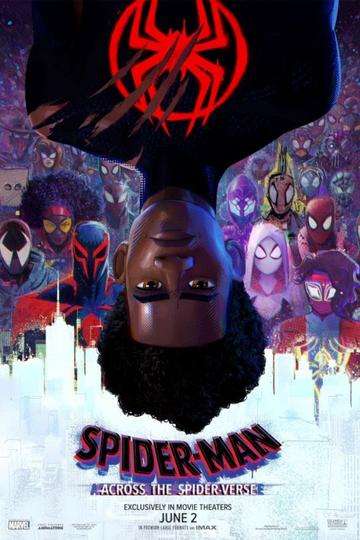 "It's how you wear the mask that matters."
Miles Morales returns for the next chapter of the Oscar®-winning Spider-Verse saga, Spider-Man: Across the Spider-Verse. After reuniting with Gwen Stacy, Brooklyn's… Read the Plot
Who is in the voice cast of 'Spider-Man: Across the Spider-Verse'?
'Spider-Man: Across the Spider-Verse' stars returning cast members Shameik Moore ('Samaritan') as Miles Morales/Spider-Man, Hailee Steinfeld ('Bumblebee') as Gwen Stacy/Spider-Woman, Brian Tyree Henry ('Causeway') as Jefferson Davis, Luna Lauren Velez ('The First Purge') as Rio Morales, and Jake Johnson ('Tag') as Peter B. Parker/Spider-Man, as well as new cast members Oscar Isaac ('Dune') as Miguel O'Hara/Spider-Man 2099, Jason Schwartzman ('The French Dispatch') as Dr. Jonathan Ohnn/The Spot, Issa Rae ('Vengeance') as Jessica Drew/Spider-Woman, Karan Soni ('Deadpool') as Pavitr Prabhakar/Spider-Man India, Daniel Kaluuya ('Nope') as Hobart "Hobie" Brown/Spider-Punk, Andy Samberg ('Palm Springs') as Ben Reilly/Scarlet Spider, Amandla Stenberg ('The Hate U Give') as Margo Kess/Spider-Byte, Jorma Taccone ('Weird: The Al Yankovic Story') as Vulture, and Shea Whigham ('Joker') as George Stacy.
Initial Thoughts
While more mature and character-driven than the original, 'Across the Spider-Verse' builds off of the first film exceedingly well and dives deeper into Miles' struggles with being Spider-Man, as well as Gwen Stacy's origin story. The movie is also larger in scope than the previous film, with even more breathtakingly beautiful animation, and explores the Spider-Verse further by adding some excellent new characters and setting up an exciting conclusion in 'Spider-Man: Beyond the Spider-Verse,' which is scheduled to be released next year.
Story and Animation
The sequel starts off with a bang featuring Gwen Stacey's heartbreaking origin story, which also introduces Jessica Drew, Miguel O'Hara, and the Spider-Society. We then return to Miles Morales and his struggles with school, his parents, and being Spider-Man. Miles soon encounters The Spot, a new super-villain who's own origin story is tied to Miles'. Miles doesn't take his new "archenemy" seriously and The Spot vows his revenge
against Spider-Man by amassing as much power as possible.
Meanwhile, Miles is visited by his old friend Gwen and soon learns of the Spider-Society and wants to join. He eventually follows Gwen to their headquarters, reunites with Peter B. Parker, who now has a baby daughter, and meets O'Hara and learns that they have all been keeping a terrible secret from him. Now knowing the truth, Miles must decide what path he wants to take with his future.
Ordinarily, I do not like sequels that just set up other sequels and don't have a satisfying conclusion of their own (I'm looking at you 'Fast X'). But 'Across the Spider-Verse' is different and has an extremely satisfying conclusion, even if it is a cliffhanger. The story overall is more mature, a bit darker, and even larger in scope than the original, but never loses focus of Miles, his family, his friends, and his point of view. The movie is long at almost two and a half hours, but never feels too long and the quitter, character-driven moments, for example between Miles and his parents, raise the stakes of the overarching story. The movie also takes more time to examine Gwen Stacy and her backstory, which is one of the highlights of the film.
Not unlike the original, Oscar-winning movie, the animation is absolutely gorgeous and some of the most impressive I've ever seen. The movie itself has a specific style and tone, which gives it a certain comic book quality. But at the same time, each character has his or her own specific style which is very unique. Because of the multiverse aspect to the story, the filmmakers can have some fun with the animation styles, and they do, mixing and matching what style works best for which character. Some are a representation of the medium or time the character was first created, but the movie also mixes different types of animation as well as even Legos (a nod to Lord and Miller's 'The Lego Movie') and live-action. It's also worth noting how the animators successfully make Miles and Gwen look older than they did in the first movie.
Miles Morales and Gwen Stacy
The movie wisely begins a year after the original, giving Miles some time to grow and mature, but at fifteen, he's still just a kid. The sequel really takes its time to set up Miles now, how he's changed, how he's not, and what his personal problems are before his new journey truly begins. These are some of the most touching moments of the movie, especially Miles scenes with his parents, where he desperately wants to tell them the truth but can't. Shameik Moore is even better, if that is possible, as the voice of Miles this time around, and seems to have even made his voice more mature to age appropriately with Miles.
The first 20 minutes or so of the movie is Gwen Stacy's origin story, and it could really be a short film of its own. It's a heartbreaking beginning, but fitting for the character who has always been a bit more emotionally broken than Miles, and now we know why. Gwen's relationship with Miles also grows in this movie and is completely believable, while there is a fun rivalry between Miles and Spider-Punk for her affections. Hailee Steinfeld gives a great voice performance and adds a lot of emotion and vulnerability to the character.
The New Spider-People
There are too many new Spider-People introduced to mention them all, and some are just fun cameos that I won't spoil. But Jessica Drew definitely stands out. If you are old enough, you will remember a Saturday Morning cartoon in the early 1980s called 'Spider-Woman,' which featured Jessica Drew. Well, this interpretation is completely different and extremely refreshing. Issa Rae plays the character like a complete boss, and the addition of a Spidy-Cycle was a nice touch.
Also a standout, Oscar-winner Daniel Kaluuya as Hobert "Hobie" Brown/Spider-Punk. Certainly a lesser known Spider-Man, Kaluuya makes the character come alive with an authentic attitude, Johnny Rotten accent, and punk animation style. Another new Spider-Person worth mentioning is Spider-Man India, hilariously voiced by 'Deadpool's Karan Soni, who is a nice addition to the Spider-Team.
The Villains
While not a villain per se, Miguel O'Hara/Spider-Man 2099 is definitely an antagonist in the film and very tough on Miles. The character was first introduced in the end-credit sequence in 'Into the Spider-Verse,' and I have to say, I was slightly disappointed. The character was very one-dimensional for me, and I hope he will be explored further and perhaps redeemed in the next movie. Oscar Isaac is fine in the role, but not given enough time to really explore the character. He's angry through most of the movie, and with the exception of a few funny lines, his emotions never really change. While his true motivations are revealed before the movie's end, we're never really given enough time to truly understand how he feels about what he's doing.
But the main villain in this movie, and it would seem the following film, is The Spot, wonderfully voiced by Jason Schwartzman. The actor is goofy, bumbling, funny, scary, menacing, brilliant, and a bit dumb, all at the same time. While the character does not seem much of a threat for Miles at first, he certainly is by the film's end and his transformation is completely logical. It was also a nice touch retconning Miles origin so it would be tied to The Spot's.
Is 'Spider-Man: Across the Spider-Verse' set in the MCU?
No, 'Spider-Man: Across the Spider-Verse' is not set in the MCU. However, this is a multiverse story, and there are definitely references, Easter eggs, and other surprises linked to the MCU and other Spider-Man film and television projects from the past.
Are there any End-Credit scenes in 'Spider-Man: Across the Spider-Verse?'
No, at least there was not at the press screening. There is a mid-credit bumper that says, "Miles Morales will return in 'Spider-Man: Beyond the Spider-Verse,'" which of course we already knew. But that doesn't mean that an end-credit scene wasn't kept from the press as not to spoil, so if you don't have anywhere urgent to be, you should probably stay in your seats after the movie just in case.
Final Thoughts
In the end, it's hard to believe that 'Spider-Man: Across the Spider-Verse' is just as good if not better than the Oscar winning 'Spider-Man: Into the Spider-Verse,' but it is! The sequel recaptures the magic of the original, while broadening the scope, raising the stakes, and delivering a more mature movie with a satisfying ending, even if it is "to be continued." The movie takes a deeper look at fan-favorites like Miles and Gwen, but also introduces great new characters like Spider-Punk, Jessica Drew, and The Spot, while featuring eye-popping, beautiful, fresh, and groundbreaking stylistic animation.
'Spider-Man: Across the Spider-Verse' received 9.5 out of 10 stars
Other Movies Similar to 'Spider-Man: Across the Spider-Verse':
'Spider-Man: Across the Spider-Verse' is produced by Columbia Pictures, Sony Pictures Animation, Marvel Entertainment, Lord Miller Productions, Pascal Pictures, and Avi Arad Productions. It is set to release in theaters on June 2nd, 2023.