Movie Review: 'Pain Hustlers' | Moviefone
Opening in theaters on October 20th before premiering on Netflix October 27th, 'Pain Hustlers' purports to offer a stylish and snappy look at pharma company workers looking to score off of greedy doctors and desperate cancer patients.
Yet despite a decent cast that includes the likes of Emily Blunt, Chris Evans, Andy Garcia and Catherine O'Hara, it never quite comes to life in compelling fashion, and no number of flippant music cues or breezy transitions can make it work.
Is 'Pain Hustlers' a good treatment of the opioid pain-pushing crisis?
'Pain Hustlers' suffers somewhat from being just the latest take on the ongoing opioid prescription drug crisis in the United States.
We've already had the likes of the award-winning 'Dopesick' on Hulu and even Netflix has previously gone to this well for 'Painkiller', which arrived fairly recently. All that somewhat saddles this new attempt with baggage that it never asked for; and it feels like we've seen a lot of this story before.
You have the down-on-her-luck hero (Blunt's Liza Drake) struggling to survive financially, juggling being a single mother to a troubled child (Chloe Coleman's Phoebe) that has recently been suspended from school.
Trying to make ends meet by waitressing in a sleazy gentleman's club, she meets ambitious drug rep Pete Brenner (Evans) who spots a real talent for reading people in his chance first encounter with Liza.
Soon, he's recruited her for pharmaceutical company, Zanna, where he's been trying to hit it rich even as their sales slide and the reputation nosedives. Yet when they crack the market and start earning big money, it all seems very familiar.
And it's not just the drug crisis stories that taint how you watch this one –– even 'Dumb Money' was more of a watchable narrative than 'Pain Hustlers'. The movie mostly comes across as a cheaper version of previous hits that aims for the same targets but usually misses the mark.
'Pain Hustlers': how are the script and direction?
Adapted by Wells Tower from Evan Hughes' book 'The Hard Sell: Crime and Punishment at an Opioid Startup', the movie suffers somewhat from a predictable and labored script.
There are only so many times that the cast can creatively swear, or the film can throw in some zippy footage of things going right before you're starting to become tired of it all.
Before too long, you are guessing what the next twist will be, or how Liza and Pete will react to, say, being promoted or facing heat from the Feds.
Even with David Yates in the director's chair, a filmmaker clearly relishing the chance to make something other than a film about witches and wizards (he's directed every 'Harry Potter' and 'Fantastic Beasts' movie since 2007), the movie just comes across as tired and desperate, tap dancing away to try and distract you from the fact that it is following some very well-trod paths.
Even cutting to documentary-style soundbites from some of the characters isn't enough to hold the interest, and in the early going even deflates the story to a degree.
Yates throws plenty of stylistic tricks at the screen, looking to dress up the fact there's not too much to the concept, nor are the characters all that watchable. Which is even more surprising considering the people playing them.
How are the performances in 'Pain Hustlers'?
Emily Blunt and Chris Evans are naturally the focus here, the biggest names on the roster (with apologies to Garcia) and producers behind the scenes.
Blunt plays it mostly straight, while Evans chooses to crank up his native Boston accent for a showier performance, which initially makes sense. As their fortunes rise and fall, Blunt makes sure that Liza seems grounded, but neither of the leads is particularly worth focusing on.
When they're sharing the screen, they're both perfectly fine, but they rarely rise above that level. Blunt's chemistry with Coleman is solid and she raises her game whenever she is opposite O'Hara (who plays Liza's ditzy mother Jackie, a woman with dreams of running her own homemade cosmetics business).
To add to the issues, Blunt sometimes seems miscast, her acting dimmed through the not-always-convincing American accent she adopts as Liza.
Evans has no such issues, but he's burdened with a character arc that rarely convinces, and it's increasingly looking like he needs to make better choices since hanging up Captain America's shield. Pete Brenner isn't charismatic enough to make us want to follow his story, and the actor rarely finds much shade outside of the single gear he's in.
Around them, there are moments for the supporting cast to find a foothold, including Garcia as Dr. Neel, the cuddly-yet-ruthless rich guy at the center of Zanna, Jay Duplass as the slimy head of marketing at the company and Brian D'Arcy James as the sweaty Dr. Lydell, who becomes Liza's first mark.
'Pain Hustlers' needed to show the same creativity that Liza and Pete unleash to score their first successes, and unfortunately it never stands out in an increasingly crowded pack.
'Pain Hustlers' receives 5.5 out of 10 stars.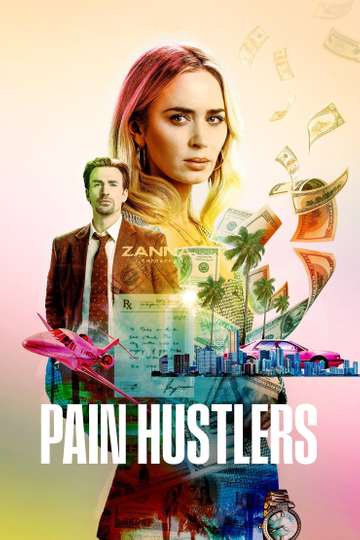 "An American excess story."
60
R2 hr 2 minOct 27th, 2023
Liza Drake (Emily Blunt) is a blue-collar single mom who has just lost her job and is at the end of her rope. A chance meeting with pharmaceutical sales rep Pete… Read the Plot
What's the story of 'Pain Hustlers'?
Liza Drake (Emily Blunt) is a blue-collar single mom who has just lost her job and is at the end of her rope.
A chance meeting with pharmaceutical sales rep Pete Brenner (Chris Evans) puts her on an upwards trajectory economically but dubious path ethically as she becomes entangled in a dangerous racketeering scheme.
Dealing with her increasingly unhinged boss (Andy Garcia), the worsening medical condition of her daughter (Chloe Coleman), and a growing awareness of the devastation the company is causing forces Liza to examine her choices.
Who else is in 'Pain Hustlers'?
The movie's cast also includes Jay Duplass, Brian D'Arcy James, Amit Shah, Valerie LeBlanc, Aubrey Dollar, Alex Klein, Britt Rentschler and Bella Winkowski.
Movies Similar to 'Pain Hustlers:'