Movie Review: 'A Haunting in Venice'
Opening in theaters on September 15th is 'A Haunting in Venice,' which is the third film in actor and director Kenneth Branagh's Agatha Christie trilogy following 2017's 'Murder on the Orient Express' and 2022's 'Death on the Nile.'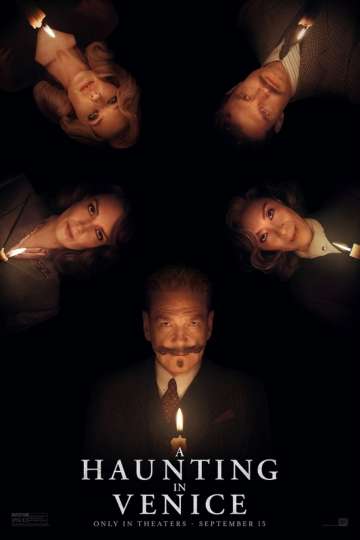 "Death was only the beginning."
1 hr 44 min
Sep 15th, 2023
Celebrated sleuth Hercule Poirot, now retired and living in self-imposed exile in Venice, reluctantly attends a Halloween séance at a decaying, haunted palazzo…. Read the Plot
What is the plot of 'A Haunting in Venice'?
Following the events of 'Death on the Nile,' the world's greatest detective, Hercule Poirot (Kenneth Branagh), has retired and is now living a quiet life in Italy. One day he is visited by his old friend and mystery novelist Ariadne Oliver (Tina Fey), who invites him to a séance on Halloween to expose a fraudulent psychic named Joyce Reynolds (Michelle Yeoh). But when someone if murdered, Poirot vows to catch the killer.
Who is in the cast of 'A Haunting in Venice'?
Initial Thoughts
'A Haunting in Venice' feels more like an epilogue than an actual third installment but is still a fairly entertaining yet predictable mystery movie. Kenneth Branagh gives another good performance as Hercule Poirot but the film never really seems to come together as a whole. The new supporting cast create interesting foils for Poirot, but ultimately, the mystery is not that hard for the audience to solve.
Story and Direction
The movie begins by introducing us to an older and weathered Hercule Poirot (Branagh), who is now retired from detective work and living a quiet life in Italy. One day he is visited by his old friend, an American mystery novelist named Ariadne Oliver (Fey), who's most popular literary character is based on Poirot himself. Oliver invites Poirot to a séance on Halloween night at the house of the wealthy Rowena Drake (Reilly), who recently lost her daughter in a tragic accident. The séance is being conducted by a medium named Joyce Reynolds (Michelle Yeoh). Oliver believes she is the real deal and wants to base her next novel on her, but needs Poirot, ever the skeptic, to witness her work and confirm she's for real.
Poirot is not impressed by Reynolds, and confirms his suspicions but is then attacked by an unknown assailant. Not long after, one of the guests is murdered and with a storm closing the canals, the remaining guests are trapped in Drake's house, presumably with the killer, and with nowhere else to go. While waiting for the weather to clear, Poirot begins to investigate and questions everyone, including Oliver, Drake, her doctor, Dr. Leslie Ferrier (Jamie Dornan), and his young son, Leopold Ferrier (Jude Hill).
I enjoyed both of Branagh's other Agatha Christie movies, 'Murder on the Orient Express' and 'Death on the Nile,' but 'A Haunting in Venice' lacks the scope or style of its predecessors. It feels rushed, truncated and lacking of any real purpose. In fact, Branagh's performance is really the only bright spot in the movie, which is otherwise tedious. But as a director, Branagh adds no style or freshness to the movie. It's pretty much a paint-by-numbers mystery, and nothing is added to make that more sophisticated or cinematic. The first two movies benefited from the exotic locations which Branagh shot in an epic manner, but the director does not utilize his backdrop here, as most scenes take place at night, in the rain, or inside.
Kenneth Branagh's performance as Hercule Poirot
The only saving grace 'Haunting' offers is Branagh's solid performance as Poirot. After three movies the actor really has the character down, and it helps that we as an audience have embraced him in this role. In this outing, Branagh explores Poirot's age and his passion for life after spending so much of it surrounded by death. This Poirot is older, weathered, and questioning himself, maybe for the first time in his life, and it's an interesting juxtaposition for the character. Also this time around, Branagh wisely chose to cut back Poirot's signature mustache just a bit, which doesn't affect the character or the performance, but is a little less distracting than in the previous films.
Supporting Cast
This is where the movie starts to fall apart, and it's not the fault of the actors, who are all very good, but their characters are either poorly written or not fleshed out enough. Now some may not care for Tina Fey's performance as Ariadne Oliver, as she is basically doing a Katherine Hepburn impression, but I actually thought the characterization fit well considering the movie's 1940's setting. Oliver is feisty and smart, and a good companion to Poirot, and Fey has nice chemistry with Branagh. However, without giving anything away, a twist in the third act renders the character unreliable.
Jude Hill, who was last seen in Branagh's Oscar-winning 'Belfast,' gives a good performance as the precocious Leopold Ferrier and has strong chemistry with Jamie Dornan, who once again plays his father as he did in 'Belfast.' As Dr. Leslie Ferrier, Dornan is solid and plays a man with PTSD well, but the character is not given enough to do and is basically used as a red herring to the mystery.
Recent Oscar-winner Michelle Yeoh has a few fun scenes as the psychic Joyce Reynolds, but again, is really not given a lot to do. You don't really get a chance to know the character or understand her motivations in her limited screentime, and again, it's a shame the character was used as a bit of a red herring. It was nice to see 'Yellowstone' actress Kelly Reilly return to the big screen, and while the actress plays the role to the best of her abilities, the character was terribly written and weakens the mystery at the core of the story.
Predictable Mystery
The real problem with 'A Haunting in Venice' is that the mystery is too predictable and easy to solve. While there was a bit of a twist in the third act, I knew who the killer was from the beginning and it just seemed too obvious. While the previous movies had third act twists as well, they seemed fresh and original at the time and this one just feels like we've seen it before.
Final Thoughts
While 'A Haunting in Venice' is a serviceable and entertaining enough movie that includes another fine performance by Branagh as Poirot, it lacks the fun and urgency of the previous films and features an extremely predictable mystery at its core.
'A Haunting in Venice' receives 5 out of 10 stars.
Other Movies Similar to 'A Haunting in Venice:'
'A Haunting in Venice' is produced by 20th Century Studios, Scott Free Productions, The Mark Gordon Company, and Genre Films. It is set to release in theaters on September 15th, 2023.