Jets' defense remains a steady, playmaking force while the offense struggles to find its way
Robert Saleh raised some eyebrows a few weeks ago when he declared the New York Jets have "embarrassed" some of the NFL's top quarterbacks this season.
That bold statement by the Jets' head coach wasn't far-fetched then. And it still holds true.
While the Jets' offense has struggled to do much of anything, the defense has more than held up its end as one of the top units in football — and is a major reason why New York enters its game Sunday night at Las Vegas at 4-4 and in the playoff hunt.
"They're obviously playing lights out," quarterback Zach Wilson said of the defense, "and we have to be better for them."
The Jets held the Chargers' Justin Herbert to a career-low 136 yards passing last Monday night in New York's 27-6 loss to Los Angeles. He was just the latest quarterback to have a tough time against the Jets, who have also made the likes of Josh Allen, Patrick Mahomes and Jalen Hurts look rather ordinary.
They will take on a rookie this week when they face the Raiders' Aidan O'Connell, who's making his third NFL start.
"Our mentality is to go in and dominate, no matter who the opponent is, no matter who the quarterback is or what level or record," linebacker C.J. Mosley said. "We have to have the same mentality. We can't let our play be judged by who we're going against.
"So whether it's a Super Bowl defending (champion) quarterback, an MVP quarterback or a first-year starting quarterback, we're going to treat them the same way. We're going to play our style of football, and hopefully he has a long day."
New York hasn't allowed a 300-yard passer in 26 games, dating to Week 17 of the 2021 season when Tampa Bay's Tom Brady threw for 410 yards in the Buccaneers' 28-24 victory. It's the NFL's second-longest active streak behind New Orleans (29).
"We feel like there's a lot more we could do," said cornerback Sauce Gardner, who could be matched up with Davante Adams a lot Sunday night. "We don't really focus on the week before, and I get that we've been doing a decent job, but we just take it one week at a time. We're not just living in the past."
The Jets are among the NFL's defensive leaders in several categories, including ranking ninth in total defense (312 yards per game), third in passing defense (174.8 yards), fourth in red-zone defense (41.7%) and tied for eighth in scoring, allowing 19.5 points per game.
What Robert Saleh 'pleading the fifth' show about Jets, front office | The Herd
New York is also tied for ninth in the league with 13 takeaways — a focus for the defense.
"Our goal is to be leading in turnovers on defense and obviously a great defense knows how to score or set up scores," Mosley said. "So that's just where we're trying to take our game. Not necessarily because the offense, so to speak, has been struggling, but that's just what we want to do as a defense."
If there's one area the Jets want to improve, it's their run defense, which ranks 30th at 137.3 yards per game. And New York will have another tough test against the Raiders with Josh Jacobs.
"He's tough, he's violent and he loves physicality," defensive coordinator Jeff Ulbrich said. "It's going to take population to the ball with this guy. A lot of hats on him."
The impressive numbers on defense are in stark contrast to those being put up by Wilson and the offense. The Jets rank 31st in overall offense, 30th in both scoring and passing and last in third-down percentage and red-zone conversion percentage.
That has created a situation where New York needs its defense and special teams to play almost flawlessly where the offense, which has only eight touchdowns in eight games, desperately tries to find its way.
"I'm really excited about how the defense is playing," Saleh said. "It's at a championship level."
Two of the Jets' losses have been by more than two scores — last Monday against the Chargers and a 30-10 defeat in Dallas in Week 2. The other two were by five points or less, and New York's four wins have all been by 10 points or less.
"We have to find out how to be better," defensive tackle Quinnen Williams insisted. "Find out how to keep them from putting points on the board and do the necessary things that we can do as defense and help the offense get the ball back and do our job to the best of our abilities."
NOTES: OL Billy Turner was ruled out for the game after having surgery to repair a finger that was injured against the Chargers. … LB Chazz Surratt (ankle) will miss his second game in a row. … Rookie edge rusher Will McDonald sat out practice Friday after injuring an ankle Thursday. He is questionable to play.
Reporting by The Associated Press.
---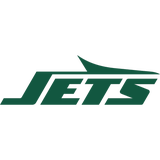 Get more from New York Jets Follow your favorites to get information about games, news and more
---