'In the Fire' Interview: Director Conor Allyn
Opening in theaters, On Demand and digital beginning October 13th is the new thriller 'In The Fire,' which was directed and co-written by Conor Allyn ('No Man's Land').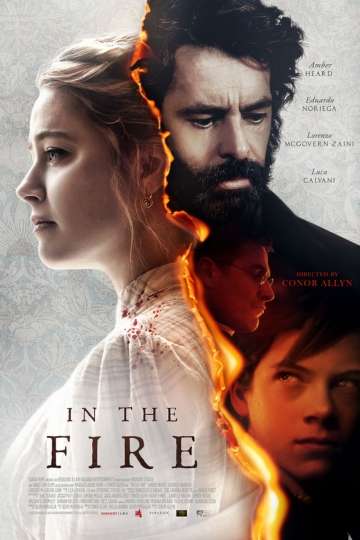 1 hr 27 min
Oct 13th, 2023
A doctor from New York (Amber Heard) travels to a remote plantation in the 1890s to care for a disturbed boy who seems to have inexplicable abilities. She begins… Read the Plot
What is the plot of 'In the Fire'?
A doctor from New York (Amber Heard) travels to a remote plantation in the 1890s to care for a disturbed boy who seems to have inexplicable abilities. She begins treating the child, but in doing so ignites a war of science versus religion with the local priest who believes the boy is possessed by the Devil and is the reason for all the village's woes.
Who is in the cast of 'In the Fire'?
Moviefone recently had the pleasure of speaking with director Conor Allyn about his work on 'In the Fire,' developing the screenplay and the themes he wanted to explore, the idea of science vs. religion, working with Amber Heard, why she was right for this role, directing young Lorenzo McGovern Zaini, Grace and Martin's bond, the makeshift family they create, and balancing the movie's different tones.
Moviefone: To begin with, can you talk about developing the screenplay and the themes that you wanted to explore with this film?
Conor Allyn: Yes, so I think I wrote the first draft of this in maybe 2014 or 2015, and anything I write almost always has to do with exiles and outcasts. I guess through some formative years I felt like that myself, so that comes out in the writing whether I want it to or not. This is fundamentally, it's a movie about science versus religion, facts versus what we believe, something we're still dealing with today, and I'm sure we always will be. But one issue that I feel is ingrained well in the movie that really speaks to the modern world is what we would call now just bullying. This is a period movie and it takes place a hundred years ago. It's about this disturbed boy in a small town who is isolated from the rest of the world and he's also isolated from his own small town because he's different, because he's disturbed. When things go wrong, he gets blamed. Equally, this woman doctor studies psychology, and she's also kind of an outcast in her own way. She's a female doctor in a time when there weren't any, and she studied psychology at a time when that was not a respected science. So these are two outcasts who form a relationship and she's trying to protect him from the bullying that's happening at this time, and he's in physical danger for his life or to be exercised by the local priest, and she finds herself bullied as well. She gets dragged through the public square and whipped because of her convictions to try to protect this kid, and that relates to our lives today very much. I was bullied quite a bit as a kid and that comes through in my writing.
MF: Can you expand on the idea of science vs. religion and how that plays out in this story?
CA: Again, I guess your own issues come out. I went to Catholic school for my entire education from kindergarten through college, and faith is a really interesting thing. I mean, religion can be the best thing in someone's life. It can do wonderful things. It can save people, it can help people, and I've also seen it hurt people really badly when used incorrectly. We're all humans, we fail sometimes, and it's an issue that we're still dealing with today. There's facts and then there's beliefs. They are not the same. Often people substitute belief for fact and it gets us into a lot of friction.
MF: What was your experience like working with Amber Heard and as an actress, what did she bring to this role?
CA: It was a marvelous experience. I had written a TV pilot that she was attached to, and that show has not happened yet, but getting to know her during that, people don't know this about her, but she lived in Mexico City for a while. She speaks fluent Spanish. She's really intelligent. She knew a lot about the history of South America, which is where this TV show was set. So I shared with her 'In the Fire' and she connected with it in a snap, which of course is what I was hoping. A lot of personal connections for her. I mean, like I was just saying, this is a character who is a fearless truth teller who has these convictions and sticks to them even when it gets her in hot water, even when it gets her physically dragged through the town square and whipped. It is not a coincidence that Amber Heard connected to a character who goes through this. She is herself a fearless truth teller who, this is the 21st century version, but she goes out and speaks her truth and just gets mercilessly bullied for it online. I'm horrified by what she went through in these last years, but she was able to draw from a lot of personal life experiences to be in touch with this character. I mean, the timeline was tight. We shot this movie just weeks before she went to Virginia for her trial. So when we wrapped this movie, she went straight from Guatemala to Virginia for the trial. The way she was able to commit herself and give 100% on this movie where she's the lead, and she was on set all day, every day, in Italy and Guatemala, for six or seven weeks. But behind the scenes, after hours, she was working on trial prep and having the looming cloud of that, having to share your most horrible stories and stuff with the public. I can't imagine it. I really can't.
MF: There's an old saying in Hollywood: "Never work with children or animals." Can you talk about directing young Lorenzo McGovern Zaini and did he and Amber bond on set?
CA: "Don't work with kids or animals." We did! We had horses, chickens, rabbits, and kids in this movie. If this movie hadn't had a star in the child role of Martin, it would have been a waste of time. It'd be a garbage movie without a good performance from him. I'm so blessed to have found such a wonderful actor. Lorenzo's only 11-years old, remarkably talented, and speaks four languages. He was wearing these contact lenses that make your pupils look different sizes, which make you practically blind. You're basically seeing through a dot. So he's basically blind acting through this whole movie and he's terrific. The relationship that blossomed between him and Amber on and off-screen was, I mean, it's the foundation of the whole movie. These are two people who are not very emotional. She's a doctor who's has purposely cut herself off from emotions, and he's mentally disturbed, so physically he doesn't have them. So these two people making a relationship out of nothing, that's what the movie is, this core personal relationship within the movie. The two of them really did it in real life too, and it was awesome to watch.
MF: Can you talk more about the deep connection between the two characters? What potential does Grace see in Martin, who is being demonized by the townspeople?
AC: So I think the real arc that's important for her character is that she comes to this remote village with her science and her medicine, her facts, and her preconceived notions of, "Here's this boy, and he is disturbed. I'm going to diagnose him. I'm going to put a label on it. I'm going to treat him, and then I'm going to send him on his way." That's what she comes in hoping or planning, and she finds a lot more than that. Like the audience is asked in this movie, she has to question all those facts and figures she showed up with. A lot of what she sees from the kid, yes, he's disturbed, but she's also seeing some other stuff that she can't explain with her science and her medicine. The audience is being asked that same question of you see something that has a practical explanation but also might be a little magical. Her arc in the movie is that she goes from treating this kid and protecting him because she's a doctor and that's the right thing to do, to protecting him instinctively more as a maternal figure because she loves him, not just because she's a doctor.
MF: Can you talk about the makeshift family that Grace creates with Martin and his father, Nicolas?
AC: Yeah, this whole family is sort of outcast. The father, Martin's father basically is protecting his kid from the local priest who wants to do an exorcism. He's protecting his son out of honor, not love. He's kind of with the local town and he blames the kid for his wife's death. She, in addition to treating the boy, Amber's character also really treats this father. The love story in this movie is very much between the father and the boy of realizing that he can love his son, even if he's different.
MF: Finally, the film has horror aspects, romance elements, and even at times plays like the origin story in a superhero movie. Can you talk about balancing all the different tones of this project?
AC: I love genre movies, but what I really love is creating a unique storytelling space. I'd much rather even try and fail to create a new space, a new story, than to rehash something that we've all seen before. So as far as our atmosphere, I decided I'm going to go with this western romantic remote town in South America because we haven't seen that before. It's grabbing a bit of the western genre and it's touching upon the religious horror genre, pulling some of these different elements together and trying to fit them into a cohesive unit. I think that's a lot of fun. Certainly a lot of fun for me, and hopefully a lot of fun for the audience.
Other Movies Similar to 'In the Fire':
Buy Amber Heard Movies On Amazon