'Hollywood Dreams & Nightmares: The Robert Englund Story' Interview
Releasing on Screambox and digital beginning June 6th is the new documentary 'Hollywood Dreams & Nightmares: The Robert Englund Story,' which chronicles the life and career of 'A Nightmare on Elm Street's legendary Freddy Krueger actor Robert Englund.
What is 'Hollywood Dreams & Nightmares: The Robert Englund Story' about?
'Hollywood Dreams & Nightmares: The Robert Englund Story' chronicles the life and career of classically trained actor and director Robert Englund, who has become one of the most revolutionary horror icons of our generation. Throughout his career, Englund starred in many well-known movies, but shot to super-stardom with his portrayal of supernatural serial killer Freddy Krueger in the 'A Nightmare on Elm Street' franchise. This unique and intimate portrait captures the man behind the glove and features interviews with Englund and his wife Nancy, Lin Shaye ('Insidious'), Eli Roth ('Cabin Fever'), Tony Todd ('Candyman'), Heather Langenkamp ('A Nightmare on Elm Street') and more.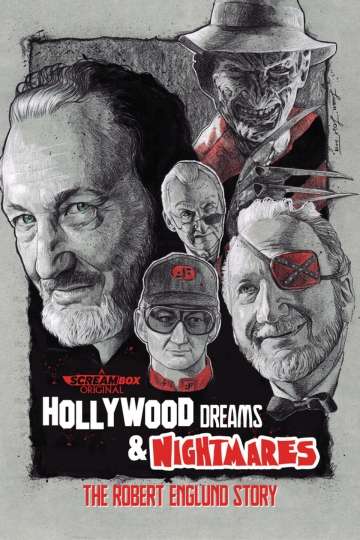 A classically trained actor and director, Robert Englund has become one of the most revolutionary horror icons of our generation. Throughout his career, Englund… Read the Plot
Who appears in 'Hollywood Dreams & Nightmares: The Robert Englund Story'?
Directed by Gary Smart ('Leviathan: The Story of Hellraiser') and Christopher Griffiths ('Pennywise: The Story of It'), 'Hollywood Dreams & Nightmares: The Robert Englund Story' features interviews with Robert Englund ('Stranger Things'), his wife Nancy Englund, Eli Roth ('Hostel'), Adam Green ('Hatchet'), William Katt ('Carrie'), Tony Todd ('Candyman'), Lance Henriksen ('Aliens'), Heather Langenkamp ('A Nightmare on Elm Street'), Lin Shaye ('The Grudge'), Bill Moseley ('The Devil's Rejects'), Doug Bradley ('Hellraiser') and Kane Hodder ('Friday the 13th Part VII: The New Blood').
Moviefone recently had the pleasure of speaking with Robert Englund about 'Hollywood Dreams & Nightmares: The Robert Englund Story,' having a documentary made about his life and career, how he helped Mark Hamill get an audition for 'Star Wars,' why Wes Craven's 'New Nightmare' was ahead of its time, and what playing Freddy Krueger has meant to him.
Moviefone: To begin with, can you talk about participating in this documentary and what it was like for you personally to look back on your life and your career?
Robert Englund: Well, I ran into these guys from Cult Screenings, and I'd been approached several times by different people, especially in this new world we live in with the blogosphere and everything, to do something. Almost instantly, Gary Smart and Chris Griffiths and I hit it off because they're sort of like walking IMBD guys. They're film fans. They're fanboys like me. I don't want to say I was testing them, but when I was getting to know them in a pub in the UK, I would be fighting for the name of an actor that I loved and they would go, "Strother Martin," or, "Warren Oates." Or I would be talking about a Hammer film and they would be saying things like, "Oh, you mean Herbert Lom." It was great having them there to finish my sentences for me because, even though they're younger than I am, they like a lot of the same films as I do. They're not just into contemporary science fiction, superheroes, and horror. They liked the whole world of it and movies in general. So, I knew we had a simpatico going and I said okay to this. So, they began to follow me around and we would set up times. They were off doing research and looking for clips, or I would tell them something that they were intrigued by and they would look for that clip and colleagues that I'd worked with, independently of me. But COVID hit during all of this. I think they had more time to do their R&D while we were all sitting around with our masks on, but we kept getting together. I remember we were together in London a couple of times and in LA and, I think, in New York once, and we stayed in contact. But I just felt really comfortable with Gary and Chris. They really listened to me. I said, "I don't want to be celebrated. If you want to celebrate somebody, do a documentary on Daniel Day-Lewis or somebody." But I said, "I am a survivor." This is, literally, as I sit here talking to you, this is 50 years ago that I was in Statesboro, Georgia, starring with one of the biggest stars of the '70s, Jan-Michael Vincent, and Pamela Sue Martin from 'The Poseidon Adventure,' and doing this terrific film ('Buster and Billie') for Daniel Petrie, who directed 'A Raisin in the Sun' among other things, my first movie starring role. It's 50 years since then, and I'm off to do another movie in October and I have a movie coming out this year. It's this tale of a working actor, and the ups and downs and the misses. In fact, since we've done the documentary, I've gotten the question about what were the ones that got away and stuff like that. I've remembered a couple more. I realize, as actors, we beat ourselves up on those parts we didn't get, even if they turned out to be flops, which in my case a couple of them did, and a couple of them weren't made even though they were huge projects. You beat yourself up for months after that, and you don't sleep well and then it's gone. It's in the ephemera. I realize that's part of surviving too, is having to let go of that stuff. My wife berates me because I still complain about a film I directed and movies that I was up for before she even knew me and we've been together 35 years. I realize that's an actor's nightmare.
MF: For years there has been a rumor that you auditioned for Luke Skywalker in 'Star Wars,' but the film confirms that you were actually considered for Han Solo and helped get Mark Hamill an audition for the movie, can you talk about that?
RE: I was never up for Luke Skywalker. I briefly went in the office, and I believe this is right around the time Tom Selleck or somebody had turned down the role, and they were looking at Han to be older, like the uncle that's older than Luke. For a split second, I think they thought, "Well, maybe he doesn't have to be the older uncle, maybe he can be more of a contemporary of Luke's like a galactic jet jockey or something." I was trying desperately to get into 'Apocalypse Now.' My agent had finally got me in the door and I had been told I was too young for the Frederic Forrest role, the saucier, which was the role I wanted to read for. But they did look at me for the surfer, went to one of the Bottoms boys (Sam Bottoms). I was a real surfer, and I was tan and had long blonde hair. I looked like William Katt's ugly, older brother back then. But I was dressed very military because it was 'Apocalypse Now,' but it was my thrift shop assemblage. They said, "Well, maybe," and I think it was (producer) Fred Roos or somebody that brought me across the hall. He says, "They're doing this space movie. You might be right for it." I didn't think much of it. I just went across the hall real quick. They took my Polaroid, and that's it. But I heard the name George Lucas and I idolized George because 'American Graffiti' really speaks to my generation. I also saw the sides for Luke Skywalker and that name, Luke Skywalker, it's such a great name. I remember going back, I think I had a drink at the Formosa afterwards because I didn't get in 'Apocalypse Now.' Then, I drove over the hill to my pad in the Hollywood Hills, and in front of my door were these old cowboy boots. Mark used to take his shoes off, Mark Hamill, and leave them out there because we had carpeting, precious wall to wall carpeting, my girlfriend and I. I think my girlfriend was down the hall working on a first draft of 'The Lost Boys,' Jan Fischer. I walked in and Mark was there. I said, "Mark, I don't know, but this sounds like you." I think he got on the horn and called his agent. I think his agent gets real upset when I tell this story because she may have already submitted him. I certainly don't know about that. But I think I was the one that made Mark aware of the project. I mean, Mark was a big television star then. I tell that not as if I helped Mark get the role, but I tell it as a "once upon a time in Hollywood story." Once upon a time in Hollywood, the guy that played Freddy Krueger lived with a girl that wrote 'Lost Boys' and hung out with the guy that played Luke Skywalker. It's just one of those moments of time that I think the fans love, that we all crossed paths. The people back east that think that all the horror actors hang out together at Schwab's or something. Like Freddy, Jason and Pinhead are all sitting around having a milkshake at Schwab's together.
MF: Finally, I've always thought that 'Wes Craven's New Nightmare' was ahead of its time and one of the best film's in the series. Can you talk about your experience working on that movie, having the opportunity to reinvent the character at that point in your career, and what playing Freddy Krueger has meant to you?
RE: Well, I'd love to talk about it intellectually. It took the release of 'Scream' for everybody to get Wes Craven's 'New Nightmare,' and then it became huge on DVD. People understood that it was deconstructed, that we were making it and talking to the fans about them. We were kind of teasing ourselves, playing exaggerated versions of ourselves. A lot of that stuff was true, but exaggerated. I think Heather Langenkamp did have a stalker and, of course, we made it Freddy. It was Wes Craven wrestling a bit with his huge success at that time, and the fact that he'd exploited evil and what if the evil he exploited came back to haunt us all. It was this great kind of deconstructed meta movie. But at the time, what I took mostly from that shoot was I got to hang out every day at lunch because I would be done by 1:00pm, so I'd tear my makeup off and, even though we were all making money by that time, I'm never one to turn down a free lunch. I'd run over to the catering area and I'd sit down and John Saxon would just be coming in. John was coming in for his free lunch too. I was allowed a glass of wine because I wasn't working anymore. John was going to have a nice long lunch and they would tell him when he needed to get in makeup. By that time, I'd worked with John three or four times and we'd been on international publicity junkets together. I got John to open up about his entire career. I got stories from John about working with Marlon Brando on 'The Appaloosa.' I got stories about his first movie ever with a young kid named Robert Redford, 'War Hunt' I think it was called, where he played a Native American and went out into the no man's land and took scalps. I got to talk to John about Sandra Dee, and he dated Natalie Wood, and he knew Elvis Presley, James Dean, Sal Mineo and all of those stories, and what the golden age was like because he was right on the cusp of that. Then, he also segued into that kind of teen moment of time. But he worked with Jimmy Stewart on 'Mr. Hobbs Takes a Vacation.' He worked with Clint Eastwood and Robert Duvall, just everybody. He worked for Quentin Tarantino on a two-hour special episode of 'CSI,' and Bruce Lee on 'Enter the Dragon.' I got the Bruce Lee stories, and all the Hong Kong stories. It was getting all of this golden age of Hollywood gossip from the horse's mouth. Now I can have a beer with somebody on location and share one of those anecdotes with them as well. It was just a great experience for me because I was getting this oral history from the late great John Saxon.
Other Robert Englund Movies: