First Images From 'Candy Cane Lane'
Preview
Eddie Murphy is starring as a man looking to win a holiday house decoration competition.
Jillian Bell, Tracee Ellis Ross, Thaddeus J. Mixson, Ken Marino and Nick Offerman co-star in the new film.
The new movie will see Murphy working with director Reginald Hudlin and producer Brian Grazer for the first time since 1992's 'Boomerang'.
Outside of the 'Shrek' world's TV specials, Eddie Murphy hasn't exactly been known for his holiday output.
That's all set to change this Christmas as he debuts new family comedy 'Candy Cane Lane' which finds the star fully embracing the warmth (and in this case, chaos) that is usually associated with thoughts of Santa, reindeer and elves.
And the world of competitive home decoration is also a rich one to explore, featuring plenty of rivalry (heck, there's even a whole TV reality series about people looking to put up the best display).
Which means that unless you're of a grinchy disposition, you'll welcome the first batch of photos from the movie, featuring Murphy dealing with the unique blend of a magical deal and a very famous Christmas song.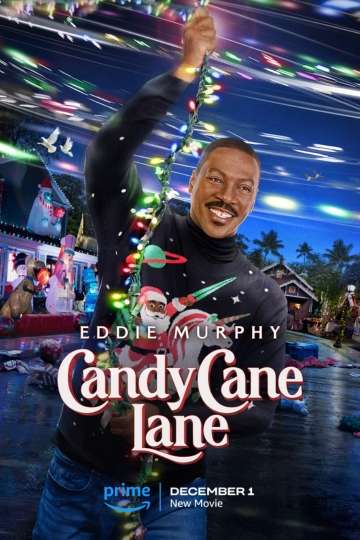 A man is determined to win the neighborhood's annual Christmas decorating contest. After making a pact with an elf to help him win, the elf casts a spell bringing… Read the Plot
What's the story of 'Candy Cane Lane'?
Murphy stars in this holiday comedy adventure about a man on a mission to win his neighborhood's annual Christmas home decoration contest.
After Chris (Murphy) inadvertently makes a deal with a mischievous elf named Pepper (Jillian Bell) to better his chances of winning, she casts a magic spell that brings the 12 Days of Christmas to life and wreaks havoc on the whole town.
At the risk of ruining the holidays for his family, Chris, his wife Carol (Tracee Ellis Ross), and their three children must race against the clock to break Pepper's spell, battle deviously magical characters, and save Christmas for everyone.
Who else appears in 'Candy Cane Lane'?
The cast for the movie also includes Thaddeus J. Mixson, Ken Marino, Nick Offerman, Robin Thede, Chris Redd, Genneya Walton, Madison Thomas, Anjelah Johnson-Reyes, Lombardo Boyar, D.C. Young Fly, Danielle Pinnock, Timothy Simons, Riki Lindhome and Stephen Tobolowsky.
For fans of Murphy's past output, there's something of a reunion behind the cameras too. 'Candy Cane Lane' is directed by Reginald Hudlin and produced by Brian Glazer, who worked with the star on 1992's 'Boomerang'.
The script, meanwhile, comes from Kelly Younger, a veteran of Disney and Pixar animated features who also wrote on various Muppets projects including 'Muppets Haunted Mansion'. He's reportedly based this new movie on his childhood growing up on a real Candy Cane Lane in El Segundo, California.
When can I watch 'Candy Cane Lane'?
The holiday movie will land on Prime Video on December 1st.
Other Movies Similar to 'Candy Cane Lane':