'Elemental' Interview: Peter Sohn and Denise Ream
Opening in theaters on June 16th is the latest Pixar animated movie entitled 'Elemental,' which was directed by Peter Sohn ('The Good Dinosaur').
What is the plot of 'Elemental?'
Disney and Pixar's "Elemental" is an all-new, original feature film set in Element City, where fire, water, land and air residents live together. The story introduces Ember (Leah Lewis), a tough, quick-witted and fiery young woman, whose friendship with a fun, sappy, go-with-the-flow guy named Wade (Mamoudou Athie) challenges her beliefs about the world they live in.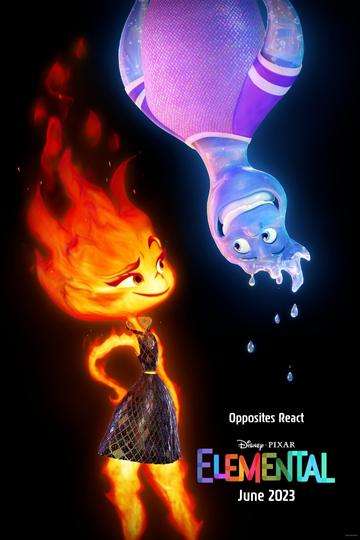 "Opposites react."
In a city where fire, water, land, & air residents live together, a fiery young woman & a go-with-the-flow guy will discover something elemental: How much they have… Read the Plot
Who is in the voice cast of 'Elemental?'
'Elemental' features the voices of Leah Lewis ('The Half of It') as Ember and Mamoudou Athie ('The Circle') as Wade, as well as Ronnie del Carmen ('Soul') as Ember's dad Bernie, Shila Ommi ('The Illegal') as Ember's mom Cinder, Wendi McLendon-Covey ('Paint') as Wade's boss Gale, Catherine O'Hara ('Best in Show') as Wade's mom Brook, Joe Pera ('Bob's Burgers') as Fern, and Mason Wertheimer as Ember's neighbor Clod.
Earlier this year, Moviefone had the pleasure of traveling to Pixar Studios in Emeryville, California to meet director Peter Sohn and screen some exclusive scenes from the new movie. After our tour and screening, we had a chance to attend a Q&A, along with several other members of the press, to hear what director Peter Sohn and producer Denise Ream had to say about the upcoming Pixar movie.
Peter, can you talk about the difference between directing a Pixar movie that you are assigned like 'The Good Dinosaur,' or creating a film from scratch like you did with 'Elemental?'
Pete Sohn: We've been here 23 years now at Pixar, and both experiences really showcased just the incredible talent. I keep saying it, but it's such a lucky thing to be with all these people that really love what they're doing, and I'm very proud of 'The Good Dinosaur' and the work that we got. The difference would be, it was inherited and I didn't have that personal connection to it, but it was also much faster. I think we would've made 20 'Good Dinosaurs' in the time it took to make 'Elemental,' but in starting this project from the beginning, it was from a personal place. So, there were a lot of interesting new things to learn along this process, where the experience on 'Dinosaur' was very much about getting a team focused and getting a film done. On this one, I didn't realize how much a personal thing can hold you, and really put you on a rail of sorts. Whereas 'Good Dinosaur' was just, "Oh, do whatever, let's just get this to work." Whereas here, that's not what that experience was. So it was a lot of processing and not to make it too sad, but my parents both passed away during the making of this movie. So, it was a very personal project, but then it was a very emotional one at the same time that was very different from that first experience. There were several pathways. When I first started pitching it, there were things of my own life that I would make fun of in terms of like, "Oh, I love spicy food. Wouldn't it be funny if fire food was really spicy?" That kind of thing, and all that kind of fun. My biggest goal was to try to find and take the element itself and pull from there to make the culture. Obviously if you go too far, it could become alien so you do have little grounding ways to do that. Something that was really interesting was disruption, meaning you think there is a piece of a culture that you think that it is mixed with the fire element on top, but then the next one should take you into another place where it's giving you other values of cultures that we know, but without it pointing to anything. But more than anything, it was just saying, "Oh, they're fire people. They eat wood. No earth people eat wood in this way. How can we exploit that? What dish, what kind of plates would they have?" So it would be extrapolating everything we could from the culture. We had a language made as well from David Peterson who did 'Game of Thrones,' and they have this amazing, brilliant team. Trying to take the fireplace sound effects, that stuff, and then trying to make a language of it. So when we first started adding fire sound effects to the characters, it just didn't sound like a performance. So they came up with this language, again, based off of what we knew from fire.
Can you talk about the challenges of having the different elements interact together on screen?
Denise Rea: I mean getting the characters ready, I would say particularly Wade was probably the biggest challenge. That was really hard. We all knew fire would be hard, but I think we were a little surprised about the water characters being so difficult. Basically time's ticking and, development and animation has to start. So that's always a kind of nerve wracking time. then as Pete alluded to, we actually did need the effects post animation to be more procedural at a certain point. We did have bespoke shots. There's a lot of hand effects that were going on, but a certain percentage, we had to get what you get right out of the box. So getting that ready was also a big challenge.
Can you talk about casting Leah Lewis and Mamoudou Athie and why they were the right actors for the roles?
PS: In the beginning, when I first designed these things, I was drawing a campfire and a bucket of water, and then they became characters. Then fire would be a smoky voice and water would be a cooler voice. So that idea of trying to find the external layer of the voice that have some characteristic that would tie to the element. Then in the art school days of breaking down a design, you would just throw everything that you know about that certain design and what you wanted. So fire was like, it could be passionate, it could be temporary, it could be fiery. So that sort of formed the early characteristics of her internal character. Wade would be the same thing where it was just transparent, emotions on the sleeve and then cool and goes with the flow. All those pieces start to form those early concepts of who they were. As we started developing the story, they start to form more where Ember began getting deeper about understanding her identity. "Am I from this city? Am I there?" There was this movie called 'The Half of It' from Netflix, directed and written by Alice Wu, and Leah stars in this. She performed on all these levels that were really interesting where she could be really hot tempered but still very appealing. Then she had a vulnerability in her voice that also she could straddle, but that was so sincere and authentic, but the whole time it was this smokey voice and she could sing. So it was like, holy cow. There were some moments in that film where she was talking to her father and it was so tender, but at the same time she could have a force behind it that I thought was perfect for this role. Then the same for Mamoudou, there was two pieces of Mamoudou that we had when we first started the character. I was always drawing and cry. I am a sap full on. So I kept drawing Wade in this sort of emotional way. Mamoudou was in this show called 'Oh Jerome, No.' He was going through a breakup, and he did this cry that was so sincere but hilarious. We had done some scratch recording for our reels. The amount of crying that Wade does, it can get so painful, it can be high pitch, but Mamoudou had such a compassionate soul that when he was crying, you just went with him in it. And then there was this other movie called 'Uncorked' that he was this guy that worked a barbecue shop, but he wanted to be a wine sommelier. He was working at the shop and this beautiful young woman comes in and he was flirting in this really nerdy way that I thought really was Wade. He does this weird little song and he just felt really loose and went with the flow without any problem. That's how those voices came to be.
Can you talk about the difficulties of creating the stadium sporting event we see in the trailer with all the different elements together?
DR: Computationally, that thing's just a beast. Then you add the wave in there. So that was one that you don't want that to come at the end of the show, so we wanted to put that in early, but all those cloud characters were hard. I mean everything was hard, but they were tricky. So that went into production pretty early and I feel like we looked at the shots in that scene not too long ago?
Can you talk about the different cultures of the different elements that all live together in Element City?
PS: It was so interesting to start. Everything goes back to Ember, what Ember's journey is. Then how to make a fire character feel uncomfortable in a city. So it was a very simple idea. "Oh, maybe having to get on a water train or having to cross water, always would make her uncomfortable." So that started helping us understand the hierarchy of this place. So, what if water came to this place first? Understanding this planet was a brain tease for us. What is this place? This is element city. Who got here first? So the idea of water coming first and then earth coming second formed the delta, like a river delta where there's a lot of water, meeting earth. Then from that delta that they would build this town, this city, and then air would be the third and then fire would be the last sort of element to come into the city. But it was all based off of that hierarchy of, the toughest thing for fire would be water. Then water would start. Where do you build a city where water lives? So it started that way. Then, in terms of the town and the segregation, there really isn't segregation in that way in this film. It's not 'Zootopia' in that world where everything is disconnected from each other. I really wanted a hopeful city. It's meant to have this feel of like, "Oh, we could have a new life here. Our dreams can come true here." We have a little bit of xenophobia. They walk through an air character that's like, "Watch it." I used to have watch it, but then I added, "Watch it, Sparky" right there, this little detail to just talk about truths that I know growing up and understanding, what are the prejudices of this world? I think everyone is trying to mix well in Element City, but then Ember's father Bernie is having issues with his own uncomfortable connection with water. Then that would become a force throughout the movie that obviously when Ember connects more with water characters, that would be an issue just like it was with my family. But that sort of all supported what we needed the place to be for the story.
Can you talk about the father/daughter story in the film?
DR: I really loved the father-daughter relationship and that connection and understanding our parents as people. That's something that I realized, which is what your parents do for you, and I sadly realized it after my dad was gone. So, it's the love between children and their parents and it was fun to do a different story, frankly. That's what I think our story and edit teams were excited about.
Finally, can you talk about your involvement in scoring the music for the film?
PS: It was a dream to just get to work with Thomas Newman. He's just been someone that I've always admired. So I say that because I used a lot of his music as temp when making the reels. Now, that's just one external coloring of it. But for the story, the intellectual part of me wanted to showcase a foreign world, and a world that we know, and I guess an American world. It's not American, but it's part of our culture, and in tracking that sort of intellectual idea of identity. "Am I Korean or am I American? What am I? I was born here, but when I'm in Korea, they don't treat me like I'm Korean. And when I'm here, sometimes you can feel not of this place." I'm trying to use music to help support that idea when you're in the fire shop the music says it's foreign, but it's not something that we don't know, but it has a vibe that doesn't feel like you're here. Then when you're in the city, it has something that anchors us to something that we know. Now, that's a very difficult challenge to do. Ultimately what Tom had done for that aspect of it was just make very unique music that really starts to separate. But then on an emotional level, Ember's journey of understanding her vulnerabilities and when her walls come down was also another layer that we really focused on. There's an emotional punchline that I don't want to ruin for you guys, but there's an idea that has been strung through the score that we worked very closely with Tom to hone. He worked very linearly. He would just start from the beginning and go. Then once we had that, then it would be working backwards and forwards to really understand how to get those emotional themes to resonate. But he works in a way that I've never worked before. He does a lot of pre-records, meaning he records a lot of pieces separately and then puts them all together. Even when we were with the orchestra the last time on 'Dinosaur,' the orchestra, once they got on the beat, everything that you hear recorded is the score. Tom doesn't do that. It's just like this score that you're hearing one 16th of this one queue. Then when you start to see it come together, it's like you just see these different layers and all of a sudden, "Holy cow, that's what that was going to be." I mean, why are we here? What are we doing? It's just a love for the movies and this love for the movies. When you have the picture that this team worked so hard on and there's this live orchestra on that beat, when that first note hits, there's this movie goosebump of like, "Oh, there's magic now. There's some chemistry going on between that sound and this picture that is so beautiful." There's so much magic here that happens when all these artists come together. I like to use a lot of sports analogies, but we're all in this room together and one of us is like, "Oh, this is the shot I had done." You see it with everyone. There's a real sports thing of like, that was a slam dunk that that person just did for the shot that's going to be a part of a movie that we all have wanted to see. It's the same thing as that.
Other Movies Similar to 'Elemental:'
'Elemental' is produced by Walt Disney Pictures and Pixar. It is set to release in theaters on June 16th, 2023.