'Cassandro' Interview: Director Roger Ross Williams
Opening in theaters on September 15th before premiering on Prime Video September 22nd is the new biopic 'Cassandro,' which is based on the life of lucha libre wrestler Saúl Armendáriz and was directed by Oscar-winning filmmaker Roger Ross Williams ('Music by Prudence')
What is the plot of ''Cassandro'?
When Saúl Armendáriz (Gael García Bernal) starts competing in the macho world of Mexican Lucha Libre wrestling, he's always cast as the runt. After he meets Sabrina (Roberta Colindrez), Saúl gains not only a professional trainer but also a friend who helps him create a new character in the ring. Together they debut 'Cassandro,' a radical subversion of Lucha Libre's stereotypical role known as the Exótico. Flamboyant and powerful, Cassandro turns lucha on its head. But Cassandro also upends Saúl's own life, throwing into tumult his relationships with his mother Yocasta (Perla De La Rosa), his secret lover Gerardo (Raúl Castillo), and his absent father Eduardo (Robert Salas).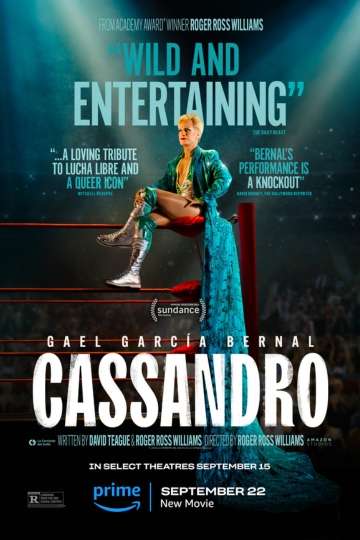 "Changing the game, one match at a time."
64
R1 hr 39 minJan 19th, 2023
The true story of Saúl Armendáriz, a gay amateur wrestler from El Paso that rises to international stardom after he creates the character Cassandro, the "Liberace… Read the Plot
Who is in the cast of ''Cassandro'?
Moviefone recently had the pleasure of speaking with director Roger Ross Williams about his work on 'Cassandro,' why he wanted to make a movie about the popular Mexican luchador, why Gael García Bernal was the only actor who could play the role, and how his background as a documentary filmmaker uniquely qualified him to direct this particular movie.
Moviefone: To begin with, can you talk about learning of Saúl Armendáriz's incredible story and his relentless spirit, why you wanted to make a movie about him and the themes that you wanted to explore?
Roger Ross Williams: The first time I met Cassandro, I went down to interview him and I fell completely in love with him. He has this positivity and inner spirit, inner glow that I just couldn't believe. He's so charismatic and he's so positive. Even the challenges in life, he's embraced them and used them in his character, and he's authentically himself. I thought that was just a beautifully inspirational story to tell, and that's why I wanted to tell the story. I want to make inspirational films, I want to tell inspirational stories about people who've overcome great odds. To me, it was about self-love, and he is someone that exemplifies that.
Related Article: Movie Review: 'Cassandro'
MF: Why was Gael Garcia Bernal the right actor to bring Cassandro's story to the screen?
RRW: What other actor could play this role? He is one of the greatest actors in Mexico. He had the emotional and the physical chops to take this on, where he learned to wrestle. He spent months working with real luchadors learning to wrestle. He did most of his own stunts himself. It's like he really threw himself into this role and I knew that that's the kind of actor he is. So, ever since I saw 'Y Tu Mamá También,' and then of course 'Bad Education,' I knew that Gael was the actor. There was no other actor who could play this role, so I didn't stop until I got him to say yes.
MF: Finally, since this is a biopic, do you think that your background in documentary filmmaking uniquely qualified you to make this movie?
RRW: I was open and flexible to, really, changes and creating things, and making magic happen on set, but also I was obsessive about the authenticity of the film. It's a border story, it's about a very specific community, it's about a very specific world of lucha libre, in a very specific place of Juarez and El Paso. So capturing that in an authentic way was so important and so key to the story. I think because I'm a documentarian, those little details that, when I talk to someone either from that community or from the Latinx community, they're like, "Wow, you nailed it. You got this world so right." Because I did the research, and I spent time there. I spent time with the real Cassandro, and it was really important to me.
Other Movies Similar to 'Cassandro':