Bears come back down to Earth against stiffer competition in Chargers

Carmen Vitali
NFC North Reporter
The Chicago Bears' hype train came to a screeching halt on Sunday night. They went into Los Angeles to face a 2-4 Chargers team that was hoping for the sake of Brandon Staley's job they weren't as bad as their record suggested and suffered a 30-13 loss in front of a stadium filled halfway with Bears fans.
Chicago's anemic defense failed to contain Chargers quarterback Justin Herbert who finished 31 of 40 for 298 yards and three touchdowns on the night. What momentum the Bears offense had been building after backup quarterback Tyson Bagent won his first start over the Las Vegas Raiders at Soldier Field last weekend completely ran out. The Sunday before Halloween revealed Chicago's true form: they still aren't a good team. They were just masquerading as a hopeful one for the past couple of weeks.
The flashes of competency came against the Washington Commanders, the Denver Broncos and the Raiders, all struggling teams. And while the same could be said for the Chargers, unlike with those other teams, it has never been a question of talent with them. 
Los Angeles has been so frustrating this season because on paper, they have great players, and against the Bears on Sunday, they showed it. Not only did Herbert register a 122.7 rating, but running back Austin Ekeler finally had a game his fantasy managers could get excited about. Ekeler finished with seven catches for 94 yards and a touchdown. He added 29 yards on the ground for a total of 123 yards from scrimmage.
"I felt like it was stuff that we were kind of seeing all week and just didn't really execute when it came down to some of the screens and things like that," said Bears linebacker T.J. Edwards. "It's all things that are things that we can fix."
Los Angeles also got help from their defense, which sacked Bagent just once but ended up with two turnovers, both interceptions.
You'd be forgiven for thinking these numbers are a bit inflated. The Chargers likely haven't fixed all of their issues. But they were made to look better by a Bears team that couldn't get anywhere near Herbert all night. The Bears missed tackles left and right, too. 
"Every team has good players, they got guys who can make you miss and they get paid a lot of money to so," Edwards said. "At the end of the day, it's just technique and we have to find ways to get them down and get more numbers to the pile."
Coming into the game, the Bears had just 10 sacks on the season, which is the second-fewest in the NFL. They sat at -3 in turnover margin with just eight takeaways on the season, putting them in the bottom third. They've forced just two fumbles all season. They ended up -1 on Sunday night, putting their season turnover margin at -4.
Opposing quarterbacks just have it relatively easy against them, in general. Coming into the game they had a 16.5 percent pressure rate, which is the fourth-lowest. The only teams with a worse rate are the Raiders, Broncos and Cardinals.
What's even more frustrating is Chicago's aversion to the blitz. They are blitzing at a rate of just 23% on the season, again putting them in the bottom third. Not that rushing an extra man is a cure-all but when you simply don't have the talent to outright beat your competition, you have to get creative. If the Bears were going to insist on playing rookies on the interior of their defensive line and relying solely on Yannick Ngakoue to get pressure off the edge, they simply can't be content with rushing four all the time.
There was one point in the second quarter where Herbert was hurried into a throw that ended up getting deflected at the line. It forced the Chargers to settle for a field goal after a turnover rather than continuing the drive into the end zone. It also came on a four-man rush but with a caveat: cornerback Kyler Gordon came off the edge while an interior rusher dropped out. So no, it still wasn't a blitz. But it was creative. It clearly took Herbert and the Chargers' offensive line off guard. But it proved to be a relative anomaly. 
Game plans call for different strategies. You don't play every opponent the same, or at least, you shouldn't. But every time it seems the Bears figure something out, they don't or can't stick with it. That's what's so frustrating. 
It makes it so that even if the Bears are able to capture some of that ever-elusive momentum, they have no shot of hanging onto it. The result is a team hanging in the balance, waiting for a direction to go. Year two of head coach Matt Eberflus' defense hasn't yielded a clear path for his side of the ball, much less an offense that seems to be better suited for the backup. 
How much the Bears do or don't do at the trade deadline to improve their team this week won't just indicate where they think they are this season, but it could be an indictment on where they see themselves going forward. And who they see themselves going forward with.
Carmen Vitali covers the NFC North for FOX Sports. Carmen had previous stops with The Draft Network and the Tampa Bay Buccaneers. She spent six seasons with the Bucs, including 2020, which added the title of Super Bowl Champion (and boat-parade participant) to her résumé. You can follow Carmen on Twitter at @CarmieV.
---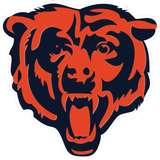 Get more from Chicago Bears Follow your favorites to get information about games, news and more
---