'Asteroid City' Virtual Press Conference
Director Wes Anderson has accrued, over the course of his career, 15 Academy Award nods and 10 Golden Globe nominations for his work. His films — known for their mannered, eccentric sincerity, underplayed emotions, and symmetrical compositions against diorama-style backgrounds — have also evolved into almost their own genre.
His 11th big-screen effort, 'Asteroid City,' recently enjoyed its world premiere at the Cannes Film Festival. The movie takes place in a fictional desert town circa 1955, where the carefully planned weekend itinerary of a junior scholastic achievers group — organized to bring together gifted teenagers interested in science and technology — is interrupted by the arrival of an outer space alien.
A government-mandated lockdown ensues. Against this backdrop, war photographer and newly single father of four Augie Steenbeck (Jason Schwartzman) meets Midge Campbell (Scarlett Johansson), an actress simultaneously accompanying her daughter and researching a new role.
The additional wrinkle? This entire story is actually framed as a stageplay, whose creation and casting is being explored as part of an anthology TV series narrated by a buttoned-up host (Bryan Cranston).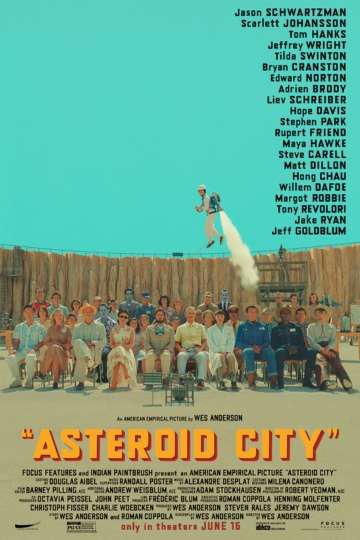 65
PG-131 hr 45 minJun 16th, 2023
The itinerary of a Junior Stargazer/Space Cadet convention (organized to bring together students and parents from across the country for fellowship and scholarly… Read the Plot
Moviefone recently had the pleasure of attending a virtual press conference for 'Asteroid City.' Taking part in the Q&A were writer-director Anderson, as well as stars Schwartzman, Johannson, Cranston, Tom Hanks, Jeffrey Wright, Adrien Brody, Hope Davis, Jake Ryan, Stephen Park, Rupert Friend, and Maya Hawke.
Here are 10 things we learned from the 'Asteroid City' press conference, edited for clarity and length.
1. 'Asteroid City' Began as a Mash-Up of Three Ideas, Set in an Automat
The film's desert setting seems integral to both its telling, and the contrast that Anderson sought to develop and explore within his split narrative. But that wasn't always the case.
Wes Anderson: For me, starting a movie, starting to write a script, is usually not one idea for it. It's a couple of ideas — two or three things. Roman Coppola and I created this thing together, and I would say on this one the three ideas were that we wanted to write a part for Jason Schwartzman at the center of a movie that would be something he hadn't done before. So that was number one. We didn't really know what it was, but we sort of had a few notions about what this character was going through. The second thing was we were interested in the setting of 1950s kind of New York theater, or a golden age of Broadway-ish thing. In this case, sort of the Actors Studio variety of it. And the other thing was we thought we'd tell a story of the play they're putting on. And the original thing was a play called 'Automat,' and it was gonna all be (set) in this automat. And then we sort of decided, you know, that's too small. So we expanded it just to the desert. And I guess it then became something like this interaction of a black-and-white New York stage and a color, CinemaScope-ish western kind of story, where everybody's both an actor and the role they're playing, and they kind of mix together.
2. Anderson's Use of Detailed Animatics Left Tom Hanks Initially Wondering If 'Asteroid City' Was an Animated Film
Hanks first met Wes Anderson 15 years ago in Rome, at a dinner. Though they'd crossed paths some since then, he was surprised to receive a casting solicitation via email — and wasn't prepared for the animatic which accompanied it, a product of Anderson's stop-motion animation productions.
Tom Hanks: This came about literally because of a lovely email that said, "Would you like to come and join us?" And I said, "Yeah, sure." But what is odd is he sends you a version of the movie that doesn't really need you. The animatic of the film that he put together — which I thought was [Jason's] voice, because I know they collaborate so much, but it was all just Wes — is incredible. So you see a complete animatic version of the movie, which I watched, and I called him up and said, "Well, I'm in, but I don't see how you need anybody to do this now." Because just the animatic looked like 'Beauty and the Beast' to us! All this stuff that you hear about turned out to be true. I haven't seen a Wes Anderson movie that I didn't wish that I was in, so it was great to be a part of this and the role was great. I think [Wes] used the reference, "We're looking for a retired Ronald Reagan-type." And I go, "I'm your man, I can do that."
3. How the 'Asteroid City' Script Was Like a Bag of Halloween Candy
Jason Schwartzman's career is of course inextricably linked to Anderson's, having made his film debut in 1998's highly acclaimed 'Rushmore.' A quarter-century later, though, their relationship is still informed by the same dynamics.
Jason Schwartzman: To be able to work with him is a really rare and special thing. And I think the one thing I value the most about our relationship is that it seems like it's sort of as it was when we first met — like, the second we met, we started talking about music. It's about sharing things that we were interested in. And I think that over the years, we've been through so many different things. But it's fun to come back and to share the things that you've experienced with someone that you know and love. And it's about going off and having adventures, you know? It's kind of like Halloween — like dumping out all your stuff, you know, and seeing what you're interested in. So when I read a script (of his), I'm catching up with my friend in a way too. So I think fundamentally, the idea of enthusiasm and curiosity about something else being out there — that's, like, the fundamental thing of our relationship. And I think any good relationship, I guess, is letting the other person grow and then bring it back.
4. Yes, Things Got Complicated For the Actors
Almost all the actors in 'Asteroid City' have the challenge of playing their main, outward-facing characters, as well as the actors then portraying them. Sometimes, points of real-life reference helped in building out these complex characterizations — including for Scarlett Johannson, who had to play two performers.
Scarlett Johannson: Wes and I talked about and kind of tried to figure out [what] old Hollywood star was the Midge Campbell character. We shared some ideas about what type of a person this could be, or what kind of career she could've had. Did she come through the Actor's Studio? And what did she sound like? And, you know, I mean, I liked Bette Davis, because I thought her career was a good shape. And she felt like, you know, Bette Davis feels, I don't know — when you watch her, she seems comfortable in the space she takes up. So I felt like that could be a good beginning. And also her voice, actually — she has a little bit of that Mid-Atlantic thing. So understanding where that came from and all that stuff was very helpful.
5. Bryan Cranston Found Inspiration in Rod Serling and Ted Koppel
If the framing device of 'Asteroid City' can seem confusing on the page, the personified glue that holds it together and makes it such an easygoing watch is Bryan Cranston's emcee. For his role, the actor thought of himself as a venerable newscaster.
Bryan Cranston: This is a movie about a television show that's doing an expose on a theater piece. That in itself is kind of a Russian doll sort of thing. And then there's the actors who are also playing (other roles). So when you read that in script form, it can be a little daunting. And whether you're playing a lead part or a supporting role, you look for your slice — what is my contribution to the story? And in this, my expositional dialogue sets up the structure of what the audience is about to see. There were a lot of names — lots of interesting names that I had to get straight in my head. But I also thought, I should be the one without any emotion. I should just be a blank slate so that people just listen and then follow along and try to key in. Just open up, introduce, and then hand off — I thought that was probably the best thing I could do. So something almost like Rod Serling or Ted Koppel's voice kept popping into my head — some kind of established journalistic presence is what I was going for.
6. Jake Ryan Won His Role With an Audition Scene on Tape
Jake Ryan had worked for Anderson before, in a small role in 2012's 'Moonrise Kingdom' and later providing a voice in 'Isle of Dogs.' But for the crucial role of Woodrow Steenbeck, Augie's son, the filmmaker auditioned him just like any other actor — and was blown away by his maturity.
Jake Ryan: After 'Moonrise,' we've sort of kept in touch. [Wes] had me be a part of, like, a bunch of different projects. I would like to think that I had matured a little bit (laughs), and vaguely understood what I was doing at this point. So when I got the audition for this, I mean, he knew me and I knew [Wes and Jason], kind of. But I was just excited to reunite. And after I got the part, I just felt like I wanted to prove to myself that I've grown up a little bit, I would say.
Wes Anderson: You know what, can I say, the thing that struck me was, because I have known you for so long, I was like, well, probably this is just gonna be Jake. But we still read people. And Jake had done lots of other good work along the way. But the particular thing was, there's a scene where you and Scarlett are on this train together. And this scene, I wasn't really sure who it was even going to be, this understudy (character) — how does he fit in? And you did that one. I said we wanted to do a video of this, and you sent me a video and when I saw it, I said, "Wow, he's definitely matured." (laughs) I mean, you really played it like an actor who's taking a scene and interpreting it, and in control of it. You were very, very good in that one.
Scarlett Johannson: It's only my favorite scene in the entire movie.
7. Anderson Pushes His Actors, But In a Good Way
According to Jeffrey Wright, Anderson's eye for detail extends to insert shots, even if he's not shooting them himself.
Jeffrey Wright: So, you know, you do inserts in films. And usually it's about, you know, five or ten minutes, a couple of shots, boom, of just inserted objects, and then you're gone. We did an insert in this film… (laughs) there's a moment in which my hand touches a holster, flips up the flap, and grips the weapon. That took about 60 takes. Four hours. But I understood why. Now, obviously, it's not a performance thing for me, but it was really about trying to find a certain cleanliness to the [movement] that we couldn't quite achieve until — and I'll give away a little family secret, I guess — we had a prop guy standing to my left, the lens here to my right, my body hiding him. So I flip up the flap on the holster, and the prop guy puts his finger on it, keeps it up. The camera, the frame, is below his finger. And then I slide my hand down, and it worked. But it was really, like, kind of an equation that we had to figure out. And we finally figured it out. It was the wildest, strangest thing. But, you know, I kind of loved finding the answer.
8. Despite This Perfectionism and His Fondness for Animatics, Anderson Is Still Open to Suggestions
Again, the incredible specificity of Anderson's movies gives them a singular feeling. But he's always up for fresh ideas, too. For Hanks, that included the notion of shooting golf chip shots in the background during the set-up for his character's introduction.
Tom Hanks: (As one of) the folks that were there for the first time, I wondered if we got to have ideas. I mean, do we get to, like, come in and say, "Hey, you know, I was thinking about this?" So we asked some of the veterans about it. And they said, "Yeah, sure, sure, sure." And we would, but then [Wes] would say, "Well, we don't have enough set to shoot that." (laughs) You know, that would sometimes be something. But I found [Wes] to be just as flexible as anybody would be, provided that you're not, you know, going south so far out of the realm of what [he's] going for.
9. 'Asteroid City' Reminded Some of Its Cast of Their Theater Days
Anderson's meticulously ordered movies evoke such a specific tone and feel that one wonders if they afford actors any freedom, or enjoyment. The answer is yes.
Hope Davis: "The piece that feels theatrical is that it feels very loose, the way my early days in the theater felt — especially when we were rehearsing. We were all jumping around in the desert with air guns in our hands. It had that kind of looseness. You know, moviemaking can be very slow and dull. And this just felt so alive and so playful, so it reminds you why you got into [acting] in the first place for me. You're finding it in the moment. I mean, some people come in and they know all their lines and they know where they want to go, but most of us, you're finding it as you go. And I feel like we had the freedom to do that, but we also had the animatic in our heads, so we knew exactly what the frames were going to end up being."
10. No, Wes Anderson Is Not Breaking Up With Bill Murray
In the confused timelines of some internet agitators, the absence of Bill Murray, a frequent Anderson collaborator, in 'Asteroid City' is a sign that the filmmaker is parting ways with the legendary performer in the wake of a sexual harassment complaint against him on the set of Aziz Ansari's 'Being Mortal' — even though the incident in question occurred in April 2022, many months after Anderson's film commenced shooting. The truth is that Murray contracted COVID, which prevented him from joining the cast. But he visited the production later during filming, providing a memorable moment for one of its costars.
Rupert Friend: Wes wrote one of his more succinct stage directions in the scene where we have our musical number. It just said, "They dance." That was it. We kept saying, "When's the choreographer coming? When's the rehearsal?" And it was like, "Oh, yeah, another time, another time." [On the day of shooting] we hadn't had any of that, and it was just a kind of go-for-it moment. I had a feeling of exuberance, because I remember it was actually an amazing moment. I don't know if you saw this, Wes, but when we did our thing, I threw my hat in the air, and behind the camera that day, Bill Murray had come to visit set, and he just caught it at that exact moment. It was just perfect.
Other Movies Similar to 'Asteroid City:'
Buy Wes Anderson Movies on Amazon
'Asteroid City' is produced by American Empirical Pictures and Indian Paintbrush. It is set to release in theaters on June 23rd, 2023.