'A Million Miles Away' Interview: Alejandra Márquez Abella
Opening in select theaters on September 8th before premiering on Prime Video on September 15th is the new biopic 'A Million Miles Away,' which is based on the book "Reaching for the Stars: The Inspiring Story of a Migrant Farmworker Turned Astronaut" by José Hernández and was directed by Alejandra Márquez Abella ('The Good Girls').
What is the plot of 'A Million Miles Away'?
Inspired by the real-life story of NASA flight engineer José Hernández, 'A Million Miles Away' follows him and his devoted family of proud migrant farm workers on a decades-long journey, from a rural village in Michoacán, Mexico, to the fields of the San Joaquin Valley, to more than 200 miles above the Earth in the International Space Station. With the unwavering support of his hard-working parents, relatives and teachers, José's (Michael Peña) unrelenting drive & determination culminates in the opportunity to achieve his seemingly impossible goal.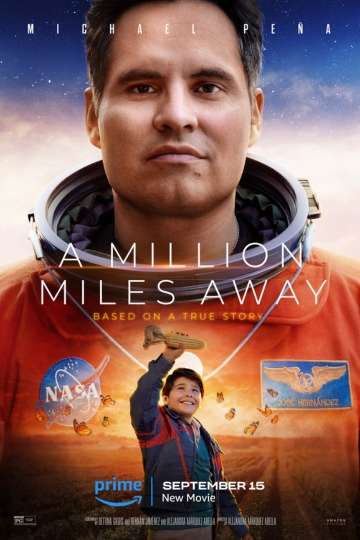 Who is in the cast of 'A Million Miles Away'?
Moviefone recently had the pleasure of speaking with director Alejandra Márquez Abella about her work on 'A Million Miles Away,' why she wanted to tell José Hernández's story, meeting Hernández and his family, working with Michael Peña, casting Rosa Salazar as José's wife, and making the NASA scenes as authentic as possible.
You can read the full interview below or click on the video player above to watch our interview.
Moviefone: To begin with, what intrigued you about Jose's Hernández's real life story, and what were some of the themes that you wanted to explore with this movie?
Alejandra Márquez Abella: Well, the fact that he was a migrant farm worker and astronaut was enough. The apparent contradiction in that sentence was fascinating for me. I wanted to explore not only having such an admirable character because I've done more of a despicable character sort of thing before, and I really wanted to explore having a nice guy to portray in front of me. That was a challenge in a way, and I wanted to elevate his story. I wanted everyone to see that you can achieve anything almost.
MF: What kind of research did you do for this project? Did you have a chance to meet Jose, his family, and his friends and colleagues?
AMA: I visited him and his family in Stockton, California. I spent some days with them. I met his kids and his parents. We talked a lot. I saw the Mazda. Then, Michael and I got to visit NASA, so that was a very fun part of the researching stage.
MF: Why was Michael Peña the right actor to bring Jose's story to the big screen and what was it like for you collaborating with him on this movie?
AMA: Michael is the Mexican American superstar of all times. I think he is other than that, the most amazing, hardworking actor there is. He was such an incredible nerd about this role. He was all into it, and I was impressed how he used to come two weeks before he had a scene and discuss it with me, and he was open to hear whatever I had in mind. So I think we both enjoyed the collaboration a lot. It was a nice time.
MF: Can you talk about Rosa Salazar's performance as Adela Hernández, and how she really supported José following his dreams?
AMA: When I met the real life Adela, I was shocked. I was impressed because she is a force you can't imagine. Adela is, I like to say she's the boosters on Jose. Jose got to leave this planet and go so far because she was behind or by his side making things happen. She had some opinions on the story we were about to tell. So when I was invited to her home, she cooked this really spicy dish and she was letting me know her opinions. So I always remember this anecdote because it was like a mafia kind of, "I'm going to do whatever, Adela. You're going to be okay in the film, I promise." Then Rosa, Rosa is like light. When Rosa comes, everything lights up, and I think that happens in the film as well. When she comes into the film, everything is like a hurricane, a revolution, and I just love her sensibility, and her creativity. I think she's just amazing.
MF: Finally, can you talk about making the NASA sequences as authentic as possible?
AMA: Well, I think the days that we spent in NASA where pivotal. I think we don't get to see these kind of scenes in astronaut films that much. It's never about the training, and so we thought it would be interesting to have the new buoyancy lab and the mock-up training building and everything that's not common in this sort of film and just have it explode in the screen.
Other Movies Similar to 'A Million Miles Away:'