2023 NFL Over/Under win total odds, predictions, picks for all 32 teams
The NFL season is upon us and sportsbooks have updated their Over/Under win totals just in time for kickoff! 
Thankfully for you bettors everywhere, FOX Sports gambling experts and NFL writers are analyzing the numbers and giving their predictions and picks for every team in the league. 
Whether your squad is expected to have double-digits wins or is projected to be somewhere in the low single digits, we have you covered. Since we are in the late summer glow of endless optimism let's hope for the Overs, unless your team is in the running for the Caleb Williams sweepstakes, in which case you are justified in wishing for the Under. 
Check back daily for predictions on how many wins your team will have at the end of the regular season.
Let's get to it!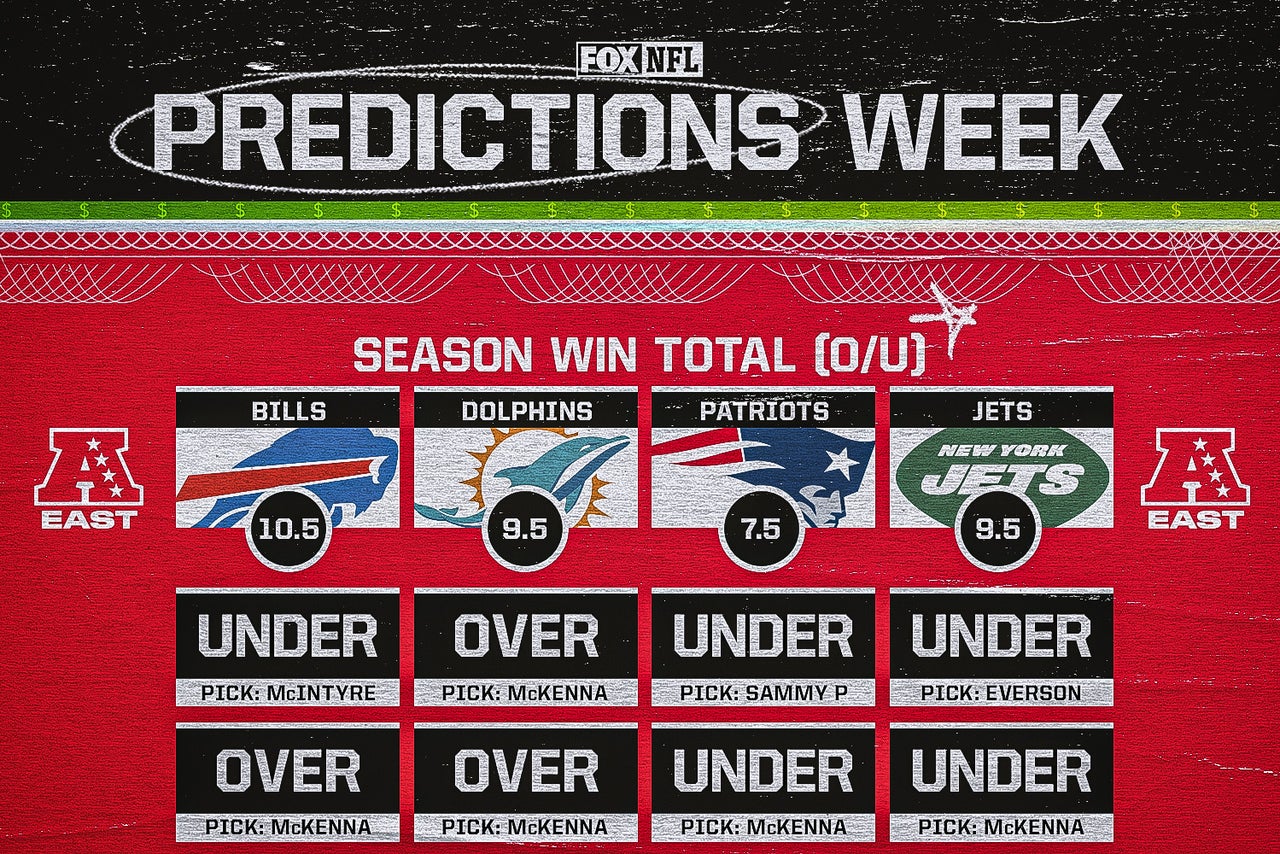 AFC EAST
Buffalo Bills
Over/Under: 10.5
Prediction: If you can get past what you last saw from them — a listless 27-10 home playoff loss to the Bengals — then you can remember the dominant regular season that featured four wins by 20-plus points. But I just don't love the offensive line or the Jets adding Aaron Rodgers. And there are questions about two aging safeties and the loss of their leading tackle, Tremaine Edmunds. With Josh Allen's contract spiking after this year, you can hear the Super Bowl window closing. I lean to the Bills going under their win total. — Jason McIntyre
2023 Buffalo Bills Over/Under win total odds, predictions, picks
Miami Dolphins
Over/Under: 9.5
Prediction: Every year, I'll take a chance on some alternative win totals — where you can take the Over 10.5 for plus money. The Dolphins are one of those teams, given how potentially great they can be if quarterback Tua Tagovailoa is healthy. They went 8-3 in games he started and finished, but things didn't go as well with Teddy Bridgewater and Skylar Thompson. The defense should be improved under Vic Fangio; the offensive line can only improve. Having to play three of their first four games on the road, including games against Justin Herbert, Bill Belichick and Josh Allen, puts them in a tough spot, as does closing the season against three teams expected to be jockeying for playoff predictions — Dallas, Baltimore and Buffalo. You ultimately either trust Tua's health or you don't. — Jason McIntyre
2023 Miami Dolphins Over/Under win total odds, predictions, picks
Jets vs. Bills are the talk of the AFC East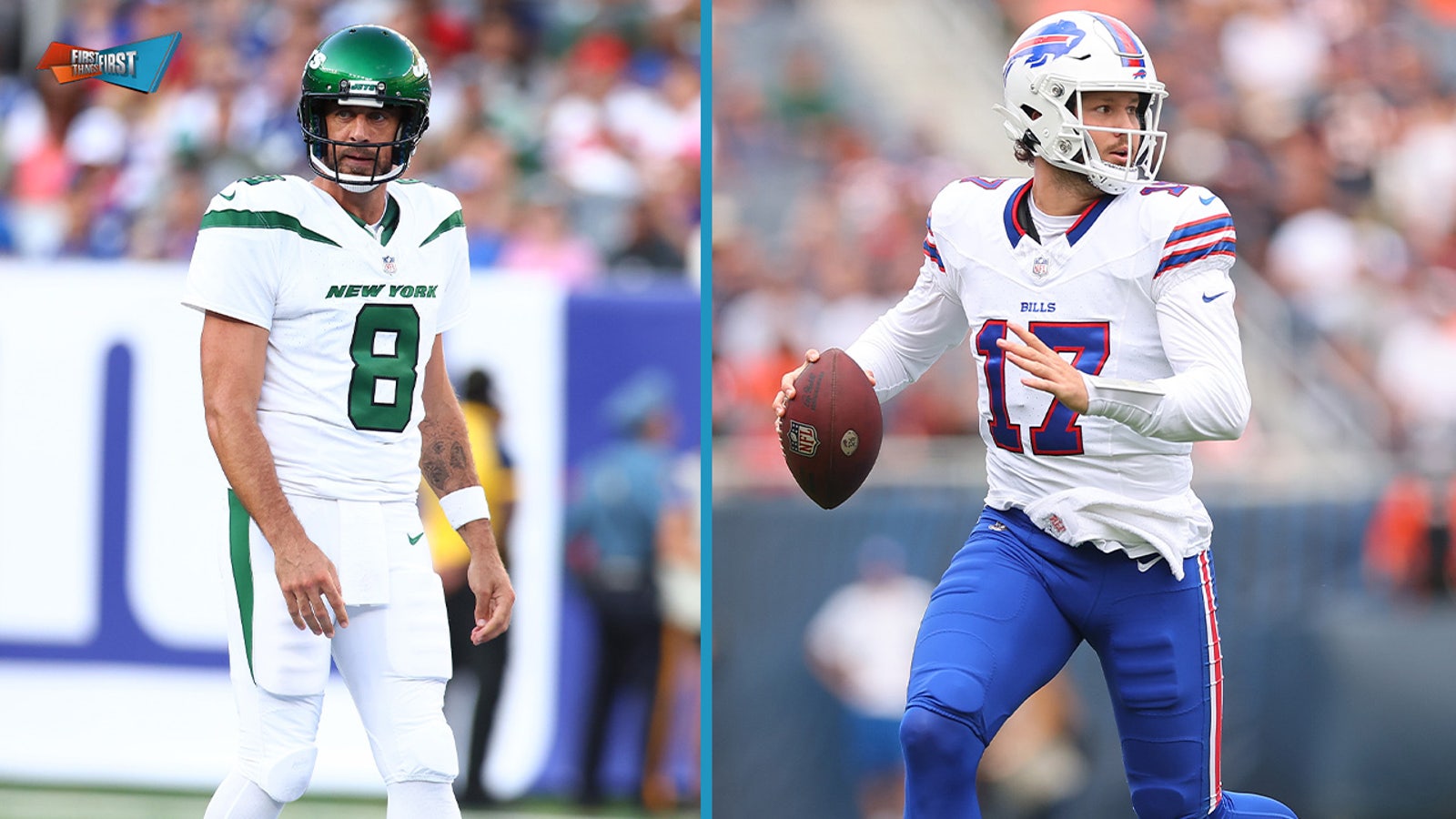 Nick Wright and Chris Broussard share their AFC East predictions. Can Aaron Rodgers prop the Jets above the Bills?
New York Jets
Over/Under: 9.5
Prediction: Yes, the betting public — most notably the big Jets fan base wagering in New York and New Jersey — is brimming with confidence. Perhaps with good reason, now having Aaron Rodgers at quarterback. But I feel public expectations of this team are too high in a division from which it'll be tough to get into the postseason. Sharp bettor Randy McKay said a tough overall schedule and questionable offensive line have him on the Jets Under 9.5. So I'll take that bet, as well, at plus money (+110) from The SuperBook. — Patrick Everson
2023 New York Jets Over/Under win total odds, predictions, picks
New England Patriots
Over/Under: 7.5
Prediction: How many games will New England win in the suddenly loaded AFC East? You can kiss the Over goodbye if you answer with less than two. Buffalo, Miami and New York all have better rosters, and I wonder how low this already-low total would be if Bill Belichick wasn't roaming the sidelines. He's the one coach across the four major professional sports who seems to circumvent his team's talent. Quarterback Mac Jones should be better with offensive coordinator Bill O'Brien, but the lack of playmakers on this roster is glaring. Oh, and the Patriots are only favored three times this upcoming season. — Sam Panayotovich
2023 New England Patriots Over/Under win total odds, predictions, picks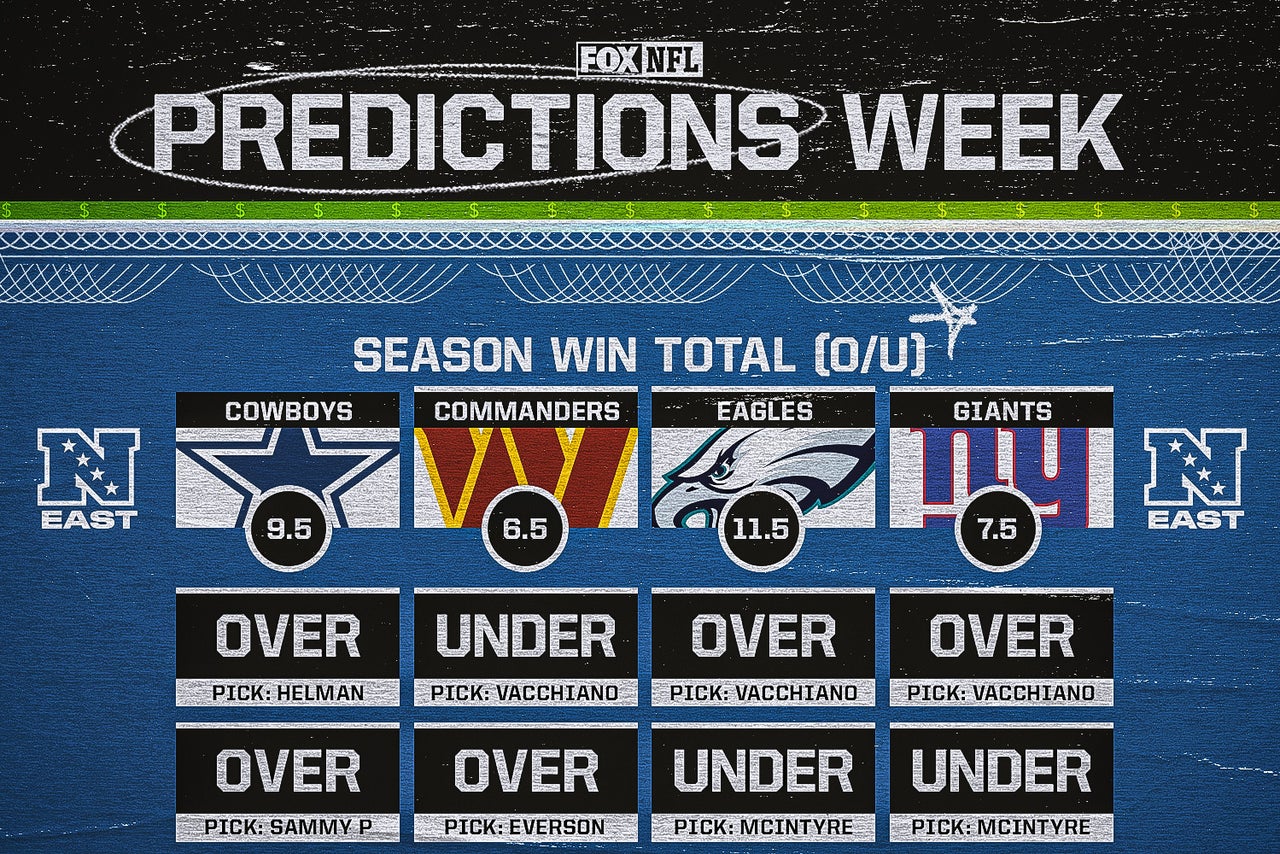 NFC EAST
Dallas Cowboys 
Over/Under: 9.5
Prediction: It's going to be an uncomfortable offseason in Dallas if this Cowboys team can't manage better than 9-8. Yes, the schedule looks tougher than last year, but this is also a better overall roster than the 2022 version, which managed a 12-5 record. Their defense is loaded, and their front office has done a better job of putting talent around Dak Prescott. The Cowboys figure to be one of the NFC's elite squads, and there are no excuses if they can't play like it. They don't have to improve upon last year's record, but anything less than 10 or 11 wins would be a disappointment. — David Helman
2023 Dallas Cowboys Over/Under win total odds, predictions, picks
New York Giants
Over/Under: 7.5
Prediction: The Giants are only favored in three of their first 10 games, and the schedule is rigorous. Back-to-back road games against the Dolphins and Bills, and then three straight on the road in November, compounded by the late Week 13 bye, sets the Giants up for a difficult season. If they're trying to get into the playoffs, they'll have to do so in New Orleans, in Philadelphia, then a layup against the (likely) tanking Rams, and then another game against the Eagles. New York was 8-4-1 in games decided by a touchdown or less. Is that going to happen again? They were just 2-7 against playoff teams last year. Sell your stock. — Jason McIntyre
2023 New York Giants Over/Under win total odds, predictions, picks
Cowboys vs. Eagles at center of the NFC East debate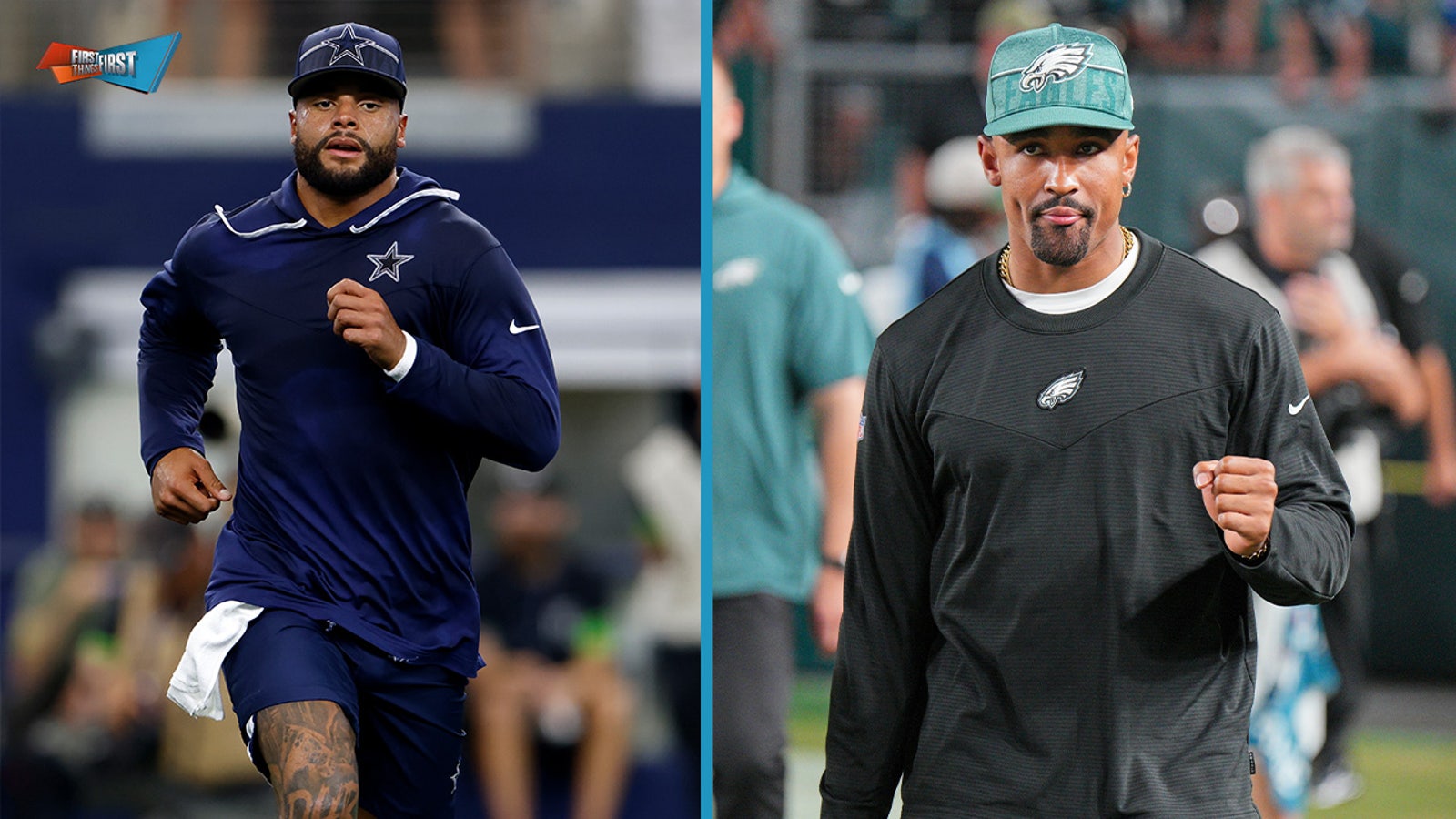 Nick Wright and Chris Broussard share their NFC East predictions. Can the Cowboys dethrone the vaunted Eagles?
Philadelphia Eagles
Over/Under: 11.5
Prediction: Philadelphia played a cushy schedule last year, A.J. Brown was one of the best off–season additions of 2022 and the Eagles went 14-3 before suffering a narrow Super Bowl defeat to Patrick Mahomes. Losing both coordinators, two linebackers, and facing a much more difficult schedule after the first five weeks, the Eagles are probably more in line to be an 11-win team this year. Even if they're close to as healthy as last year, getting to 12 wins and clearing 11.5 will be difficult. This is one of those Under or Pass bets for me. — Jason McIntyre
2023 Philadelphia Eagles Over/Under win total odds, predictions, picks
Washington Commanders
Over/Under: 6.5
Prediction: The value on Commanders Under 6.5 wins has been depleted. Sharp bettors got on Under 6.5 at +110, even money and -110, to the extent that Under 6.5 is now at least a -125 favorite. Some sportsbooks are out to -135. So Under 6.5 isn't a value play at this point — the best odds are long gone. And it's understandable why the price has moved so much. Professional bettor Adam Chernoff rightly noted that Washington has a brutal schedule early and late in the season. Still, with the Under value dried up, I'll follow sharp player Randy McKay's advice and grudgingly take Over 6.5 (+115). But the Under won't surprise me at all. — Patrick Everson
2023 Washington Commanders Over/Under win total odds, predictions, picks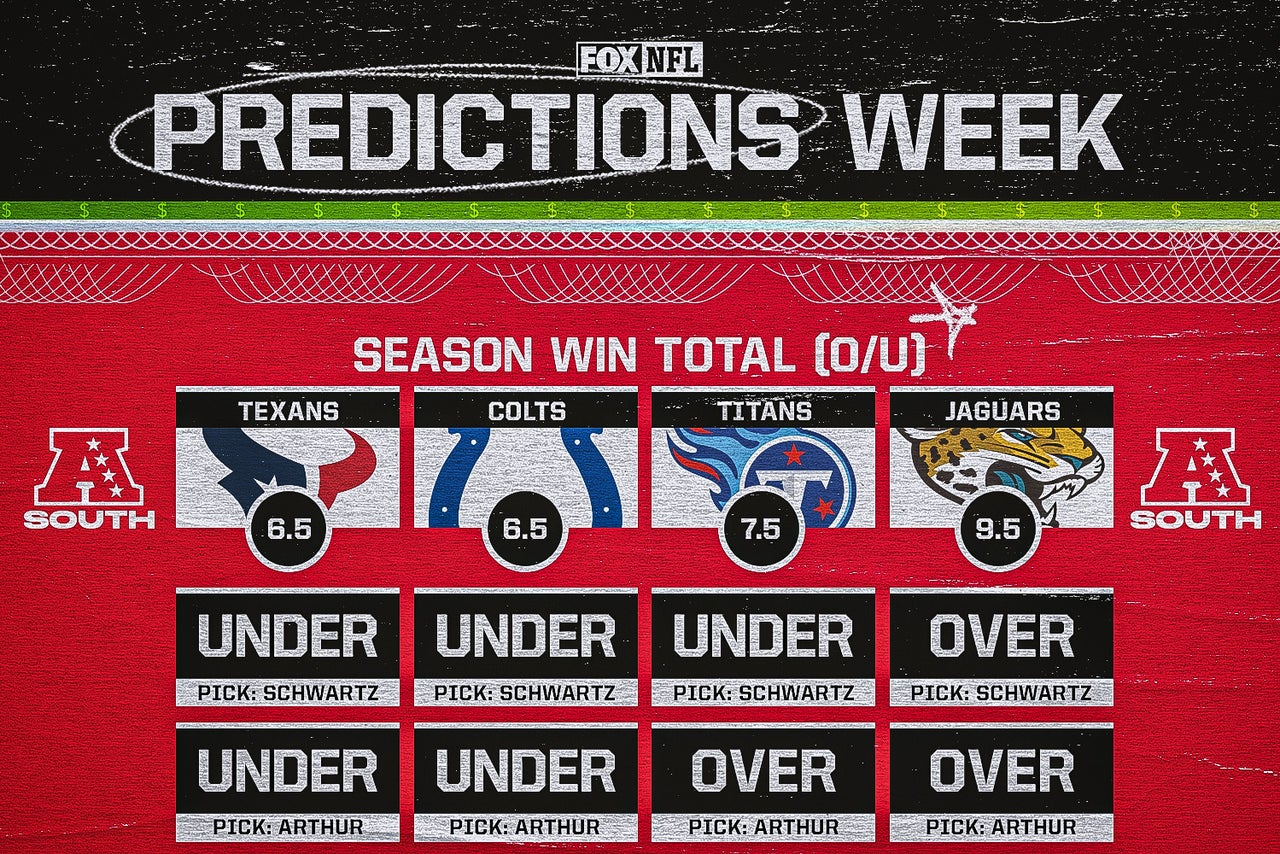 AFC SOUTH
Houston Texans
Over/Under: 6.5
Prediction: The Houston Texans hit reset on the franchise with the hiring of coach DeMeco Ryans and some front office shuffling. The Texans drafted C.J. Stroud with the second overall pick and then traded back up to three for Alabama pass-rusher Will Anderson. Those are two core pieces they desperately needed. This team is short on talent, and we will see that every Sunday. Stroud has looked good at times this preseason, and he will flash that magic throughout the season but will show himself to be a rookie. The defense doesn't have many game-wreckers but will be a well-coached unit with Ryans running the show. Unfortunately, that is not enough for the Texans to win at least seven games. — Geoff Schwartz
2023 Houston Texans Over/Under win total odds, predictions, picks
Jacksonville Jaguars
Over/Under: 9.5
Prediction: The Jaguars Over their win total is my favorite win total wager heading into the 2023 season. Jacksonville won nine games last season in the first season of the Trevor Lawrence-Doug Pederson pairing. We see quarterbacks (and their teams) often make huge jumps in Year 2. Yes, Lawrence is heading into his third NFL season, but we need to toss his rookie year because of his poor coaching situation. The Jaguars have an improved roster, adding players like Calvin Ridley and Anton Harrison to the offense which should help Lawrence skyrocket into the conversation as a Tier 1 quarterback. — Geoff Schwartz
2023 Jacksonville Jaguars Over/Under win total odds, predictions, picks
Why Jaguars will defend AFC South division title
Nick Wright and Chris Broussard explain why the Jacksonville Jaguars will run it back as AFC South champions.
Indianapolis Colts
Over/Under: 6.5
Prediction: I believe Anthony Richardson will be an excellent NFL quarterback, but just not this season. The offense is going to be heavy RPO and run-based which lets me know they are easing Richardson into the NFL. It's the proper approach for a quarterback who has a season's worth of college reps. The Colts may be without Jonathan Taylor for some portion of the season and their offensive line is good not great. Indianapolis was 26th in scoring defense last season, and I do expect them to play better this season. They have talent at all three levels, and we know defense goes up and down every season. All in all, these wagers are mostly about quarterback play, and I think Richardson isn't good enough yet to win seven games in his first season. — Geoff Schwartz
2023 Indianapolis Colts Over/Under win total odds, predictions, picks
Tennessee Titans
Over/Under: 7.5
Prediction: I'd love to play football for Mike Vrabel. I love watching Mike Vrabel's teams play football. However, this Mike Vrabel team is not going to be good this season. The Titans quarterback room is bad. Ryan Tannehill is not getting any younger, Malik Willis struggled big time last season and Will Levis is a rookie. To make any issues at quarterback worse is their offensive line, which is easily bottom five in the NFL right now. The Titans defense will be good, but we saw last season what happened to the defense when the offense couldn't keep pace. — Geoff Schwartz
2023 Tennessee Titans Over/Under win total odds, predictions, picks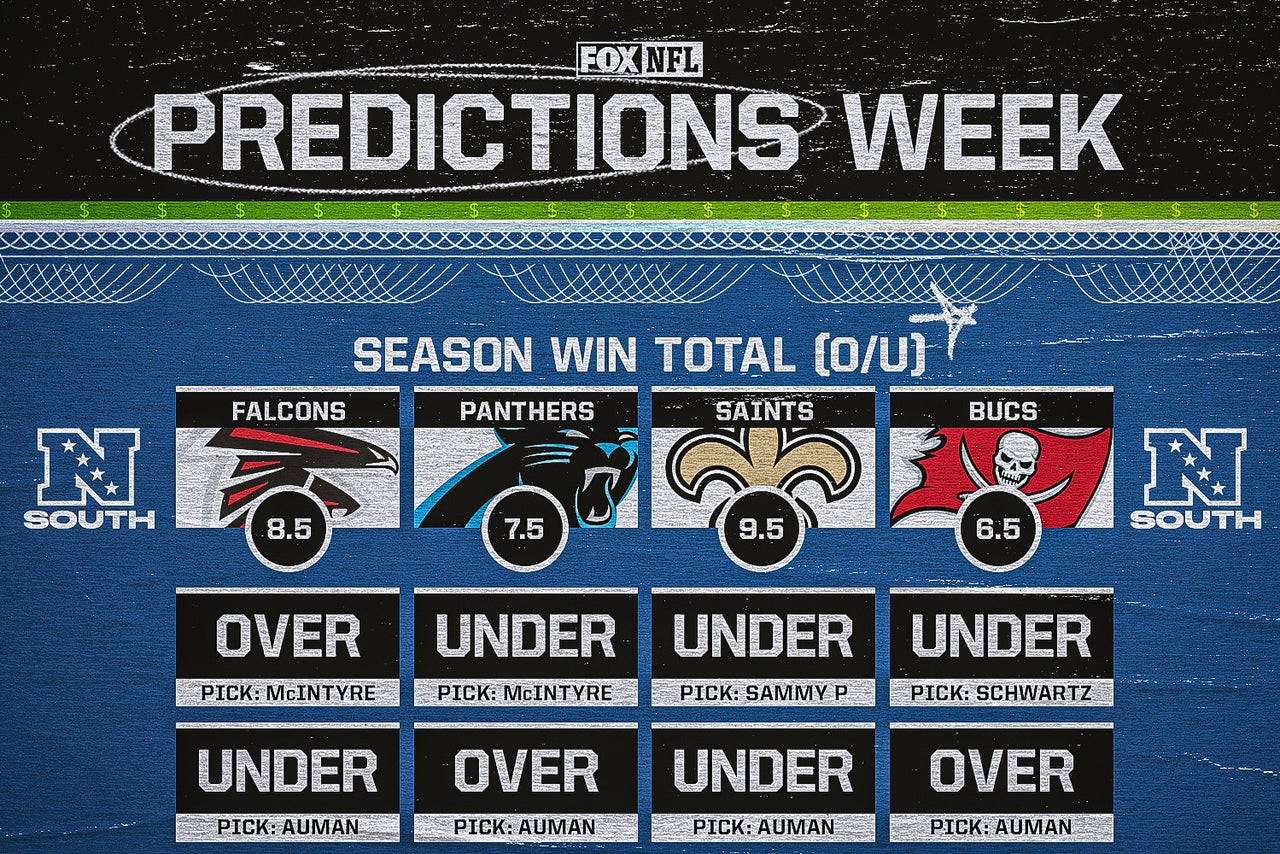 NFC SOUTH
New Orleans Saints
Over/Under: 9.5
Prediction: The Saints continue to be one of the most overrated teams in the league, and this time it's because they brought in the forever average Derek Carr to play quarterback. Yawn. Sure, the NFC South is weak, but New Orleans hits the road in two of its first three games without the suspended Alvin Kamara. Let's also not ignore that this offense has fallen off a cliff since Sean Payton left, and it certainly doesn't help that receiver Michael Thomas can't stay healthy. — Sam Panayotovich
2023 New Orleans Saints Over/Under win total odds, predictions, picks
Atlanta Falcons
Over/Under: 8.5
Prediction: It's not about Desmond Ridder, it's about the schedule. The toughest QBs they face this season are Trevor Lawrence (neutral site), Kirk Cousins (at home), Derek Carr (at home) and Aaron Rodgers (in NY). The Falcons face a staggering six games against QBs who are first-time starters. If Ridder is a game manager and doesn't turn the ball over, this 7-win team from last year could pop with 10 or 11 wins based on the schedule. — Jason McIntyre
2023 Atlanta Falcons Over/Under win total odds, predictions, picks
Why Bijan Robinson, Derek Carr could lead their teams to NFC South title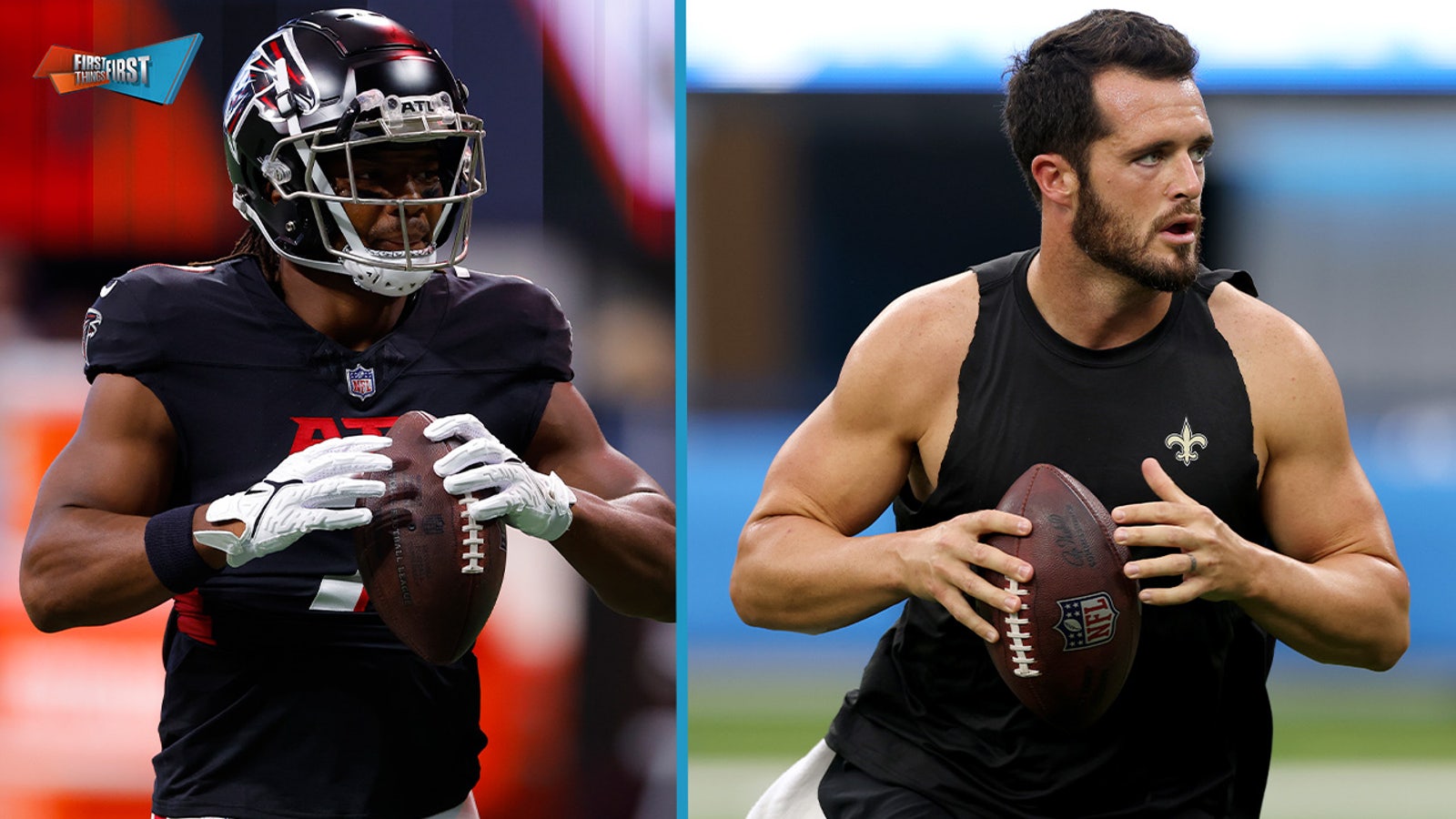 Nick Wright and Chris Broussard share their NFC South predictions, including why Bijan Robinson and Derek Carr could lead the Falcons and Saints to a division title.
Carolina Panthers
Over/Under: 7.5
Prediction: Too much new for me — new OC, new QB, new head coach. They'll have lots of kinks to work out, so don't be stunned by a slow start. Bryce Young's offensive line has had a bad preseason, and the skill position players are average at best. Toss in four of the first six games being on the road and there's a recipe for a 4-5 win season, with many of those wins coming against the AFC South. — Jason McIntyre
2023 Carolina Panthers Over/Under win total odds, predictions, picks
Tampa Bay Buccaneers
Over/Under: 6.5
Prediction: Have you seen the quarterbacks the Bucs are planning to roll out? Baker Mayfield and/or Kyle Trask are the two primary options for Tampa Bay. Mayfield is 8-15 in his last 25 starts dating back to the start of the 2021 season. He has not thrown for over 250 yards since November 2021 and has generally been a turnover machine, having nearly as many interceptions as touchdowns during that time. The Bucs' offensive line is going through some shuffling, plus they couldn't run the ball very well last season. They have a backward way of thinking about their offensive design and having bad quarterbacks isn't going to help. If they can stay healthy, the defense can be good, but that's not enough to carry the team to seven wins. There's also the question of the motivation to win for the Bucs. They need a franchise quarterback and the 2024 NFL draft is full of them. Landing a Caleb Williams or Drake Maye would secure the future of their franchise. That's more important than winning a few extra games this season. — Geoff Schwartz
2023 Tampa Bay Buccaneers Over/Under win total odds, predictions, picks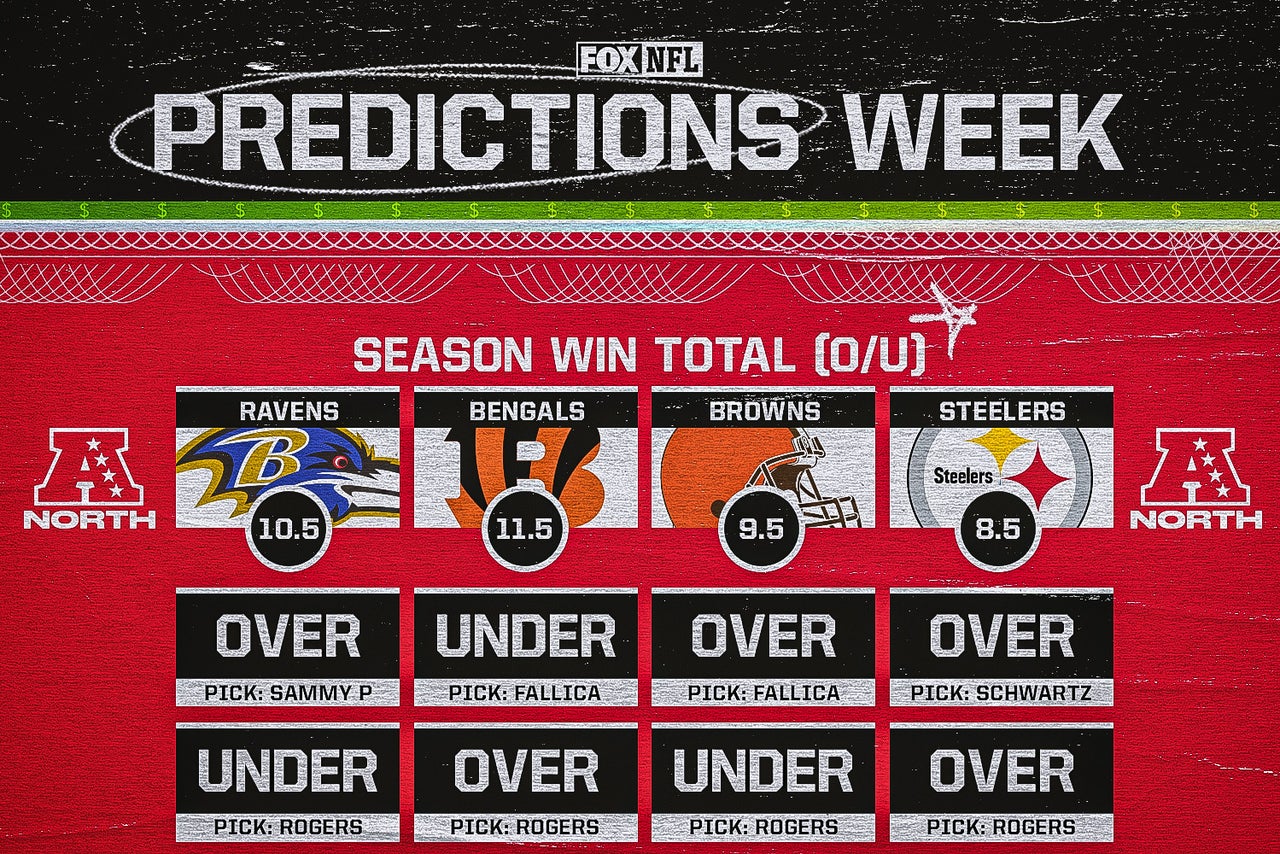 AFC NORTH
Baltimore Ravens
Over/Under: 10.5
Prediction: Baltimore's offense will be a lot more versatile this season with the additions of wide recievers Odell Beckham Jr. and rookie Zay Flowers to the receiver room. And don't sleep on new offensive coordinator Todd Monken, who will have that unit playing at a much faster tempo. That will certainly benefit quarterback Lamar Jackson. 
The Ravens' defense has been a top-10 unit in three of the last four seasons, and there's absolutely no reason to think that'll change anytime soon. — Sam Panayotovich
2023 Baltimore Ravens Over/Under win total odds, predictions, picks
Pittsburgh Steelers
Over/Under: 8.5
Prediction: I hammered the Steelers Over 8.5 win total as soon as it was posted. This number is disrespectful. Steelers head coach Mike Tomlin has never finished a season under .500, and it's not happening now. 
All signs point to Kenny Pickett making that jump in his second season as the Steelers starting quarterback. The Steelers' offensive line is a year older and improved. George Pickens is a fantastic receiver. We know their defense is always stout and tough to score against. The return of a healthy T.J. Watt, who played through a torn pec for the back half of the 2022 season, will make that defense even better. 
This is why the Steelers are my favorite Over of the season. — Geoff Schwartz
Why Steelers, Ravens are front-runners for AFC North title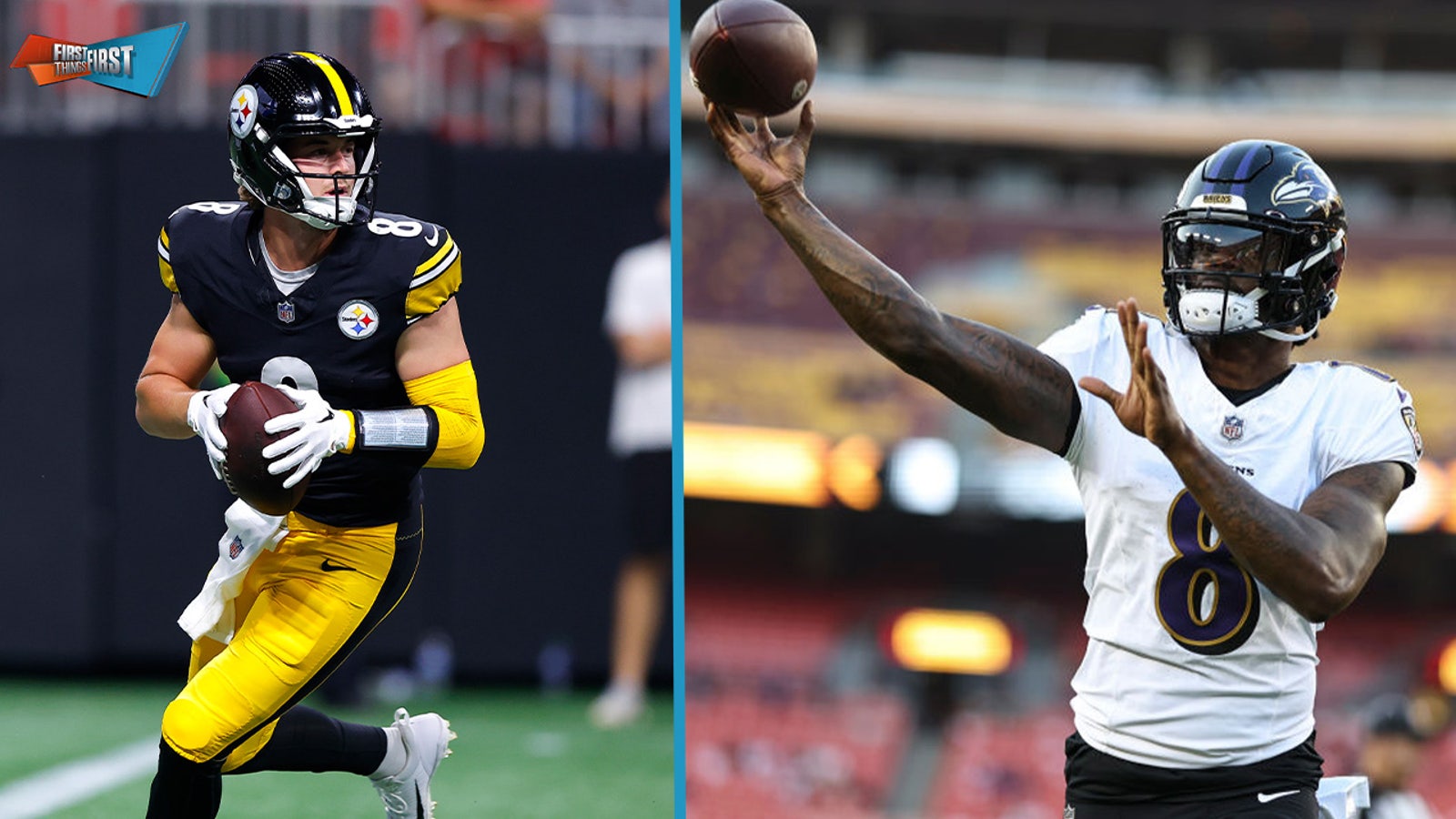 Nick Wright and Chris Broussard share their AFC North predictions. Is it a two-horse race?
2023 Pittsburgh Steelers Over/Under win total odds, predictions, picks
Cleveland Browns
Over/Under: 9.5
Prediction: I'm very high on the Browns this year. One's opinion on them likely comes down to one question: Do you think quarterback Deshaun Watson can still play? If you still have faith, you should be all-in because this loaded roster made a huge hire on the defensive side of the ball by bringing in Jim Schwartz. 
As bad as things were for them last year — losing games in unimaginable fashion to the Jets and five other one-score losses — the Browns throttled the Bengals on Halloween. The pieces are clearly there, and the schedule is very manageable, as the Browns have road games at Indianapolis, Denver, L.A. and Houston. That doesn't include home games with Arizona and Chicago. 
While the division is tough, what if Joe Burrow's calf injury lingers or resurfaces? What if Kenny Pickett doesn't make a leap in his second year as a starter? What if the Ravens' secondary remains a problem and Lamar Jackson misses time again? 
There's enough here not only to play the Browns to go Over the win total but also to win the division, AFC and the Super Bowl. — Chris "The Bear" Fallica 
2023 Cleveland Browns Over/Under win total odds, predictions, picks
Cincinnati Bengals
Over/Under: 11.5
Prediction: This division should be much better in 2023, and that likely means a reduction in season wins for the Bengals, who have won 10 and 12 games over the last two years, with eight of those wins coming by five points or fewer. That means Cincinnati has had quite a bit of good fortune in close games, as well as luck with injuries and facing backup QBs. Taking a step back, even the Bengals' playoff runs have been graced with good fortune, winning all three games in 2021's run to the Super Bowl with a lot of luck. That continued last year with the win over the Ravens. Yes, it's true, you make your own luck, but at the same time, it has to run out at some point, right?
Maybe the calf injury to Joe Burrow is an early sign things might be different for the Bengals this year. We all hope he returns fully healthy, but calves can be tough injuries to fully heal without a lot of rest. 
Out of the division, Cincinnati plays on the road against San Francisco, Jacksonville and Kansas City. They also have a home matchup with the Bills. That is a loaded schedule.
Cincinnati also lost three secondary starters, including both safeties, so that has to have an effect, too, no? Everyone is really high on the Bengals after the last two years, and sure, it makes sense. However, this is a case of when everyone zigs, I will zag. In a tough AFC, there might be a little flyer to be had on the "No" for the Bengals' playoff prop. — Chris "The Bear" Fallica 
2023 Cincinnati Bengals Over/Under win total odds, predictions, picks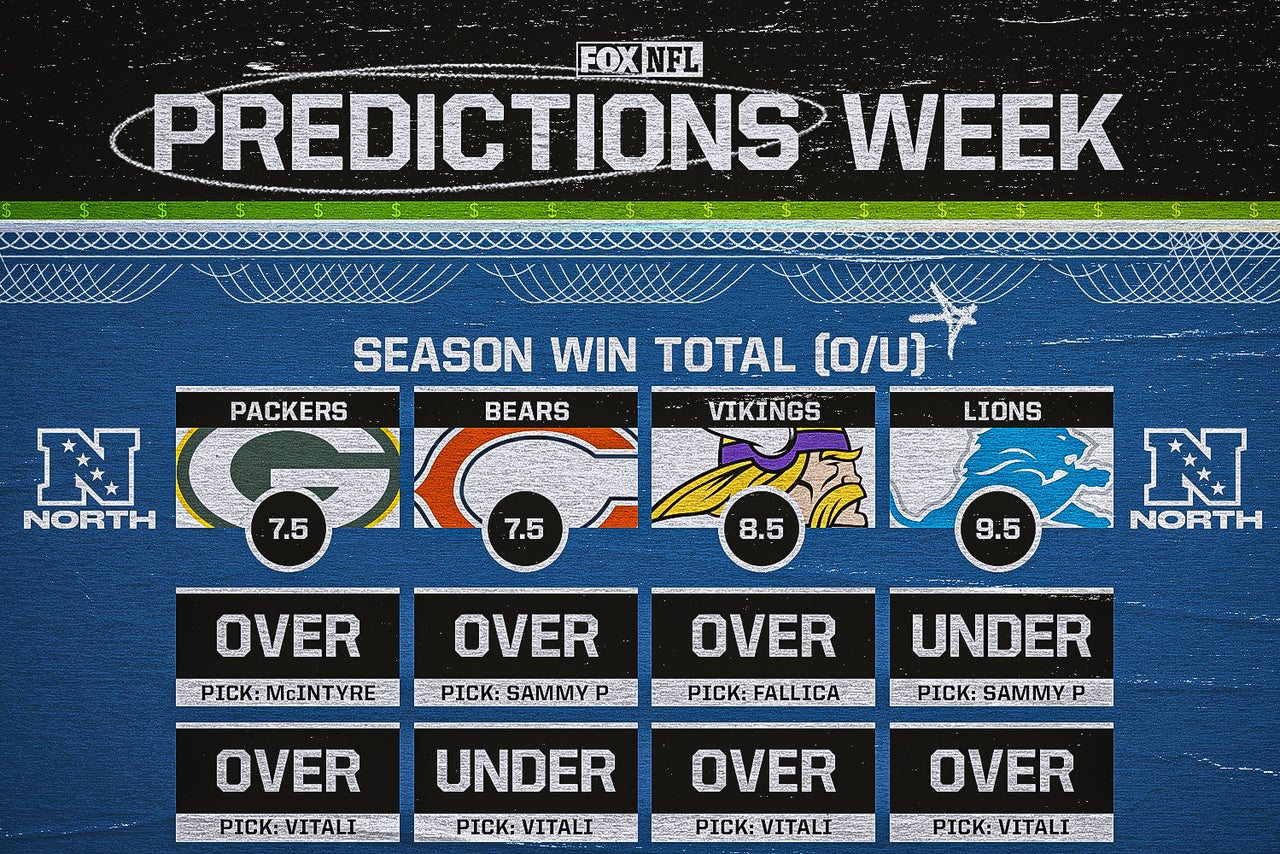 NFC NORTH
Green Bay Packers
Over/Under: 7.5
Prediction: I'm not sure there's a team with more variance this season than the Packers. If quarterback Jordan Love can't read defenses, is afraid to make mistakes downfield and opponents bottle the run game, a spiral to six wins is entirely possible. It's also possible the Packers' defense is the unit we thought it would be last year, and Love takes advantage of facing a weak schedule of defenses, leading Green Bay to shock everyone and win 11 games. 
Four of their first five opponents had below-average defenses last year, and a 4-1 start isn't out of the question. I'm not quite there yet on Love as an average starting QB, but I can't get over the team's soft schedule. So, if you are betting this number, Over would be the play. — Jason McIntyre
2023 Green Bay Packers Over/Under win total odds, predictions, picks
Chicago Bears
Over/Under: 7.5
Prediction: As I wrote after the NFL Draft, it's refreshing to see the Bears' front office attacking weaknesses and building in the trenches. The selection of an offensive tackle in the first round is an uber-important piece to the continued development of franchise quarterback Justin Fields. The Bears are young, and there will be some growing pains, but 12 of their 17 games are lined between +3 and -3. Oddsmakers clearly respect Chicago a lot more than last year. – Sam Panayotovich
2023 Chicago Bears Over/Under win total odds, predictions, picks
Will Lions or Packers snag the NFC North title?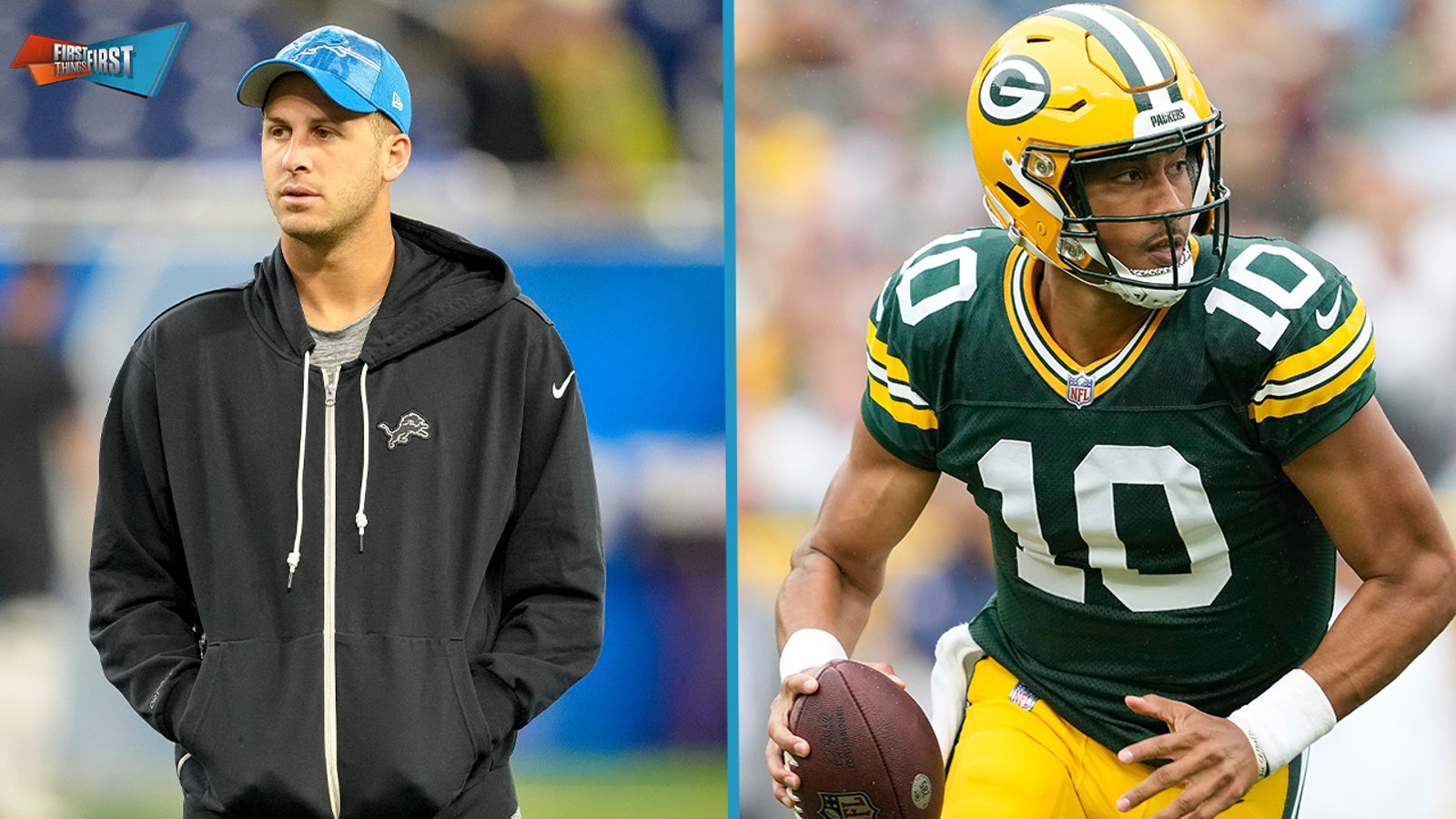 Nick Wright and Chris Broussard reveal their NFC North predictions. Can the Lions overcome the field?
Minnesota Vikings
Over/Under: 8.5
Prediction: Yes, the Vikings were super lucky last year, going 11-0 in one-score games. Yes, the pass defense was atrocious. But I think it's way too easy to say the bottom will fall out in what could be Kirk Cousins' final season in Minnesota. Brian Flores will have a major impact on the defense, as will some of the personnel changes there, and any offense with Justin Jefferson and rookie Jordan Addison will be just fine. 
It seems like everyone is trying too hard not to pick the Vikings to repeat as division champs ("The Packers will be better with Jordan Love … The Lions are ready to break through… Justin Fields will make the leap"). Those are everyone's narratives. Heck, the Packers are everyone's sleeper team, so much so that they aren't just a sleeper but possibly far too trendy of a pick. 
Sure, the schedule outside the division is no treat (at Eagles, Chargers, 49ers, Chiefs, at Bengals), but if they can go 4-2 in the division and beat Tampa, Carolina and Las Vegas, that puts you right in the mix of getting to nine wins. I like them to get there. — Chris "The Bear" Fallica 
2023 Minnesota Vikings Over/Under win total odds, predictions, picks
Detroit Lions
Over/Under: 9.5
Prediction: I have never smashed an Over harder for the Lions. This is a team that started 1-8 before their bye week and went on to finish 9-8 last season. They've made quite a few investments in veterans via free agency, and I think their draft class could ultimately have been underrated. That has to yield more than a half-game improvement, as far as I'm concerned. 
Their passing defense is what held them back at the start of last season, and with all the investments Detroit made in the secondary, that shouldn't be an issue any longer. Offense coordinator Ben Johnson has added even more wrinkles to an offense that averaged the fifth-most points last season. It's just a complete (and very talented) roster. Plus, Lions fans believe. They're sold out of season tickets for the first time ever. I have to think this is the year they get into double-digit wins, and they're my favorites to win the NFC North. — Carmen Vitali
2023 Detroit Lions Over/Under win total odds, predictions, picks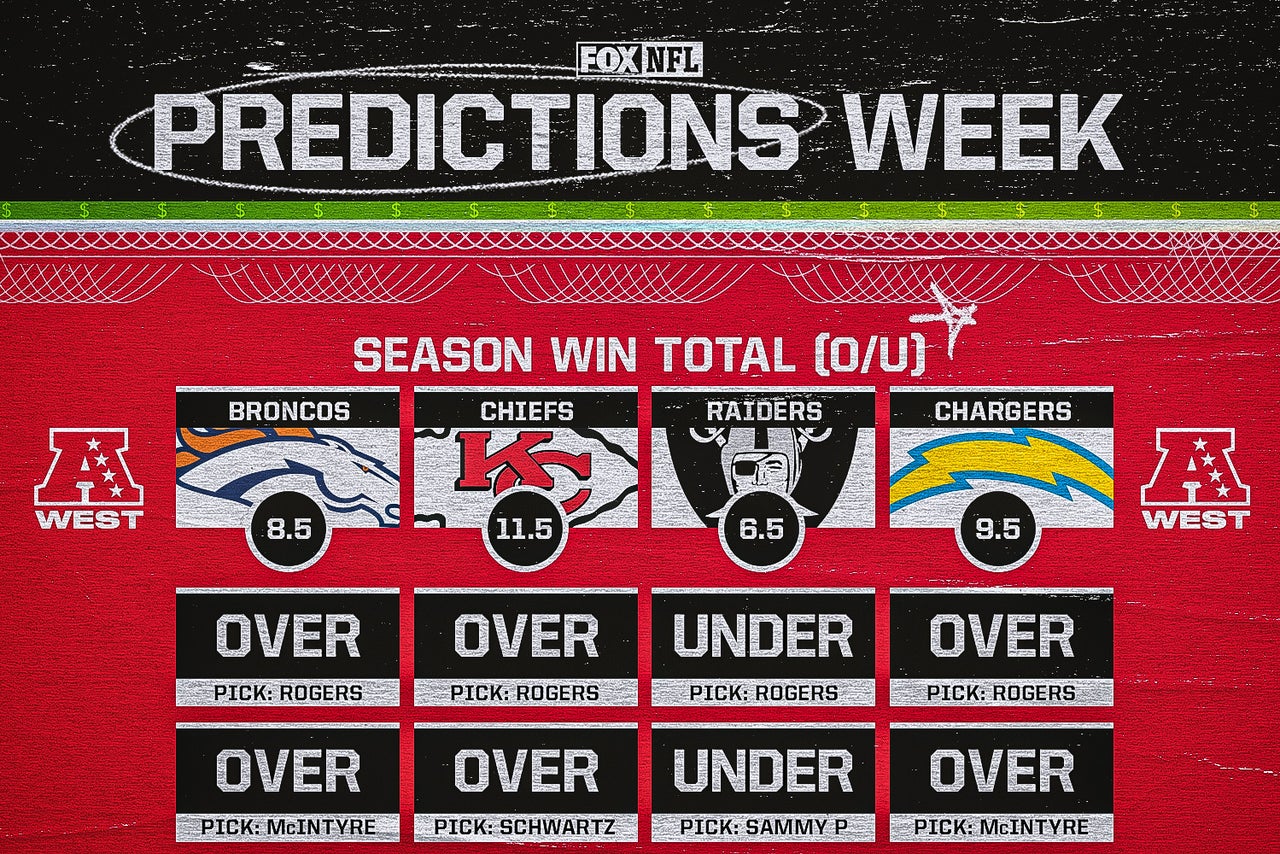 AFC WEST
Kansas City Chiefs
Over/Under: 11.5
Prediction: Kansas City has never won fewer than 12 games during the Patrick Mahomes era and there is no obvious reason to think that the reigning Super Bowl champion, coming off a 14-win campaign and a second title, will end that streak now. 
Offensive tackle Orlando Brown Jr. left for Cincinnati, but Jawaan Taylor was brought in — at high expense — to keep the front stocked. At this point, it is hard to know what would send this offensive out of step. 
Travis Kelce defies the tight end position's age-decline laws, and if Mahomes could put together an MVP campaign on a bum ankle and win a ring having lost Tyreek Hill, and without a standout receiver, that's an ominous sign for everyone looking to dethrone them. 
There is one big looming issue on the other side of the ball. Defensive tackle Chris Jones is holding out for a big payday, and there remains some doubt whether he will even start Week 1.
Regardless of how that plays out, I still like them to get to 12 wins. — Martin Rodgers
2023 Kansas City Chiefs Over/Under win total odds, predictions, picks
Denver Broncos
Over/Under: 8.5
Prediction: This team is extremely difficult to project, given how far Russell Wilson fell last year. If coach Sean Payton vaults him back to being a top-10 QB, are they a playoff team? They should be. 
They caught some scheduling breaks, including three straight road games post-bye, but only against Houston, the Chargers and the Lions. Denver could start 3-1 before back-to-back games against Aaron Rodgers and Pat Mahomes (on a short week).
I'll grab the Over. — Jason McIntyre
2023 Denver Broncos Over/Under win total odds, predictions, picks
Can Chargers or Broncos challenge Chiefs for AFC West crown?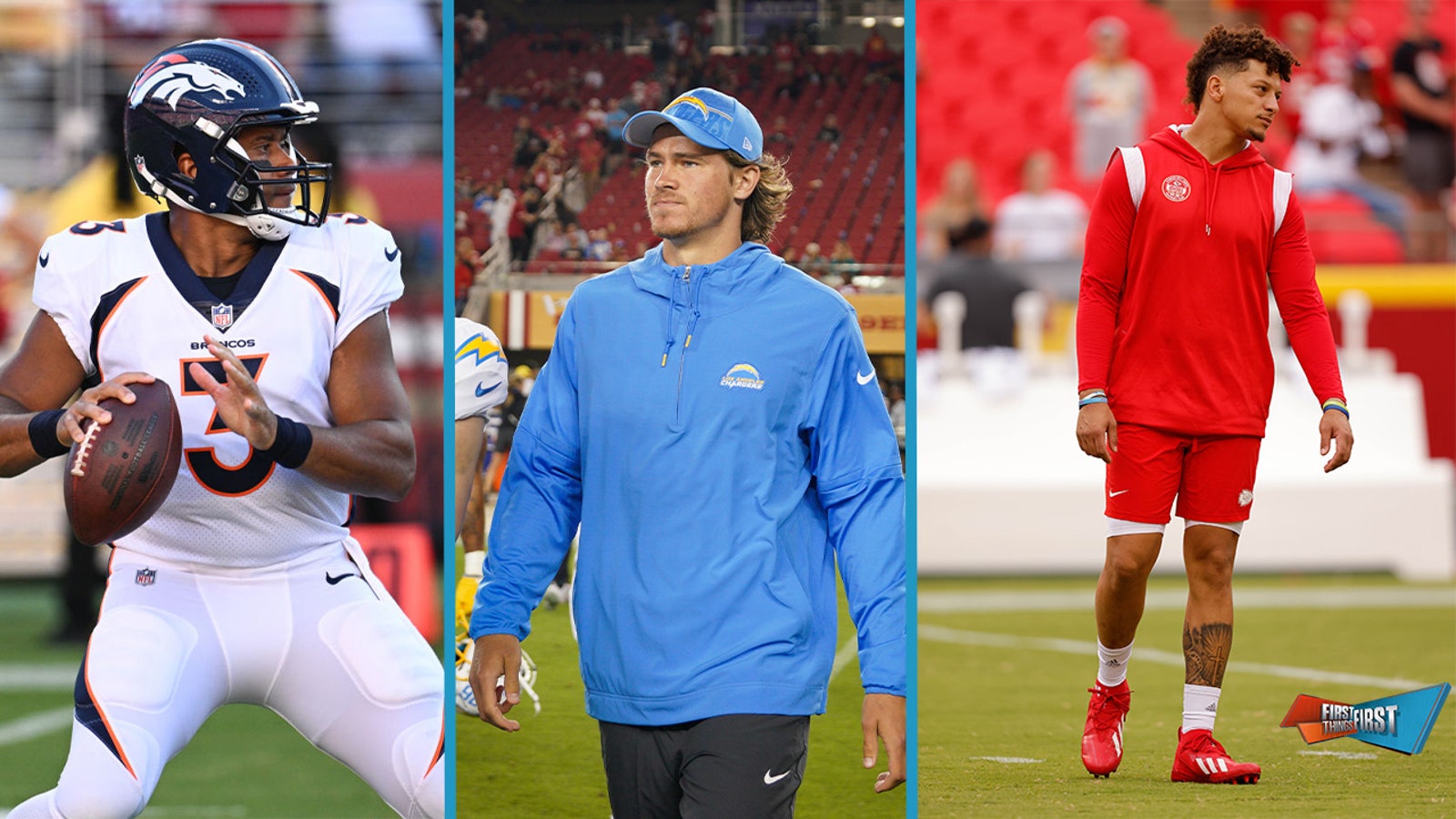 Nick Wright and Chris Broussard share their AFC West predictions. Will the Chiefs be dethroned by the Chargers or dark horse Broncos?
Las Vegas Raiders
Over/Under: 6.5
Prediction: The Super Bowl is coming to Sin City, and there has been some recent momentum for teams from the host venue, with the Buccaneers and the Ramsproviding well-received local triumphs in two of the past three years. 
Don't expect that trend to extend to the Raiders, who are following a path that is presumably designed for progress but is more than a little hard to follow. Quarterback Derek Carr is out after he was released but instantly snapped up by the New Orleans Saints on a $150 million deal. Jimmy Garoppolo is in, and head coach Josh McDaniels is expecting big things from him. 
Davante Adams remains an extraordinary receiver, running back Josh Jacobs is coming off a brilliant running year and … then we'll see. The defense has Maxx Crosby as its only star name, and No. 7 pick Tyree Wilson comes in as a highly regarded defensive end. The early part of the schedule is key. If the team has a poor start things could get messy. — Martin Rodgers
2023 Las Vegas Raiders Over/Under win total odds, predictions, picks
Los Angeles Chargers
Over/Under: 9.5
Prediction: After an excruciating end to last season, when the Chargers coughed up a 27-point lead and got bumped out of the playoffs by the Jacksonville Jaguars, it is fair to say head coach Brandon Staley is under serious scrutiny. Justin Herbertgot paid at the mind-blowing rate top QBs now go for, offering several years' worth of viable stability from a player who looks every bit the real deal. 
On defense, few teams can boast a trio like Joey Bosa, Derwin James and Khalil Mack, blending aggression with skill and seeking to apply constant pressure. It is risky to expect too much from a franchise that seems to always come up with new ways to disappoint, but surely this is a group with too much personnel to not only finish above .500 but to do so with some room to spare.  — Martin Rodgers
2023 Los Angeles Chargers Over/Under win total odds, predictions, picks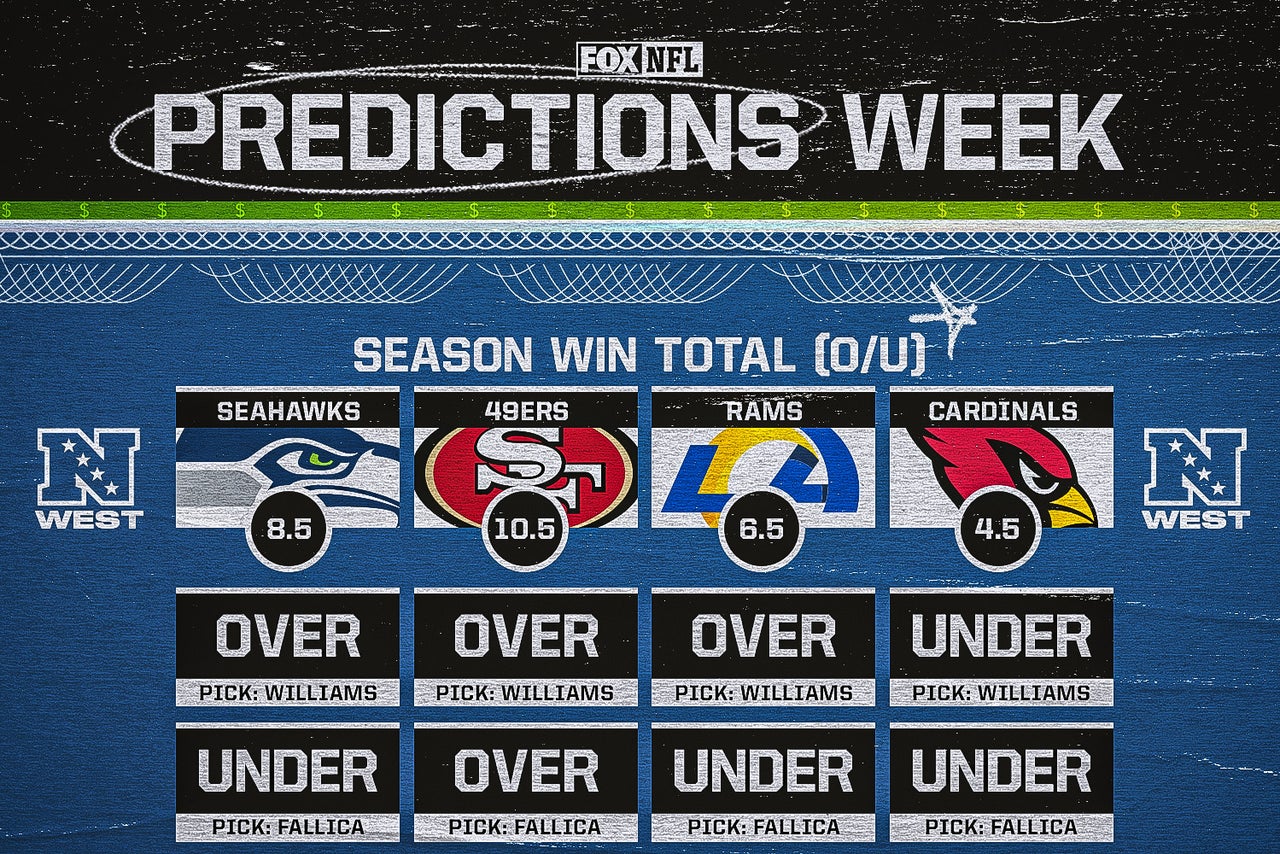 NFC WEST
Arizona Cardinals
Over/Under: 4.5
Prediction: Yes, Arizona seems intently focused on the 2024 NFL Draft and the Caleb Williams sweepstakes. It's hard to see the Cardinals winning many games with either Joshua Dobbs or Clayton Tune at quarterback. And Kyler Murray will miss at least the first four games as he begins the regular season on the Physically Unable to Perform list, continuing his recovery from ACL knee surgery. 
Defensive-minded head coach Jonathan Gannon could at least make games interesting if the Cardinals punch above their weight, with safety Budda Baker leading them on that side of the football. But it will be an uphill climb for Arizona to not finish with the worst record in the NFL. — Eric D. Williams
2023 Arizona Cardinals Over/Under win total odds, predictions, picks
San Francisco 49ers
Over/Under: 10.5
Prediction: The Niners are my highest power-rated team in the NFC. I think they're better 1-through-53 than Philadelphia, which probably isn't a popular opinion. Assuming coach Kyle Shanahan gets Brock Purdy back healthy, this offense will hum with all the versatility. 
How do opponents stop Christian McCaffrey, Deebo Samuel, Brandon Aiyuk and George Kittle? You can basically pencil San Francisco in for five wins against the West, and they'll only have to go 6-5 the rest of the way. — Sam Panayotovich
2023 San Francisco 49ers Over/Under win total odds, predictions, picks
Could Seahawks overcome stacked 49ers team for NFC West title?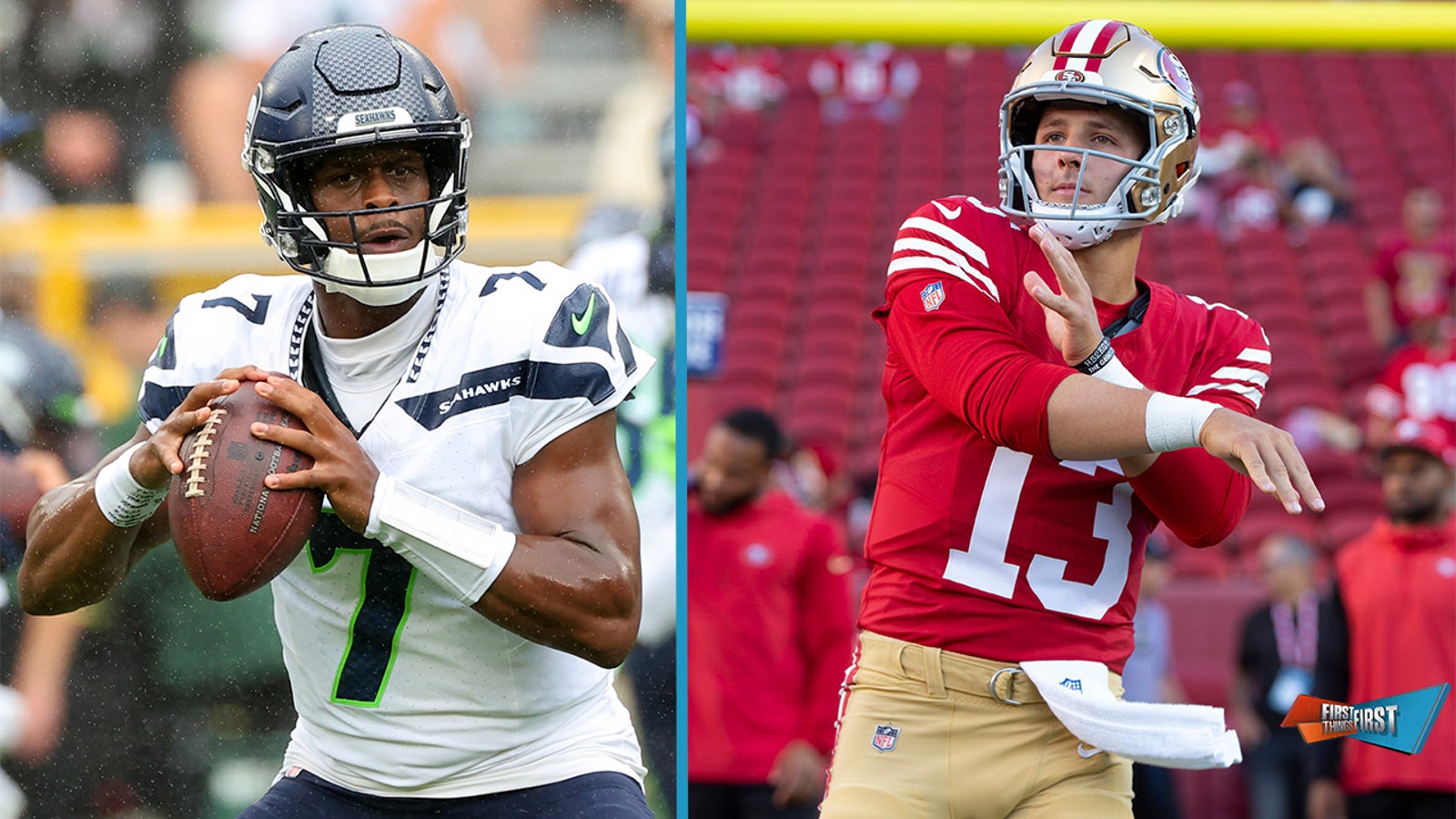 Nick Wright and Chris Broussard share their NFC West predictions. Will the Seahawks take down the 49ers?
Los Angeles Rams
Over/Under: 6.5
Prediction: Rams head coach Sean McVay has just one losing record in six NFL seasons. It's hard to see one of the best coaches in the league suffering through an underwhelming campaign for a second straight year. Yes, the Rams have one of the youngest rosters in the NFL. But they still have three talented players to rally around in quarterback Matthew Stafford, receiver Cooper Kupp and defensive lineman Aaron Donald. If those three can stay healthy for the duration of the season, the Rams could hover around the .500 mark. — Eric D. Williams
2023 Los Angeles Rams Over/Under win total odds, predictions, picks
Seattle Seahawks
Over/Under: 8.5
Prediction: A lot of people love the Seahawks this year — I'm not one of them. I think a lot of their success was a mirage and what we saw late in the year — when they lost five out of eight to finish the season, with wins only over the hapless Rams (aided by some questionable officiating) and the offensively challenged Jets — was a truer indicator of what this team is.
Can Geno Smith compile big stats again like he did last year? The drop-off was steep at the end of the season, and Pro Football Focus charted 14 dropped potential interceptions by opposing defenses.
Rookie receiver Jaxon Smith-Njigba is already hurt. The schedule also looks tougher this year, as there is a late October/early November stretch of games vs. San Francisco, at Dallas, at San Francisco, vs. Philadelphia — also known as the best three teams in the NFC. 
Road games at Detroit, Baltimore and Cincinnati loom, too. Sure, you have the benefit of four games vs. two of the worst teams in the league in Arizona and Los Angeles, but I think last year's surprise playoff run has led to a few too many expectations this year, and it's time to go low on the Seahawks.
My favorite win-total bet on this squad is Under 9.5 (-155). — Chris "The Bear" Fallica 
2023 Seattle Seahawks Over/Under win total odds, predictions, picks
FOLLOW
Follow your favorites to personalize your FOX Sports experience
---
NFL trending



2023 NFL offensive lineman rankings: Trent Williams, Zack Martin cream of the crop


2023 NFL preseason schedule: Dates, times, channels, how to watch


Terry McLaurin's murky injury status looms over Commanders





2023 NFL Week 1 odds, predictions: Picks, lines, spreads for every game


How Bills RB James Cook has positioned himself for a major workload


2023 NFC North Over/Under win total odds, predictions, picks





T.J. Hockenson, Vikings agree to record extension for tight end


2023 NFL offensive-line rankings: Eagles the clear best group; which other teams stand out?


Hall of Famer Gil Brandt, who helped build Cowboys into 'America's Team,' dies at 91

---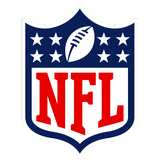 Get more from National Football League Follow your favorites to get information about games, news and more
---